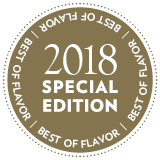 Gianni's is one of those neighborhood gems that's known for old-school dishes like tableside Caesar salad, oysters Rockefeller and New York strip served with a side of Béarnaise.
It prides itself on sourcing pristine product, relying on a small family-run ranch in nearby Osceola, Wis., for its Limousin beef, aged 21 days for depth of flavor. and although Gianni's serves all the classic steak cuts, the bavette is a customer favorite. "It's lean, juicy and flavorful, with a hint of minerality to it," says Chef Steve Vranian.
He seasons the 8-oz. bavette with salt and pepper and cooks it quickly in a very hot pan until medium rare, achieving a beautiful crust on the steak. "I let the steak rest for three to four minutes and then cut against the grain to ensure tenderness," says Vranian.
The steak has become so popular, it's now also featured on the happy-hour menu with a salad and glass of wine for $27.