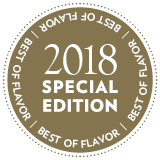 Shakshuka has emerged as a major contender on brunch menus across the country, thanks to its enticing Eastern Mediterranean flavors and comforting egg-centric character. Shakshuka is proving to be a great fit for Tex-Mex concepts, where the dish's bold flavors are easily embraced.
The General Public, an American tavern, menus a shakshuka that's become one of the concept's top brunch sellers. "The shakshuka is the quintessential brunch dish," says Daniel Menchaca, Executive Chef.
The General Public's version gets a spicy kick from cayenne pepper, which brightens up the traditional smokiness from the paprika and cumin. More flavor comes from red bell pepper, onion, garlic and extra-virgin olive oil. Eggs are cracked into the sauce and poached while it simmers, enriching the sauce's velvety texture.
"The smokiness and savory aromas of the paprika and cumin add depth as they contrast with the sweetness of the red bell peppers, which are in excellent balance with the light acid of the tomato," says Menchaca.
The dish is served with a toasted baguette, providing the perfect crunchy carrier to soak up the sauce.