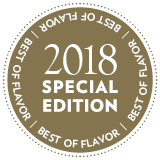 Certain ingredients are synonymous with spring, and ramps are certainly one of them. At Roofers Union in Washington, D.C., Executive Chef Jenn Flynn takes any opportunity to celebrate the season, using unique items like ramps to heighten familiar dishes.
"We take a lot of steps to add layers of flavor to rustic-looking dishes," she says. She features two preparations of ramps to give a modern, signature profile to her Chicken BBQ Pizza. "I love working with ramps. They're only here for a short time every year, so anytime I get to introduce a flavor that guests can only try briefly, it's a lot of fun."
The pizza sees a number of thoughtful flavor details, from a housemade barbecue sauce, a blend of mozzarella and cheddar, and shredded chicken that's been brined with thyme, bay leaf, garlic, lemons and salt to a finish of pickled ramp bulbs and a ramp purée.
"I like to pickle the ramp bulbs for a little extra crunch on the pizza, and purée the greens to make a drizzle to top it with," says Flynn. "The pizza is a blank page filled with seasonal ingredients, all prepared in different ways. Guests really enjoy all the intricate layers of flavors and textures, which sometimes surprise them on a dish as straightforward as a pizza."