The coffee and tea category has experienced a jolt of creativity over the last few years, marked by the term "third wave." And the waves keep coming, bringing with them fantastic beverage innovation. So many drivers influence this frenzy of "what's next?": the maturing coffee culture, the brunch boom, the craft cocktail movement, and the value of cues like artisanal—all of these fortify this trend, fueling consumer voracity and creative ideation.
Cold brew is certainly one of the most exciting additions to menus, finding its way from the coffeehouse to the cocktail lounge. At Cindy's in Chicago, the Roman Holiday is a low-ABV drink with a cold-brew backbone that riffs on the classic Tiki drink called the Jungle Bird. Nandini Khaund, "spirit guide" for this hotspot, describes it as "complex, but refreshing, with an elegant finish."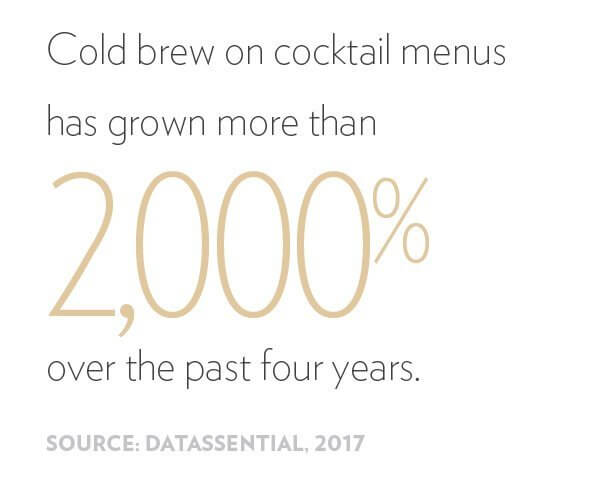 Next-Level Flavored Coffee
A shot of vanilla or caramel used to be among the only options for consumers looking for a flavor punch in their coffee, but, today, flavor innovation is demonstrating the same attention to detail as is found in the craft cocktail world. At Coffeemania in New York, Barbara Chelentano, bar manager, menus a Raspberry Coffee, made with house-roasted cold-brew coffee, raspberry purée, fresh-squeezed grapefruit juice and caramel sauce, served over ice.
"The result is a signature iced coffee with a silky, bright raspberry flavor, caramel notes and a deep dark chocolate finish," she says. "We wanted to highlight our cold brew by pairing it with rich and fruity elements for a refreshing and decadent full-flavored coffee beverage."
In New Orleans, Spitfire serves a Mole Cortado, with espresso, milk, cane syrup and mole bitters.
And at Onyx Coffee Lab in Fayetteville, Ark., the DisOnyx sports grapefruit, lemongrass, tonic and cold brew.
And Pinewood Social in Nashville, Tenn., ups the ante with Tennessee Pride, a latte flavored with fennel, maple and rosemary-infused simple syrup, finished with sage and sea salt.
Smooth & Satiating
Two trending a.m. go-to beverages—cold-brew coffee and a smoothie—can combine into one satiating sipper. Potatoes USA, representing U.S. potato growers, took this concoction one step further at the recent PMA Foodservice Conference in Monterey, Calif. Chef RJ Harvey, Potatoes USA's global marketing manager, whipped up the Uber Tuber Coffee Smoothie with cold-brew coffee, almond milk, blue agave syrup and the surprising addition of dehydrated potato flakes.
"Adding a small amount of a dehydrated potato product à la minute allows the smoothie to have that unctuous, indulgent viscosity," he says, noting that the potato flakes add nutritional benefit, increased satiety, plus help retain thickness and temperature. "As a flavor, cold brew's aggressive profile lends itself well here, although other flavors work well, too," he adds. "This particular almond-milk smoothie is a good option for vegan, plant-forward and sustainability-minded consumers."
Brunch Beauty
It makes sense that coffee cocktails are giving Bloody Marys and mimosas a run for their money at brunch. After all, it's a boozy affair that also requires a wake-up call of good, strong coffee. Why not bring these two together? At Love & Salt in Manhattan Beach, Calif., the #INeedCoffee perks up the brunch menu, made with bourbon, Amaro Nonino, cold-brew coffee and cream.
"When we debuted brunch at Love & Salt, we wanted to offer a signature cocktail that made sense for daytime—particularly as we find many of our guests are trying to decide between ordering coffee or a cocktail," says Sylvie Gabriele, owner. "This bridges that gap with a refreshing jolt of caffeine blended with the boozy notes from the bourbon and amaro. We finish it with cream to temper the strong flavors, and also for a fun and visual presentation."
Time for Turmeric
Branch Line in Watertown, Mass., is a rotisserie and wood-fire grill that also features a rotating roaster coffee program, bringing in different vendors using beans sourced from an array of coffee-growing regions. In addition to standard coffee drinks like espresso, Branch Line offers a seasonal latte, such as Ginger Turmeric, signaling the potential for flavor differentiation in this category that reaches further afield.
Cold Brew Cocktails
We've seen bartenders turn to espresso to wake up a drink, but it seems that more and more, they're turning to cold brew for its high-octane, smooth delivery. At Blue Ribbon Federal Grill in New York, the MezCafé combines cold brew, mezcal, Cynar, rich syrup and a cream float.
"The strength and concentration of cold brew make it a perfect candidate for dilution in a shaken cocktail," says Sam Ehrlich, wine director of Blue Ribbon Restaurants. "It's assertive enough that you can place it next to a really bold spirit like mezcal. The touch of Fernet-Branca lends complexity and just enough sweetness that the overall effect is like a really unusual flavored latte. The dabs of heavy cream on top reinforce the sense of richness, without the drink ever feeling too heavy."
At Beatrix in Chicago, the Nitro Brut is elegant and refreshing, featuring Grand Marnier, simple syrup, nitro cold-brew coffee and a Champagne topper.
ON THE MENU: COFFEE COCKTAILS
Coffee and Stout with stout on nitro, Stumptown cold-brew coffee, Cardamaro, simple syrup and Bonal
— Brewcade, San Francisco
Good Morning Vietnam: Trinidad rum, amaro, cold brew, coconut cream
— Redbird, Los Angeles
The Next Cold Brew
Cascara tea is finding its way onto coffee menus. This dried fruit of the coffee cherry has been discarded, mostly, but boasts a buzz-worthy level of caffeine and a sweet, fruity flavor. Slipstream in Washington, D.C., serves a Cascara Soda.
"It contains coffee cherry tea from Santa Lucia, Costa Rica, raw sugar simple syrup, and is topped off with soda. It is delicious with plum/prune-like flavors," says Mo Koolphanich, beverage director.
Starbucks introduced the Cascara Lemon Sour at Starbucks Roastery's Experience Bar in Seattle. In a riff on the classic whiskey sour, Starbucks Reserve Cold Brew is mixed with Woodinville Barrel-Aged Maple Syrup and fresh lemon, garnished with cascara sugar and a Luxardo maraschino cherry. chain introduced a Cascara Latte in January (espresso, milk, cascara syrup).
Make It Sparkle
Adding sparkling wine or soda dials up the delivery of iced teas and tea-based cocktails. SOCA in Sherman Oaks, Calif., offers up a bubbly Chamomile Collins, made with Hayman's Old Tom Gin, Benedictine, chamomile simple syrup, lemon juice, lime leaf and soda.
Caribou Coffee serves a Peach Black Sparkling Tea, and at Chicago's Fairgrounds Coffee and Tea, guests can order sparkling tea on tap.
ON THE MENU: TEA COCKTAILS
From Earl Grey and chamomile to matcha and Lapsang souchong, tea-infused cocktails show off personality with a dash of health and wellness thrown in for good measure.
RumChaiTea: Kahlúa, white rum, almond milk, rice milk, masala chai mix, vanilla and cinnamon
— Chiya Chai Café, Chicago
Living the Dream: Redemption Rye, cinnamon, grapefruit, lemon, honey, Earl Grey tea
— Kapnos, Washington, D.C.
Prohibition Sweet Tea: Iced tea, cane sugar, vodka, lemon
— Southpaw BBQ, San Francisco
---
This story appeared in the Sept/Oct 2017 edition of Flavor & the Menu. See more stories from this issue.