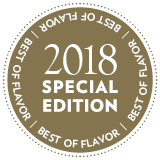 Pasta hits that sweet spot of menu development, where it's anchored in familiarity, but can move in many directions because of its versatility. The opportunity today is bigger than ever—chefs are featuring pasta in unexpected, flavor-forward ways—and their guests are loving it. In our most recent rendition of "Best of Flavor," where we crowd-source 125 entries from our readers, a handful of them put forward pasta as their menus' crowning glory. Here are the five stand-outs.
Bill Montagne, chef de cuisine at Nico Osteria in Chicago, goes all in with flavor for his Lobster Spaghetti (above). To amp up the lobster profile, he adds puréed lobster roe to pasta dough, which is green when raw."When dropping the green pasta into boiling water, it turns orange right before your very eyes—just like lobster. It really delivers that lobster flavor," he says. He uses meat from one whole lobster in each order, broken down and blanched in a court-bouillon. The lobster miso sauce is fortified with lobster shells as the base. Crispy guanciale and spring onion finish the pasta dish.
At Square Meal at Hotel Revival, Executive Chef Wilbur Cox taps into modern Southern for his Local Mustard Greens Agnolotti. "The flavors all relate to those found in a bowl of greens, but presented in a vegetable-forward, modern way," he says. Goat ricotta and a purée of mustard greens are stuffed inside the pasta. As a child, Cox ate braised greens with hot sauce and a "liquor" of vinegar, ham hocks and vegetable stock. Here, Cox uses those flavors to make a soupy sauce for the agnolotti. Spicy bread crumbs top the plate for extra flavor and texture, completing a creative update on a classic Southern dish.
Zach Meloy, executive chef at Better Half, presents a New American pasta in his Silk Handkerchief Pasta. Three large sheets of hand-rolled pasta are tossed in garlic-porcini cream with roasted wild mushrooms. This base is topped with tomato marmalade, Cotija cheese and snow pea shoots. "The silky pasta enrobed in earthy porcini cream with a mix of hon shimeji, cremini and oyster mushrooms pairs perfectly with the bright agrodolce of the tomato marmalade, salty Cotija and fresh pea shoots," says Meloy. The modern mix of ingredients takes pasta squarely out of the Italian box and moves it into a modern American category.
At Vivere in Chicago, a classic pasta dish remains a favorite. The Agnolottini Di Fagiano sees pillow-shaped pasta stuffed with fresh pheasant, then slow cooked with white wine and sofrito for several hours. The sauce includes fresh sage grown in Vivere's rooftop garden, and the dish is garnished with aged Parmigiano-Reggiano. "The flavor combination is earthy from the sage, as well as creamy with a mix of sweet and savory tastes," says Executive Chef Ozzy Amelotti. "The flavor profile is incredibly indulgent, yet extremely fresh and airy, with a hint of sharpness from the Parmesan." The use of pheasant, an uncommon find on menus, signaturizes this item and makes it a draw for regulars who come in specifically for this dish.
Exploring deeper into Italy's rich regional cuisines offers a treasure trove of possibilities. At Bella Gioia, the Tumminia with pesto alla trapenese, showcases a lesser known style of pesto. Unlike its cousin pesto alla genovese, which features basil and pine nuts, the Sicilian version, pesto alla trapanese, stars cherry tomatoes and almonds, boasting an orange hue. Bella Gioia's top-selling version is made from cherry tomatoes, almonds, pine nuts, Parmigiano-Reggiano and Sicilian olive oil. Hand-rolled in the spiral-shaped busiate tradition, the pasta is made from burnt durum wheat flour, lending a toasty, nutty flavor. Cherry tomatoes poached in olive oil, along with oregano and pepperoncino, toasted almonds and Canestrato cheese, top the dish, adding layers of flavor and texture. "People are intrigued by the different style of pasta and pesto," says Nico Daniele, Executive Chef/Owner. "The combination of the nutty pasta tossed with the rich, colorful pesto has made this dish and restaurant truly unique."