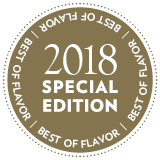 Reminding guests that there's more than one kind of pesto, Sicilian restaurant Bella Gioia presents the Tumminia with pesto alla trapanese, the traditional Sicilian version of pesto.
Unlike its cousin pesto alla genovese, which features basil and pine nuts, pesto alla trapanese stars two different protagonists: cherry tomatoes and almonds, boasting an orange hue.
Bella Gioia's top-selling version is made from cherry tomatoes, almonds, pine nuts, Parmigiano-Reggiano and Sicilian olive oil.
Pesto alla trapanese offers diners a memorable experience within a familiar platform. Hand-rolled in the spiral-shaped busiate tradition, the pasta is made from burnt durum wheat flour, lending a toasty, nutty flavor. Cherry tomatoes poached in olive oil, along with oregano and pepperoncino, toasted almonds and Canestrato cheese, top the dish, adding layers of flavor and texture.
"People are intrigued by the different style of pasta and pesto," says Nico Daniele, Executive Chef/Owner. "The combination of the nutty pasta tossed with the rich, colorful pesto has made this dish and restaurant truly unique."