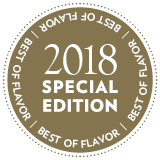 If it ain't broke, don't fix it. That's the attitude at contemporary upscale Italian restaurant Vivere, where the Agnolottini di Fagiano has been an everlasting hit. The pheasant-filled pasta is housemade, served in a creamy white-wine and sage sauce.
"While Vivere's menu changes each season, the Agnolottini di Fagiano is one dish we will never remove from the menu," says Executive Chef Ozzy Amelotti.
Fresh pheasant fills pillow-shaped pasta and is then slow cooked with white wine and sofrito for several hours. The sauce includes fresh sage grown in Vivere's rooftop garden, and the dish is garnished with aged Parmigiano-Reggiano.
"The flavor combination is earthy from the sage, as well as creamy with a mix of sweet and savory tastes," says Amelotti. "The flavor profile is incredibly indulgent, yet extremely fresh and airy, with a hint of sharpness from the Parmesan."
The use of pheasant, an uncommon find on menus, signaturizes this item and makes it a draw for regulars who come in specifically for this dish. For others, it's the dish's fresh and balanced profile that makes it attractive.
"Guests can't get enough of this incredible pasta dish," says Amelotti.