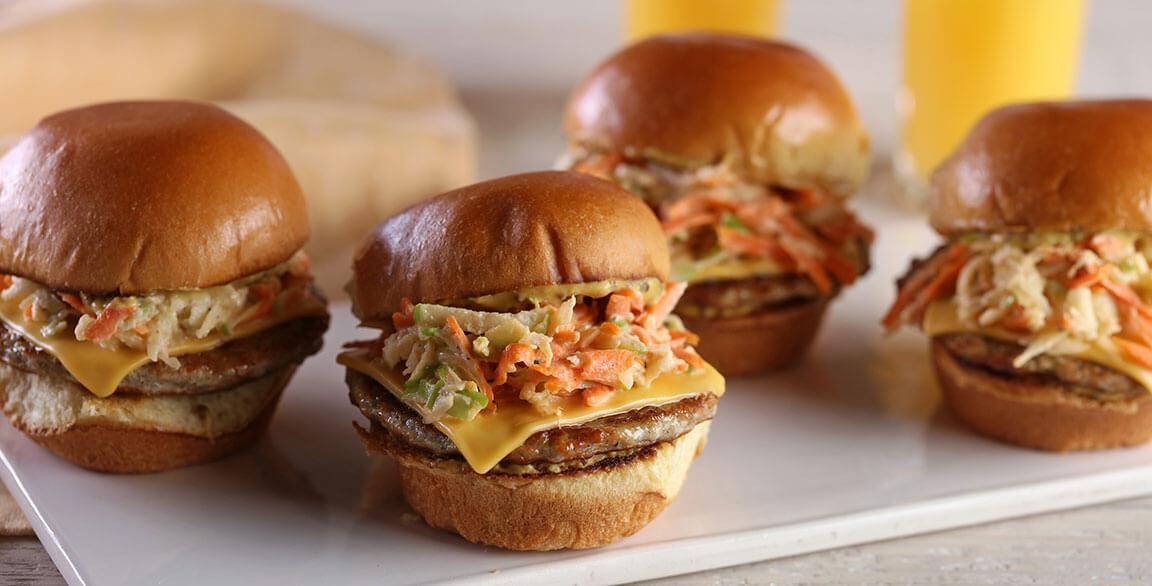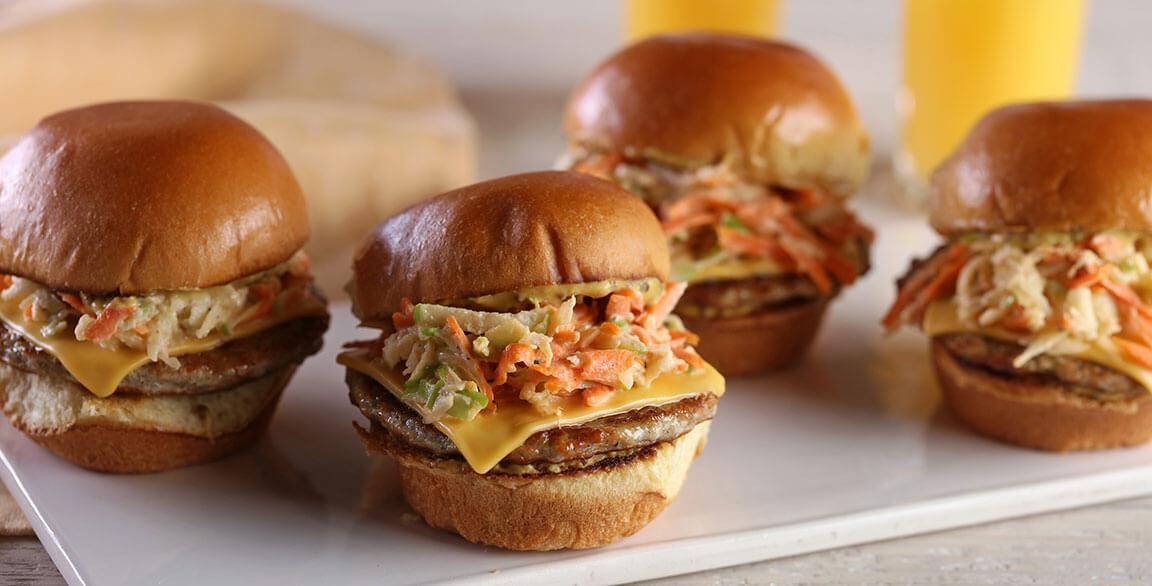 By Flavor & The Menu
June 8, 2021
Savvy chefs who continue to innovate in today's climate are employing smart strategies that allow them to trim labor on some ingredients, so they can allocate labor to elements that bring signature flavor impact.
A number of them are sourcing Smithfield Fully Cooked Meats, relying on the company's protein products that maintain quality while simplifying prep. From bacon, sausage and ham to smoked products, brisket and pot roast, Smithfield's variety of Fully Cooked Heat 'n' Eat proteins are perfect for the times.
"Cutting labor costs and cutting food costs can very simply be done by bringing in quality pre-cooked options," says Jacqueline Mearman, Chef/Owner of Kitsch, a pickup/delivery-only breakfast/lunch sandwich spot in Baltimore. "Getting fully cooked bacon and sausage from Smithfield took a big load of labor and food cost off of our shoulders."
She points to her Breakfast Sausage Sliders with apple coleslaw and maple-Dijon mustard as example. By relying on Smithfield Fully Cooked Breakfast Sausage Patties, Mearman says she's able to focus the kitchen prep on creating the other high-impact sandwich elements that take skill, labor and time.
"A great quality product is not time-saving by minutes, it's time-saving by hours. And that's real money."
Janet Kirker, Executive Chef/Partner, Lettuce Entertain You Enterprises
TIME TO INNOVATE
Utilization of pre-cooked products creates back-of-house efficiencies that opens up amazing avenues for creative menu development. "It gives that prep person more time, and it opens up a lot more possibilities to complicate another dish just a little bit, add another dish or run a special," says Janet Kirker, Chef/Partner of Chicago-based Lettuce Entertain You Enterprises.
She points to her Mongolian Beef Dumplings with Spicy Mustard as example. The dish features Smithfield Smoke'NFast Pot Roast as the protein element. "This is a great convenience for a number of reasons," she says. "I can use the greater part of it for a perfectly portioned or sliced serving of another dish, and for a dumpling filling, I can absolutely use the scraps or other pieces of the meat that can't be used for a perfect portion elsewhere."
Kirker adds minced pot roast to a mixture of sautéed garlic and ginger, soy sauce, brown sugar, cornstarch slurry and pot roast juices. "I get this beautifully braised, fully cooked meat that doesn't require the skill or the time. As operators, that gives us freedom to be creative elsewhere."
For Mearman, using fully cooked products and getting that prep time back is crucial for her business. "Instead, I can focus on better salsas, a better sauce game and more options on my menu," she says. That attention to flavor building is so important, keeping the menu competitive and diners intrigued. Her Ham & Cheese Scones with Whipped Maple Butter use Smithfield Fully Cooked Carving Ham, saving prep time and giving Mearman quality trimmings to tuck into the salty-sweet dough. "These scones are ridiculous—you get little molten lava pockets of cheese and savory bites of ham," she says.
SMITHFIELD'S PRODUCT MIX
SMOKE'NFAST
From barbecued pulled pork, chicken and beef to global varieties and on-trend choices
RIBS • PULLED PORK • PULLED CHICKEN • BRISKET • POT ROAST • ETHNIC MEATS
SMOKED SAUSAGE
Made of USDA-inspected ingredients to ensure consistent quality, our smoked sausages are made with real hickory smoke to give them their rich country flavor
LINKS • ROPES • BIAS CUT
HAM
Smithfield meets meticulous standards with every ham we sell—one taste is proof enough that every ham we make is consistently better than our competitors'
BONELESS • SPECIALTY CUT • BONE IN • SPIRALS • COOK IN BAG
BACON
Smithfield's variety of bacon blends amazing flavor, application versatility and back-of-house convenience
STRIPS • DICED • BITS • ROUND
BREAKFAST SAUSAGE
Made from superior cuts of lean pork and 100% natural spices, this easy-to-prepare sausage delivers a firm bite with authentic Smithfield flavor
LINKS • PATTIES • CRUMBLES
LUNCHMEAT
Smithfield's extensive portfolio of lunchmeats can take a sandwich that is ho-hum to yum-yum.
Ready, Filling & Delicious!
Reduce labor and streamline back-of-house prep with Smithfield's versatile selection of fully cooked meats.