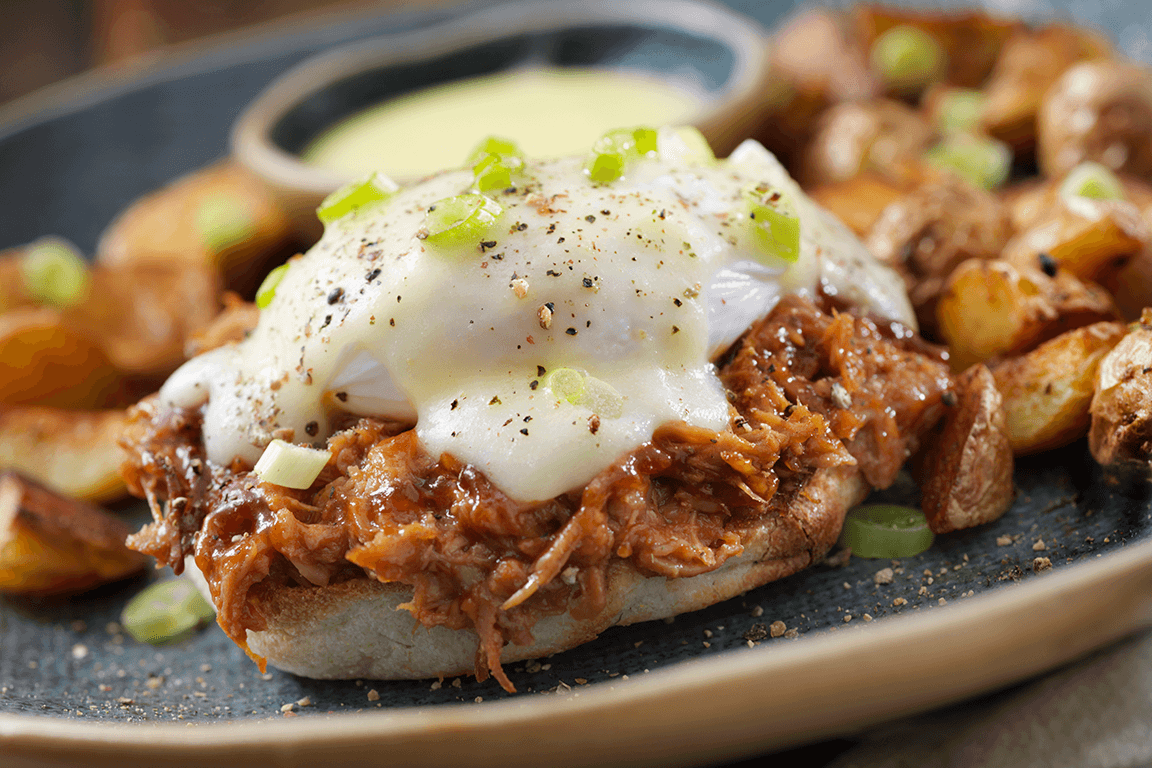 Egg dishes are synonymous with breakfast, providing a versatile blank canvas for integrating trending global flavors. With Asian profiles making big moves into the breakfast space, egg-themed innovation is key. Chefs can pull from a rich field of Asian cuisines, incorporating both their ingredients and techniques to ramp up traditional egg cookery.
Here, we highlight various approaches within three egg-cellent classics, sure to add differentiation to morning menus.
1
OMELETTES AND FRITTATAS
The firm, yet custardy layered chew of rolled, folded and puffed eggs complements the allure of a broad range of fillings, sauces and toppings from Japan, Korea, Thailand, China, Vietnam and more.
TRY THIS
Pork Fried Rice Omelette: Soft omelette (wrapped over the fried rice) + pork fried rice + avocado-wasabi salsa verde + okonomiyaki sauce drizzle
Spicy Japanese-Meets-Denver Rolled Omelette: Japanese omelette (Tamagoyaki) rolled with deli-sliced garlic ham and grated cheddar-Jack cheese + blistered Serrano peppers and onion (topper)
Light and Breezy Thai Frittata: Spicy Thai ground pork frittata + pickled green mango/papaya/carrot slaw (topper) + grated salted egg yolk
Sweet, Savory and Sour Frittata: Chinese lap cheong sausage frittata + tempura broccolini (topper) + pineapple sweet and sour sauce drizzle
2
SCRAMBLES
The supple elegance of fluffy scrambled eggs adds a premium feel and a familiar format, giving a wide runway for innovation.
TRY THIS
Shaking Beef Scramble Wrap: Shaking filet mignon + soft-scrambled eggs + Bibb lettuce leaf cup
Noodle Eggs: Soft-scrambled eggs + sweet soy-soaked udon noodles + chopped crispy peppered bacon + scallions
Kimchi Scrambler Hash: Roasted fingerling potatoes + chopped smoked beef brisket + kimchi + scrambled eggs
Coffin Bread Scrambler: Taiwanese coffin bread (hollowed out toasted white bread slab) + soft-scrambled eggs + crispy minced pork butt in spiced soy gravy
3
BENEDICTS
The jammy richness of a runny egg yolk wraps around bold Asian flavors, heightening mouthfeel with textural plays in every lasting bite.
TRY THIS
BBQ Belly Benedict: Buttermilk biscuit + barbecue pork belly + poached eggs + honey-Sriracha hollandaise
Yakitori Benedict: Griddled sticky rice cake + yakitori steak slices + poached eggs + yuzu hollandaise + green shiso chiffonade
Dumpling Benedict: Crisped and steamed sesame short rib dumpling + fried egg + miso-brown butter hollandaise + togarashi sprinkle
Lumpia Benedict: Spiced pork and cabbage lumpia + fried egg + yuzu hollandaise