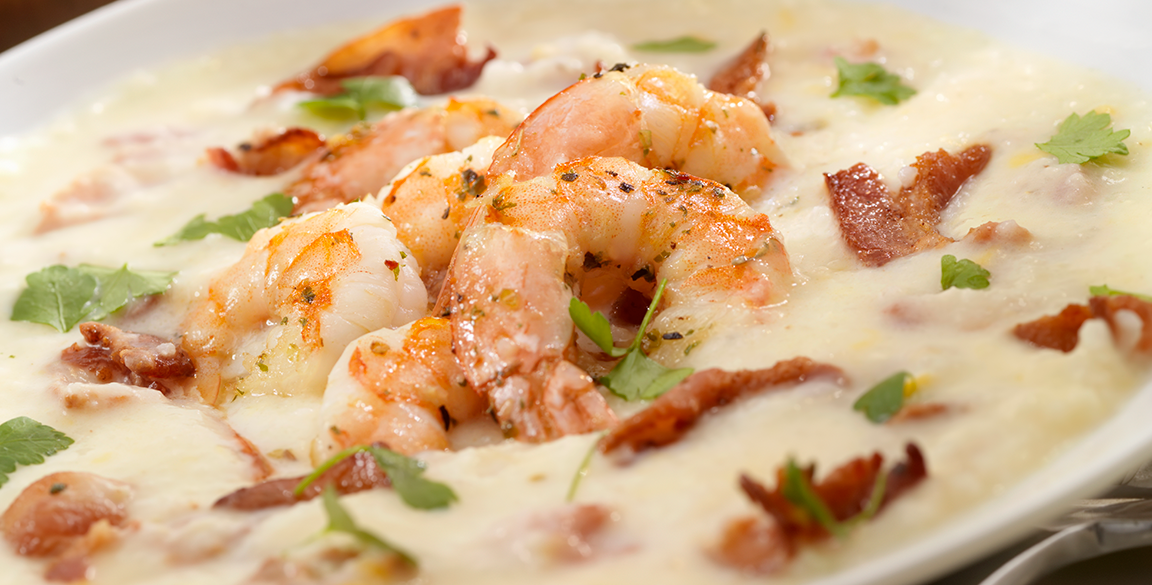 Restaurants offering plant-based shrimp can strike a chord with a broad swath of consumers, including vegans, diners with allergies to shellfish, and those simply drawn to it by intrigue factor. A strong narrative of sustainability underpins the opportunity, too.
Creative adaptations of popular menu items can reach a wide consumer audience, easily incorporating fried, sautéed, grilled, roasted or chilled plant-based shrimp applications. Lean on what guests love most about shrimp: its ability to heighten any dish, its subtle buttery-sweet flavor and approachable premium vibe. Although plant-based menus are front and center for this opportunity, featuring plant-based shrimp in combination with dairy-rich components and/or meaty accents captures a large segment of diners who simply like expanding horizons and finding their own balance in the flexitarian space.
Here are 10 flavor-forward takes that answer that call, growing acceptance and deepening interest in plant-based shrimp.
1"Shrimp" Migas: Sautéed plant-based shrimp + soft-scrambled eggs + tortilla chips + black beans + pico de gallo + Cotija crumbles
2Fried "Shrimp & Scallop" Tots: Fried plant-based shrimp + fried plant-based scallops + Thai green curry-coconut dipping sauce
3Shrimp Salad Snackers: Chopped chilled plant-based shrimp and toasted walnut salad + pea greens + frizzled sweet potato + Bibb lettuce cups
4BBQ Plant-Based Shrimp Slider: Barbecue sauced-grilled plant-based shrimp + spicy cabbage slaw + sweet Hawaiian bun
5Coastal Chowder Pot Pie: Plant-based shrimp and crab + sausage + Yukon gold potatoes + caramelized Cipollini onions + seasonings + roasted vegetable broth + cream + golden puff pastry crust
6"Shrimp" Scampi Focaccia Toast: Sautéed plant-based shrimp + garlic + white wine + lemon juice and zest + parsley + red pepper flakes + shaved Parmesan + warm focaccia
7Roasted Michelada "Shrimp" Cocktail: Roasted plant-based shrimp + Michelada style cocktail sauce
8Vegan Shrimp Surf n' Garden Turf: Wood-grilled plant-based shrimp + red wine-steak sauce glazed cauliflower steak + asparagus cream sauce
9"Shrimp & Calamari" Basket: Fried Buffalo plant-based shrimp + battered and fried shiitake mushroom "calamari" + creamed kale and artichoke dip
10Coconut "Shrimp" Roll: Fried coconut plant-based shrimp + tangy orange sauce glaze + arugula + butter-griddled bun