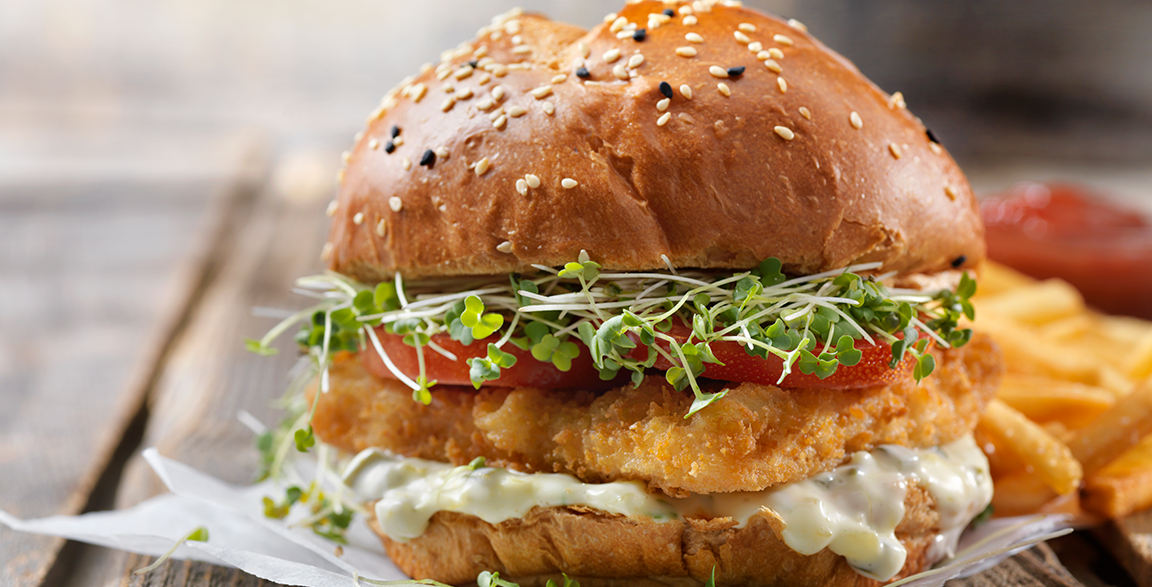 As more consumers move into alternative "seafood" adoption, foodservice operations can entice them with new menu additions. Plant-based crabcakes, flaky white fish fillets and patties, fish cakes, fish burgers and fish sticks are an emerging area for menu development focus, ideal for dialing up consumer curiosity in such offerings. Boasting outstanding flavor cues, many of these products mimic a real fish experience.
The opportunity lies in implementing menu features in enlivened ways that guests already enjoy traditional fish. Modern sandwiches are an ideal platform for flavor engagement. Appetizers offer impactful avenues for upping the menu ante, and brunch Benedicts provide a flavor-building opportunity for introducing a dynamic "fishless" twist on this classic.
Here are nine menu ideas meant to inspire culinary creativity and transform plant-based fish into everyday eats that patrons will crave.
1
Sandwiches
Pub Catch: Beer-battered and fried plant-based fish fillet + leaf lettuce + tartar sauce + pretzel sub roll
Fire "Fish" Burger: Pan-seared plant-based fish burger + white American cheese + roasted Serrano and habanero chiles + roasted red pepper aïoli + kaiser bun
Caribbean "Crabcake" Sandwich: Pan-fried plant-based crabcake + pickled mango + jerk aïoli + brioche bun
2
Starters
Mock Crabcake Soup: Roasted yellow tomato soup + sautéed mini plant-based crabcake + basil oil drizzle
Crunch "Fish" Enchilada Roll: Fried plant-based crunchy fish finger + white corn tortilla + sour cream sauce + ranchera sauce + Cotija cheese
Green Chile-Queso "Crab" Dippers: Pan-seared mini breaded crabcake bites + fire-roasted green chile queso
3
Benedicts
Mini Georgia Peach "Crabcake" Benedict: Buttermilk biscuit + shaved ham + pan-roasted plant-based crabcake + poached egg + peach hollandaise
Cali "Fish" Benedict: Fried plant-based breaded fish patty + fresh avocado slices + poached eggs + smoked tomato chutney + classic hollandaise + micro greens
Tokyo "Fish" Cake Benedict: Griddled plant-based sesame fish cake + fresh spinach + fried goat cheese medallions + poached eggs + pickled ginger hollandaise + nori chips
FEATURED RECIPE
GET THE RECIPE FOR Breakfast Burger