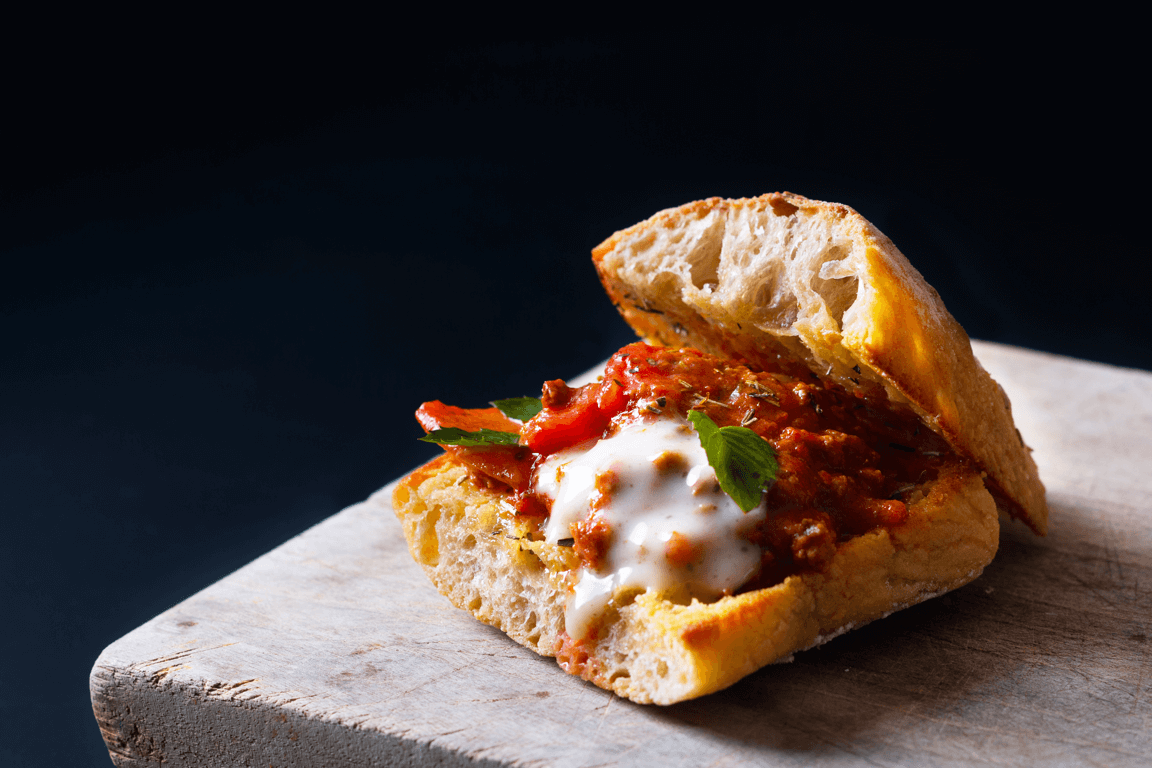 Sandwiches are natural for off-hour snack or meal, including the afternoon hours, which have, in recent months, presented themselves as a larger opportunity for growth. Consumers of all generations love sandwiches, with younger diners in particular looking for modern iterations when dining out, giving operators a chance to play around with the format on smaller-portion menus. Offering sandwiches in full-size, halved, sliders, or as smaller sliced shareable bites will fit any consumer occasion or unconventional schedule.
Sandwich-centric chains and foodservice operations could offer slider versions of heftier builds like the muffuletta, Reuben, Cuban, meatball sub, cheesesteak or spicy fried chicken sandwich. Maximize flavor adventure with trend-forward ingredients and creative theming to charm younger consumers.
The Gramophone, a self-described sandwich pub in St. Louis, Mo., boasts an extensive sandwich menu grouped by bread types (baguette, ciabatta, sourdough, swirl rye, brioche and Texas toast). A standout is Smokey the Beer, which consists of pastrami, caramelized onions, Swiss and beer mustard, all pressed on swirl rye.
Below are additional compelling sandwich examples, appealing to modern, social lifestyles.
COLD SANDWICHES
TRY THIS
Skinny Piglet: Shaved roasted-chilled pork loin + pepper Jack cheese + almond hummus + pickled spiralized carrots + sprouts + honey wheat sub roll
ON THE MENU:
Pit Boss: Savory ham, smoked bacon, Swiss cheese topped with a tangy vinaigrette, lettuce, tomato, pepperoncini, on toasted French roll with mayo — Smarty Pants, Seattle
The Babe: Ham, turkey, mayo, white American cheese, onions, tomato, Mike's Hot Honey, homemade crispy Brussels sprouts — Joey Roses, New York
HOT SANDWICHES
TRY THIS
Left Coast Panini: Roast beef + roast turkey + jalapeño whipped goat cheese + baby kale + roasted red peppers + sourdough
ON THE MENU:
The Dirty Pablo: Beef chorizo, smoked poblano peppers, Oaxaca cheese, red chile glaze, toasted butter bread — Dante's Fire, Tucson, Ariz.
Hybrid Of Awesome: roast beef, Havarti, Swiss, pickled onion, fresh mint, pickled fresno, harissa, rustic Italian — Sessions West Coast Deli, Huntington Beach, Calif.
DIPPED OR SAUCED SANDWICHES
TRY THIS
Heavenly Pork Dipper: Slow-roasted brown sugar pulled pork + mozzarella cheese + pepperoncini + French roll + smoked ham bone broth dunker
ON THE MENU:
Haymaker: Open-faced over Texas toast, rare roast beef topped with french fries, Gruyère sauce, slaw, tomatoes and a fried egg — Haymaker, Austin, Texas
Chicken Parm Dip: Shaved roasted chicken breast, Mendo's krispies, melted mozzarella and Grana Padano cheeses, pomodoro sauce, Italian basil, Calabrian chili aïoli, toasted sesame roll, served with a side of pomodoro sauce for dipping — Mendocino Farms, with locations in California, Texas and Washington