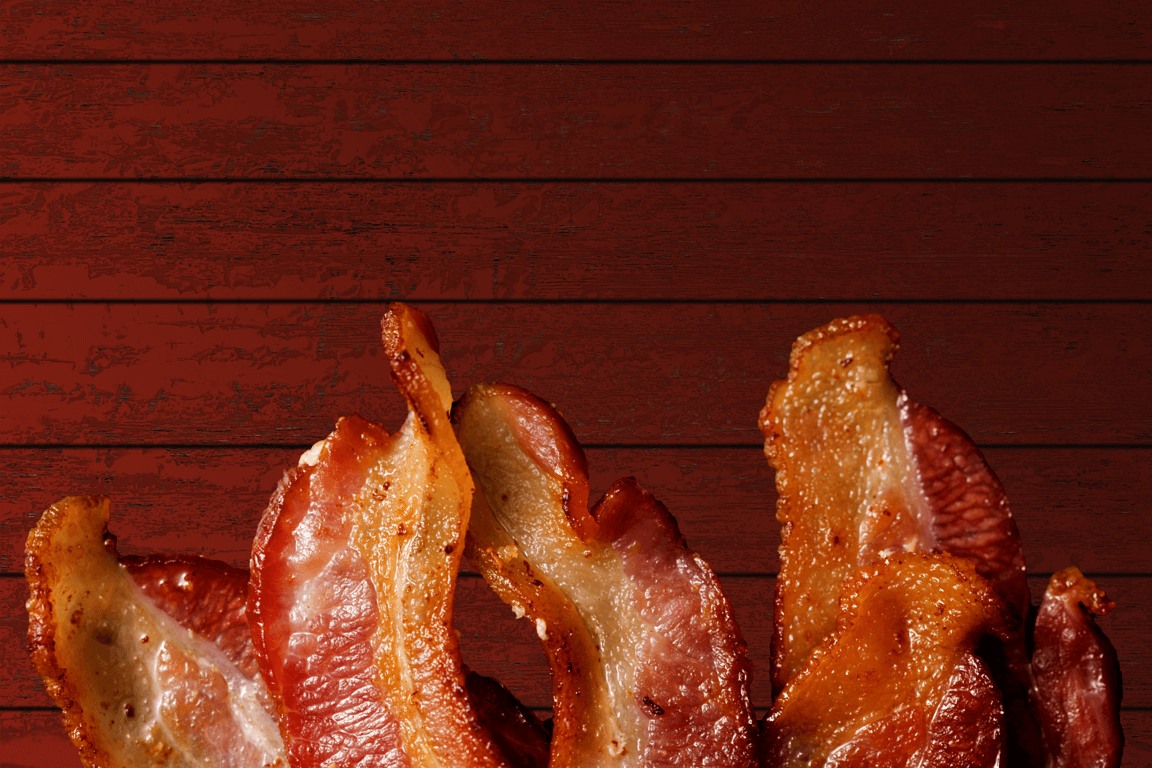 Two flavor combinations are holding the spotlight today: sweet-spicy and savory-spicy. And with good reason—chefs are serving up creative applications leverage those pairings that deepen profiles and dial up craveability. Bacon augments both the sweet-spicy and the savory-spicy flavor profiles, introducing its magical salty, fatty and smoky notes.
Chefs are leaning in, taking full advantage of consumers' unwavering love of bacon and developing trend-forward bacon-centric appetizers. Case in point: Bacon Nation, located at the D Hotel in Las Vegas, which is centered around a love of all things bacon. Guests can answer their bacon craving 24/7 here, with offerings like the Three Lil' Pigs, a small-plates item of three slices of thick-sliced Honey-Cured Bacon. Guests can choose from a range of flavors, including Black Truffle, Honey Sriracha, Mango Habanero, Everything Bagel and Chocolate Dipped. Another small plate is the Bacon Wrapped Pickle Spears, dill pickles wrapped in applewood smoked bacon that's tossed in Tajín, served with a side of ranch. At 677 Prime in Albany, N.Y., the menu features an appetizer of Thick Cut Bacon Steak with peach-pink peppercorn-bourbon glaze, sweet corn pudding and apple-scallion slaw.
Building upon that creativity, we have categorized "try-this" ideas in four areas for menu development. Each yields opportunity to showcase bacon's everlasting appeal in flavor-forward shareables.
TRY THIS:
BACON-WRAPPED APPETIZERS
Bacon-Wrapped Vidalia-Q Rings: Raw thick-cut Vidalia onion rings wrapped in maple bacon, liberally coated in spicy barbecue rub and roasted until crispy, then served with Alabama white bacon aïoli
Bacon-Wrapped Lion Mushroom Bites: Black and pink peppercorn bacon-wrapped lion's mane mushroom "filet" bites, roasted and served with dollops of Béarnaise
BACON-STUFFED APPETIZERS
Bacon and Pineapple Togarashi Hasselback: Hasselback wedge of golden pineapple stuffed with pieces of smoked bacon, coated with togarashi-Okinawan black sugar, roasted and glazed
Bacon Brunch Rangoons: Jalapeno bacon jam and cream cheese stuffed wontons; fried and served with strawberry-mimosa marmalade
BACON-TOPPED APPETIZERS
Pub Pretzel Bacon Melt: Halved soft pretzel stick slathered with whipped cheddar-beer cheese, broiled and topped with chopped hot mustard-coated bacon pieces
Hot Pepper Dust Bacon' Me Crazy Fried Deviled Eggs: Cornmeal-pepita-guajillo breaded and fried hard-boiled egg halves, filled with creamy bacon fat-crema deviled egg; topped with chopped hot pepper dust-coated bacon pieces
GLAZED BACON APPETIZERS
Boss Hog: A mix of raw ground pork shoulder and bacon blended with shredded country ham, panko, eggs and herbs that's made into bite-sized meatballs, then baked and glazed with apricot-Aleppo chile preserves
Bacon Brussels: Crispy Brussels sprouts leaves, cashew halves and slow-roasted pork belly bites glazed with pomegranate seed chile crisp