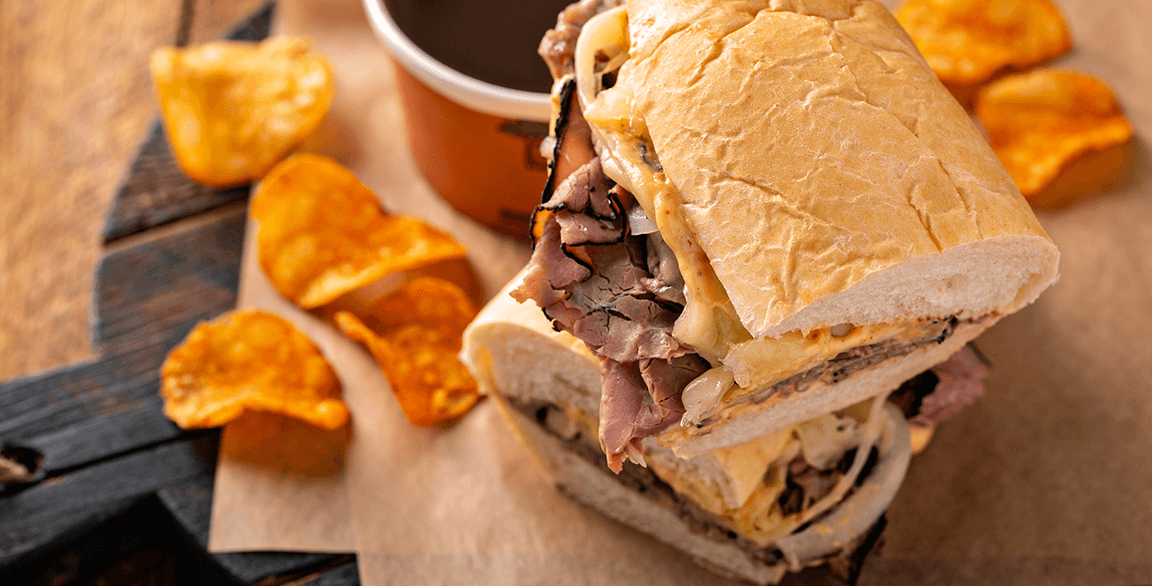 Pairing a dip with a bocadillo provides an unconventional and fun approach to enjoying this Spanish sandwich. This menu tactic taps into the consumer affinity for heightened flavor experiences like birria tacos, tortas ahogadas or the French dip.
Customization potential increases and flavor combinations become more eclectic when the bocadillo assumes a co-identity with a French dip sandwich. The idea being high quality riffs comprising meat and cheese on a toasted baguette paired with a decadent broth/sauce for dipping.
Here we present ideas encompassing meaty, cheesy, baguette-toasty creations dripping with flavor, as a mash-up on the trending bocadillo.
TRY THIS:
1

BROTHY DIP
Ahogada Bocadillo Dipper: Thinly sliced roast beef + melted Oaxaca cheese + butter-toasted baguette + birria-style broth (beef broth, cider vinegar, fire-roasted tomato, onion, garlic, ancho-guajillo-chipotle chile, Mexican oregano, cumin)
Cider Spiked Bocadillo Dipper: Shaved slow-roasted pork loin + melted Havarti cheese + butter-toasted baguette + spicy cider broth (chicken broth, fresh apple cider, spicy brown mustard, minced caramelized onion, rosemary)
Rise and Shine Bocadillo Dipper: Carnitas + melted pepper Jack cheese + butter-toasted baguette + red-eye broth (chicken broth, brewed coffee, hot sauce, Serrano ham powder)
2

CREAMY DIP
Comeback Bocadillo Dipper: Thinly sliced seared skirt steak + melted Gruyère cheese + butter-toasted baguette + comeback sauce (enhanced with beef broth)
Smoked Bama Bocadillo Dipper: Shaved smoked pork loin + melted white American cheese + butter-toasted baguette + Alabama barbecue sauce (enhanced with chicken broth)
Greek Bocadillo Dipper: Carnitas + melted manouri cheese + butter-toasted baguette + tangerine tzatziki sauce
3

HERBACEOUS DIP
Chimi Bocadillo Dipper: Thinly sliced grilled flank steak + melted asadero cheese + butter-toasted baguette + red chimichurri (enhanced with beef broth)
Summer Pesto Bocadillo Dipper: Shaved slow-roasted pork loin + melted Boursin cheese + butter-toasted baguette + charred corn-basil pesto (enhanced with chicken broth)
Chermoula Bocadillo Dipper: Carnitas + melted goat cheese + butter-toasted baguette + turmeric-harissa chermoula (enhanced with chicken broth)