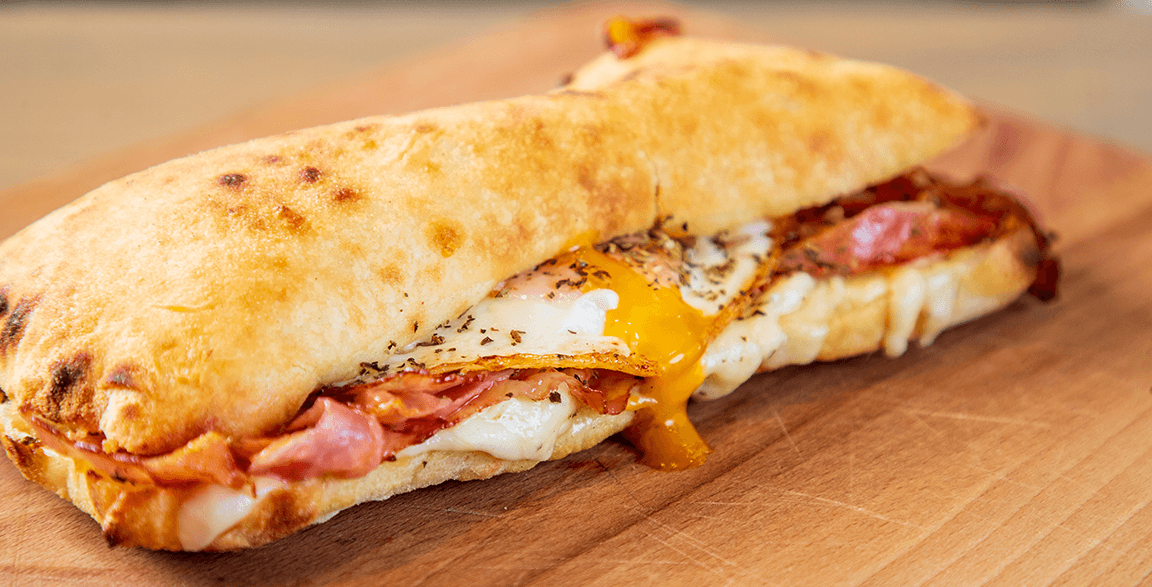 Spain's bocadillo stands out with its high-quality simplicity. Straightforward sandwich ingredient combinations resonate particularly well at breakfast, as patrons will gravitate to a thoughtfully curated classic offering. Ernesto's Cafe in New York demonstrates this with its daytime menu, featuring breakfast sandwiches like the T.E.C., with housemade txistorra sausage (a type of chorizo), egg, and Mahon cheese on pan de cristal, a signature bread from Spain that is crisp and airy. Equally appealing is its Bocadillo de Tortilla with the egg-centric Spanish tortilla, piquillo peppers and aïoli on pan de cristal. Builds such as these can stand out against the mega sandwiches that pile on the ingredients but sometimes miss the mark with muddled oversaturation.
Chefs can win at breakfast by looking to the bocadillo. No need to reinvent the carrier—both pan de cristal and the traditional baguette are ideal carriers for on-the-go breakfast, offering sturdy structure throughout the rigors of travel.
Below, we highlight the impact of three classic breakfast ingredients—meat, egg and cheese (M.E.C.)—on a crispy baguette. This classic flavor combination approach needs minimal explanation and yields maximum menu impact.
TRY THIS:
1

OMELETTE
Carnitas Jack Bocadillo: Thin omelette + carnitas + jalapeño-Jack cheese + baguette
Ham and Pimento Bocadillo: Thin omelette + shaved smoked ham + pimento cheese + baguette
2

SCRAMBLED EGG
Sausage Scramble Bocadillo: Soft-scrambled egg + breakfast sausage crumbles + cheddar cheese + baguette
Chorizo-Potato Scramble Bocadillo: Soft-scrambled egg + shredded chorizo hash browns + Cotija cheese + baguette
3

FRIED EGG
Spicy Maple Bacon and Egg Bocadillo: Fried egg + maple bacon strips + whipped Sriracha cream cheese + baguette
Everything Brisket and Egg Bocadillo: Fried egg + shaved everything spice brisket + Havarti cheese + baguette
FEATURED RECIPE
Prosciutto and Grilled Cheese Ciabatta
GET THE RECIPE FOR Prosciutto and Grilled Cheese Ciabatta