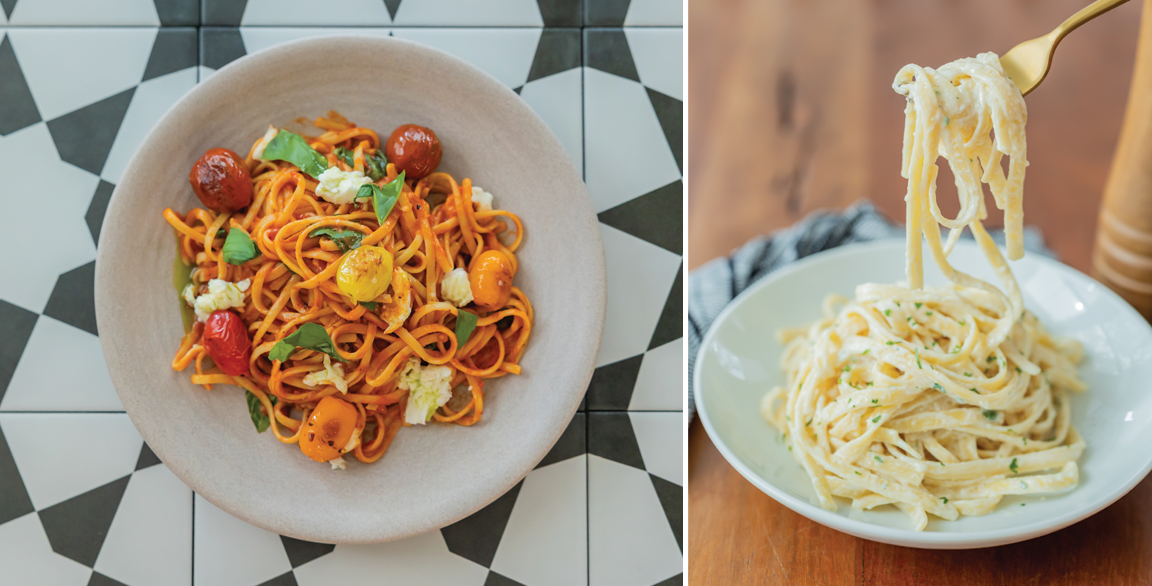 In the world of universally liked food categories, it's hard to beat noodles and pasta. Not only do they manage to effortlessly travel around the world creating iconic dishes along the way, but pasta and noodles have the knack of satisfying a variety of dietary needs and desires. Then there's their ability to have a starring menu role at both upscale, fine-dining restaurants and those with more wallet-friendly price points.
Nutritionally, however, these carb creations haven't always achieved the same celebrated status. Los Angeles-based JSL Foods is working to change that with its new line of plant-based, protein-rich noodles and pasta.
"Most noodles and pastas options are plant-based only," says Jade Wong Lucas, National Accounts Sales, Food Service, JSL Foods. "The innovation to our line of noodles and pasta is they're plant-based protein in the form of pea protein. And, they are vegan-friendly too."
Compared to protein-fortified products with protein isolated from hemp seed, rice and most other grains, pea protein contains a better balance of essential amino acids. Unlike whey protein, which is derived from dairy, pea protein is made from yellow split peas and does not contain any dairy, making it the protein source of choice for those with dairy allergies. Additionally, peas are particularly high in lysine, an essential amino acid the body needs for healthy bones, skin, and mood. Preliminary studies also suggest pea protein may control hunger hormones better than other types of protein.
Founded in 1951, JSL Foods is a third-generation family-owned company offering a comprehensive portfolio of Asian noodles for foodservice operators unrivaled for their quality, consistency, taste, and easy BOH convenience and preparation. As an innovative company focused primarily on Asian meal solutions, JSL combines science and creativity to formulate on-trend custom noodles that support signature menu items, including for many of the largest Asian restaurant chains. Recently, JSL expanded on its noodle expertise to create a versatile line of easy-to-prepare plant-based protein pasta and noodles for foodservice menus that includes Fettuccine, Linguine, Yakisoba and more.
"Restaurants are shifting towards more plant-based and sustainability categories for menu development now more than ever," says Ramon Solorzano, chef-consultant. "Plant-based protein noodles are an excellent menu addition for the casual-dining sector as it provides a higher source of protein and fiber compared to traditional pasta, which helps provide a need for health-conscious consumers."
Offering 12 to 15 grams of protein per 5-ounce serving, JSL noodles have a low glycemic value and provide sustained energy. "Our plant-based protein noodles and pastas are a healthy and sustainable food option for both the restaurateur and their customers," says Lucas.
But as any well-meaning chef knows, health benefits and easy back-of-the-house preparation only go so far — the food being served must taste great too.
"JSL Foods' plant-based protein pastas help deliver on several of these benefits while not sacrificing on flavor or texture to deliver the most craveable pasta you will ever have," says Solorzano.
To prove his point, he created three noodle and pasta dishes — Roasted Garlic Alfredo Fettuccine, Blistered Tomato Linguine, Yakisoba Mango Salad — using JSL pea-protein offerings that offer a nod to the classics while adding plenty of twists of their own.
See Solorzano's recipes here:
But the options are endless. From soups and salads to a base for sauces and stir-fries, JSL's plant-based protein noodles and pastas offer chefs a quick and easy way to satisfy their guests' desire for their favorites dishes while also giving them a guilt-free option. JSL Foods works with foodservice operators to provide customized culinary development support.
Click here to learn more about JSL Foods' Plant-Based Protein Noodles & Pastas.