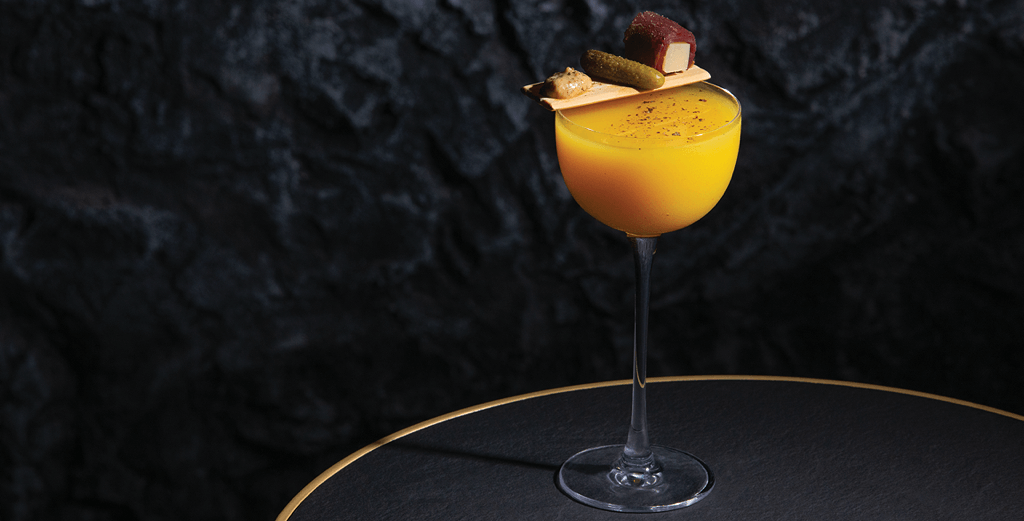 Astute operators see opportunity in menuing drinks that incorporate savory tones, understanding that they introduce that all-important intrigue while also serving as a modern tool of flavor calibration. Given the growing number of consumers who have high expectations when it comes to beverage innovation, highlighting unexpected savory flavors in cocktails can help give operators a sharp competitive edge.
Savory elements that are informing some of today's cocktail development—and delivering compelling storytelling opportunities—include herbal fruit jams, shaved seasonal vegetables, next-gen fat-washing, fermentations, oceanic infusions and warming spices. Trend-forward bar menus are showcasing features like cacao water, pandan, coffee richness and tea astringency, while beverages like forager cocktails and cobbler-style drinks are also holding sway in this savory realm.
Here are 10 creative ways to layer savory notes into the cocktail experience.
1
ROOT VEGETABLES
Veg-forward cocktails are standing out in the crowd thanks to juicing, roasting and smoking techniques that elevate cocktail flavors in ways that other ingredients cannot. Root vegetables are ideal for adding robust seasonal flair, complexity and earthy vegetal sweetness to winter beverages.
TRY THIS
Rabbit Hole: Aged rum + Grand Marnier + carrot juice + fresh grated ginger + coconut cream + smoked sea salt rim
Winter Warmer: Bourbon + walnut liqueur + roasted sweet potato syrup + dried chile de árbol
MENU SIGHTINGS
Goes Well with Destruction, Despair and Oysters: Vodka, dill aquavit, smoked beet, apple, horseradish
and tonic
—Normandie, Portland, Ore.
2
SPICES
Warming spices incorporated in various forms—infused syrup, muddled, foamed or as a glass rimmer—can add savory dimension, turning conventional cocktails into something truly spectacular. Garam masala, mole spices, turmeric, cardamom, pink peppercorn, mustard seed, cloves and togarashi top the list of notables.
TRY THIS
Bitter Tears: Bourbon + Cynar + vanilla pulp + clove syrup + flamed orange peel
Sunsetter: Vodka + club soda + blood orange purée + turmeric foam
MENU SIGHTINGS
White Russian: Copa de Oro, amaro, cardamom and cream
—Spoon and Stable, Minneapolis
3
CHILES
Dialing up the heat is an art form that has been gleefully explored in the last few years, offering patrons a little kick in their cocktails. Balance is key to taming intensity and can create an invigorating contrast of flavor sensations. Lean on cooling fruits/vegetables, botanicals and fat-washing to offset spiciness.
TRY THIS
Hot Paloma: Cotija-infused tequila + pink grapefruit juice + habanero bitters + Tajín rim
Raging Bull: Vodka + ginger beer + passionfruit syrup + grilled Serrano chile slices
MENU SIGHTINGS
Next Town Over: Gochujang shrub, Calamansi pilsner, pickled carrot and Korean barbecue
pork jerky
—Genever, Los Angeles
4
UNIQUE PLANTS
Patrons value the antioxidant-rich attributes associated with plants. Increased consumer demand for
plant-based offerings has led bar menus to feature unique plant-forward spirits, delivering savory
tastes as the centerpiece in cocktails.
TRY THIS
Dirty Desert Martini: Vodka + cactus vermouth + lime juice + MSG-enhanced olive juice
Garden of Eden: Sotol + green Chartreuse + honeydew juice + chive blossom
MENU SIGHTINGS
Pandan & Coffee: El Tequileño reposado tequila, Campari, sweet vermouth, pandan leaf, cold-brew coffee and coconut water
—Superfrico, Los Vegas
5
CORN
As corn—the kernels, cob, husk and masa—grows in popularity as a celebrated menu ingredient, it's enjoying widespread appeal at the bar. Forward-leaning operations are introducing savvy patrons to tejuino (a cold, fermented corn drink), abasolo (corn whiskey) nixta (nixtamalized corn liqueur) and pox (Mexican spirit).
TRY THIS
Older Fashioned: Bourbon + nixta + smoked-hops syrup + mole bitters + orange twist
Fermented Corn Chiller: Tejuino + mezcal-lime sorbet + chile tincture
MENU SIGHTINGS
Father Sun: Blue corn mezcal, Dondante pox, falernum, Zucca amaro, lime and black salt
—Lazy Tiger, St. Louis
6
FRESH HERBS
Herbal aromatics can imbue cocktails with layers of freshness, flavorful intricacy and strong visual appeal. Try an infusion of muddled herbs, an herb simple syrup or a garnish of whole herb sprigs to signal health and wellness.
TRY THIS
Herbal Thai Sangria: Dry white wine + sparkling water + coconut vodka + lemongrass-ginger simple + fresh Thai basil sprig + fresh mint sprig + cucumber ribbons + lime slice
Aquavit Cider: Swedish aquavit + warmed fresh cider + cranberry juice + fresh sage leaves
MENU SIGHTINGS
Cobbler-style Lovers in Hanover Square: St. George Terroir gin, basil and cantaloupe jam, aloe and lemon
—Rough Rider, Phoenix
7
AQUAFABA
As creamy drink textures continue to delight younger consumers, aquafaba in cocktails is on the rise. With its versatility as a vegan replacement for egg whites or as an allergen-free alternative, aquafaba shines as a latte foam, a shaken emulsifier or a flavored whipped topper.
TRY THIS
Bee-utiful Buzz: Espresso + brandy + honey aquafaba + bee pollen
Harvest (no egg) Nog: Spiced rum + pear liqueur + oat "milk" + charred butternut squash purée + cinnamon-clove aquafaba topper
MENU SIGHTINGS
Louvre at First Sight: Gracias a Dios mezcal, prickly pear, lemon, jalapeño honey, orange bitters, aquafaba and hickory smoke
—Vanderpump à Paris, Las Vegas
8
CUCUMBER
The clean, light, fresh flavor of cucumber adds subtle savory notes to complement a range of spicy, sweet, bright, floral and citrus cocktails any time of the year. Smash it to capture its effervescent flavor in a pronounced release of juices or focus on the aesthetics of using ribbons or slices.
TRY THIS
Rock 'n' Roller: Dill-infused gin + lime simple + smashed cucumber + hot sauce dash
Peppery Cucumber Spritz: Prosecco + vodka + club soda + lemon-lavender simple + thinly sliced English cucumber ribbons + crushed pink peppercorns
MENU SIGHTINGS
Island Boy: Coconut rum, banana liqueur, housemade orgeat, cucumber rosemary shrub, cucumber juice, pineapple and nutmeg
—Santé, Scottsdale, Ariz.
9
SEAWEED
Seaweed has made the leap from the kitchen to the bar, pushing cocktails into new savory directions with strong, straightforward flavors. Bartenders with a deft touch apply the briny flavoring agent to add salinity, richness and balance to cocktails.
TRY THIS
Salty Gibson: Harris seaweed gin + dry vermouth + housemade pickled plum wedge
Coastal Mary: Vodka + sake + charred tomato juice + yuzu + kombu strips + shiso leaf + togarashi rim
MENU SIGHTINGS
Umami Jack: Starward Viridian barrel single malt whiskey, chungju (Korean rice wine), shiitake, apricot, Cardamaro and seaweed
—Viridian, Oakland, Calif.
10
TOMATO
Both tomato water and tomato varietal mentions have seen recent spikes on cocktail menus, evidence that mixologists are thinking beyond the Bloody Mary and the michelada and infusing tomato-based drinks with a more delicate touch. Tomato liqueur provides another progressive take for imparting tomato deliciousness in cocktails.
TRY THIS
Hazy Tennessee: Whiskey (aged in a mezcal cask) + black tea kombucha + La Tomato liqueur + roasted cherry tomato garnish
Road Runner: Mezcal + roasted yellow tomato and yellow bell pepper water + pickled tomatillo slices
MENU SIGHTINGS
Alfa Romeo: Bourbon, tomato water, Campari and sweet vermouth
—Sotto, Cincinnati