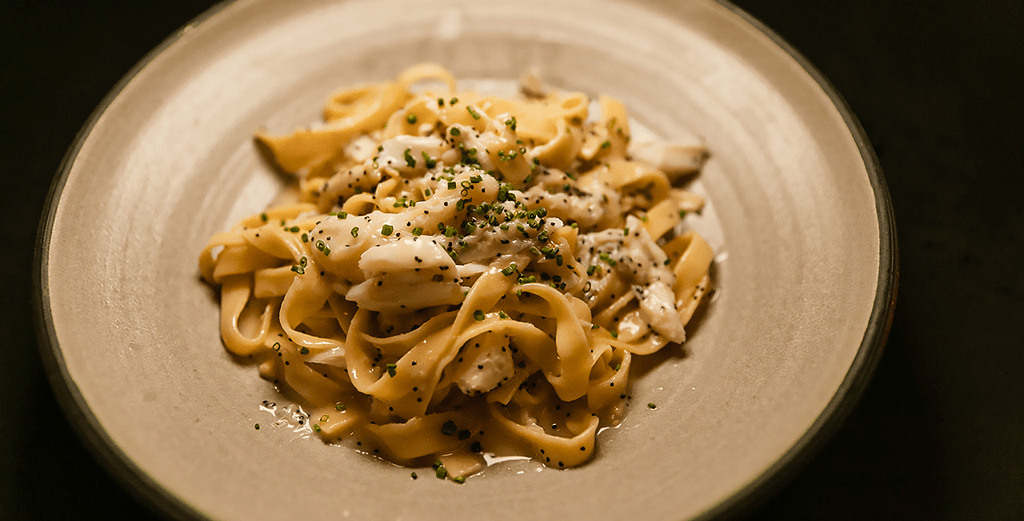 By Nicholas Gonring
October 26, 2022
In this, Part 3 of the Flavor Expedition menu-trends tour in Los Angeles, we explore three concepts presenting broader menu-development opportunities nationwide: Japanese-Italian mash-ups, Nikkei cuisine and yuzu kosho.
JAPANESE-ITALIAN MASH-UP
The buzz-commanding success of several notable Japanese-Italian concepts, such as Kimika in New York and the pre-pandemic hit Blackship in Los Angeles, have paved the way for newcomers like Hollywood's upscale Magari. This colliding of cuisines produces new dimensions of flavor by using staples found in both cultures, such as noodles, chile-laced condiments, citrus and seafood. The results are undeniably delicious. And this mash-up clearly has legs, as we uncovered Japanese-Italian dishes at other restaurants.
The flavorful Squid Ink Paccheri at Magari features seafood Bolognese coated in miso butter with lemon and gets a wonderful crunch from toasted pangrattato sprinkled on top. Another mash-up highlight sees delicate peekytoe crab meat folded into housemade Yuzu Tagliatelle, dusted with nutty Parmesan and finished with a healthy dose of olive oil and a sprinkle of poppy seeds. At the nearby Italian concept Tommy's Beverly Hills, crunchy tempura-fried Squash Blossoms are filled with whipped ricotta, mounded with a blizzard of Parmesan and served alongside an umami-laced yuzu kosho bagna càuda for dipping. Around the corner, we found luxurious Roasted Bone Marrow Canoes at Ella Beverly Hills, an Asian-Italian restaurant in the Sixty Hotel. These were slathered in yuzu kosho and a zesty horseradish gremolata paired with a few slices of grilled focaccia for sharing.
NIKKEI BREAKS OUT
Nikkei cuisine is on the cusp of breaking out as a unique mash-up in this country after simmering for more than a century in Latin America. The first wave of Japanese immigrants arrived in Peru back in 1899, applying their culinary approaches to native Peruvian ingredients like aji amarillo peppers, quinoa and aromatic huacatay herbs. Similarly, Peruvians embraced Japanese sauces, condiments and foundational preparation methods. We visited newly opened concepts in Los Angeles that highlight Nikkei cuisine—each showcasing the emerging opportunity for menu innovations with these global flavors.
In Silver Lake, Causita features thin slices of raw Salmon Tiradito seasoned with ponzu, gochujang and leche de tigre, layered with pleasing textures of beet "jerky," fresh cucumber and airy dots of horseradish mousse. Its delicious nigiri tasting flight demonstrates a deft inventiveness, starting with the traditional rice being swapped for a bite-sized cube of Peruvian mashed potato nested inside a thinly sliced cucumber boat. The first nigiri of the flight is topped with raw minced sea bass seasoned with leche de tigre and crunchy wasabi tobiko, while the second taste offers fatty bluefin otoro with tobanjan chile sauce and truffles. The third nigiri set highlights raw minced salmon layered with sour preserved lemon, spicy aji amarillo and notes of floral yuzu, and the fourth taste marries finely chopped sun-dried tomato with a rocoto pepper aïoli and a seaweed salt finish.
The Patarashca de Pescado at Onizuka in West Hollywood menus delicious Nikkei treatments around a crispy-skinned branzino with simmered shimeji and maitake mushrooms bathed in a soy-dashi broth, earthy steamed yuca and a spicy aji limo and criolla tomato salsa finish. Its playful Anticucho Yaki presents skewers of chicken, hanger steak and cherry tomatoes with shishito peppers that are served with a personal binchōtan charcoal grill and accompanied by a savory vinegar-based anticucho mop sauce plus a huancaina cheese dip.
In the Fairfax neighborhood, California-Peruvian Short Stories Restaurant menus a Nikkei Cobb Salad that tosses local mixed greens with a creamy sesame-yuzu dressing, alongside toothsome Peruvian corn, chunks of avocado, briny feta cheese and Kalamata olives.
YUZU KOSHO
Yuzu kosho is a lacto-fermented condiment paste manufactured in red or green variations. The green yuzu kosho is comprised of the zest and juice from unripe green-skinned yuzu citrus with green Thai bird's eye chiles and salt. Red yuzu kosho combines ripe yuzu citrus and red Thai bird's eye chiles. Both varieties make great additions to sauces, dressings, marinades, wet rubs and more. The fermented element of the paste contributes umami-like qualities, dialing up craveable results, while the yuzu component offers acidic, sour, floral and even bitter notes. The spicy chiles offer a jolt of energy and the salty finish proves its reputation as the consummate seasoning. Yuzo kosho is incredibly versatile and quickly becoming a workhorse ingredient.
At Japanese restaurant N/Soto in mid city, the delicate monkfish liver preparation of Ankimo is tossed in umami-based condiments like sumiso and yuzu kosho and is finished with shaved onion and julienne purple radish. The Honey-Glazed Crispy Chicken at Tommy's Beverly Hills is served with a yuzu kosho crema for dipping. Chinatown's casual Japanese eatery Katsu Sando uses yuzu kosho for its signature slaw dressing, which is layered into every handheld. Our favorite was the crispy Honey-Walnut-Shrimp Sando on milk bread.