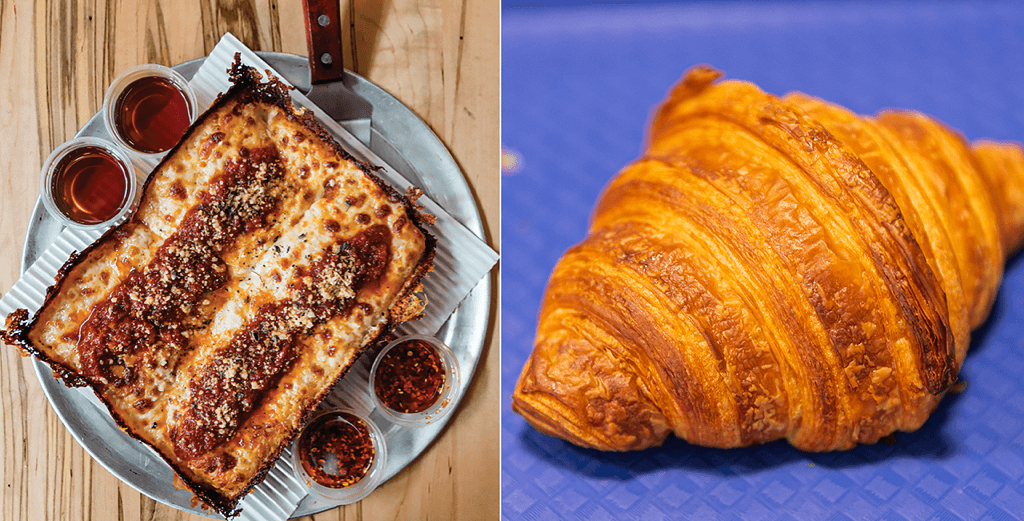 By Nicholas Gonring
October 13, 2022
For 17 years, the research team at Gordon Food Service has combed the neighborhoods of three leading foodservice markets—New York, Los Angeles and Chicago—in a street-level menu-trends tour, aiming to identify cutting-edge flavor innovations from restaurants representing an array of cuisines and concepts. Our most recent travels took us to the sprawling geography of Los Angeles, where we worked our way through many of the city's neighborhoods: Beverly Hills, Hollywood, Fairfax, Koreatown, Chinatown, Mid City, the Arts District, Silver Lake and more. Over the course of five days, and in an ever-evolving foodservice scene that has delivered plenty of novelty over the past year, we visited 40 new restaurants and tasted 300 dishes.
The scope of insights we gleaned stop after stop confirms L.A.'s celebrated role in directing electrifying new culinary trends. More importantly, our experiences presented solid evidence that the industry is on a path toward post-pandemic recovery.
In this three-part series, we'll highlight the trend-forward flavors, ingredients and dishes we believe offer the greatest opportunities for broader exploration and growth.
PIE IN THE SKY
Los Angeles might be the home to California-style pizza, but it continues to see the opening of new pizza concepts with fresh points of differentiation at each. Our itinerary took us to eight new restaurants where pizza was either a menu category, a stand-alone global menu item or the sole concept. The ubiquitous comfort food is an enduringly reliable canvas for flavor play designed to earn new buzz. There is no right or wrong approach, and L.A. has proven to be a pie-in-the-sky sort of town.
Although we tasted many wood-fired pizzas from different sites, each told a unique story. The Spicy Pepperoni pie at Ella Beverly Hills is fashioned with a copious amount of small cupping pepperonis and features a chewy crust with charred, blistered edges. Calabrian chile hot honey adds punch to the pizza party. A few blocks south in Pico-Robertson, the super-hot (750 degrees F) oven at Pizzeria Sei is fired with oak and almond logs to bake Tokyo-style Neapolitan pies in under 90 seconds. The team hand stretches and pinches the dough, creating a springy mochi-like texture. In the case of the sumptuous Bismarck, it is covered with creamy fior di latte cheese and thin sheets of prosciutto cotto, with finishes of a fudgy sous-vide egg, truffle-oil drizzle, pecorino and basil.
Pizzeria Bianco, a wood-fired pizzeria chain based in Phoenix, opened a highly anticipated location downtown, which offers sumptuous slices like the New York Green, covered in a vibrant spinach-cream sauce and baked with dollops of sharp and earthy Caciocavallo and Parmigiano-Reggiano cheeses. Just west, in the Historic Core of downtown, the new plant-forward concept Gusto Greens features a wood-fired sourdough pizza menu section with items like Hemp Margarita layered with local DiNapoli sweet tomato sauce, velvety fior di latte cheese, Ziese Farms hemp leaves and an herbaceous finish of hemp oil.
We discovered DTown Pizzeria, a new Detroit-style pizza shop in West Hollywood that handcrafts unique twists to the iconic crispy, frico-lined, rectangular pan pie. Its Street Corn Pizza is made with smoked corn, chile-lime mayo, melted Wisconsin brick cheese, Parmesan, scallions and a squeeze of grilled lime over the top. An innovative Meatball Parm Stuffed Crust pizza features provolone, garlic confit, mascarpone cheese and the signature Detroit "red stripe" of tomato sauce across the top.
We encountered two global renditions of pizza that are quite a departure from conventional formulations despite their pie shapes and triangular slices. The Oaxacan Tlayuda del Mercado at De Buena Planta, a plant-forward Mexican concept with locations in Silver Lake and Venice Beach, is made from an extra-large, crunchy, cracker-thin corn tortilla that's topped with black bean purée, queso Oaxaca, Mexican herbs, pickled purple cabbage, lime avocado, chile de àrbol and hoja santa crema. At the Yangban Society, a Korean-American restaurant in the Arts District, the Korean Kimchi-Ppang resembles a hefty triangular slice of deep-dish pizza but is topped with olive oil, spicy kimchi marinara and melted mozzarella cheese.
FULL FLORA
For years, vegetable-centric menus with strategic protein inclusions were ahead of many vegan offerings in delivering flavor and showcasing culinary technique. However, with consumer demand at an all-time high for plant-based foods, coupled with the technological advancements in food science, the playing field is leveling out. Chefs are looking at vegan cuisine as a new culinary challenge, an opportunity to elevate their creativity and reach more modern consumers.
It is no surprise to find Los Angeles fairly bursting at the seams with plant-based concepts. Four of the newest ones we visited were completely plant-based, appealing to a growing base of both vegan and flexitarian diners.
The vegan pastry program at Chinatown's Bakers Bench is well regarded for conquering the challenge of a Vegan Croissant—and other laminated dough-based pastries—without using butter. Another highlight is a Danish pastry filled with vanilla "custard" and apricots. Across town in Fairfax, vegan fast casual Mr.Charlie's Told Me So has successfully launched a counterculture brand that menus vegan Frownie Meals consisting of Not a Cheeseburger and Not a Chicken Sandwich that look and taste like a certain global juggernaut's.
Just down the street at PBAF (Plant Based As F*ck), which has two L.A. locations, we tasted a similar sandwich set: a Hot Hunny Chick burger, with hot "hunny" sauce, slaw and pickles, and a (Non) Classic Cheeseburger with an Impossible patty, lettuce, pickles, mustard and ketchup. In Silver Lake, the electric vegan pizza joint Hot Tongue came on the scene with a host of dairy-free pies, including its Classic Slice, which is layered with a kicked-up red sauce, cashew "mozzarella," fire-roasted red peppers, mushrooms and spicy vegan "sausage."
MENU STANDOUT: LITTLE GEM LETTUCE
Little Gem lettuce is all the rage with Los Angeles chefs. Its sweet and crunchy leaves are a cross between romaine and butter lettuce. Since the size of each head is really quite small, minimal prep is required and little waste is generated. The leaves are best served in their whole form to highlight their beauty. Any of the half-dozen menu items highlighted could be easily executed, refreshing existing salad offerings with Little Gem or expanding blends of different greens.
Little Gem Salad: Herb-buttermilk dressing, ricotta salata, breadcrumbs, dill and chives—Ella Beverly Hills
Market Lettuce: Little Gem, avocado, lime, sesame, seaweed and yogurt—Tommy's
Little Gem: Green Gem, muhammara, pickled onion, pecans and goat cheese—Fanny's
Grilled Green Goddess: Grilled Baby Gem, Parmesan-Reggiano, Cantabria anchovy and grilled lemon—Short Stories Restaurant
Cesar Mexicana: Baby kale, Little Gem, sunflower seeds, crispy tortilla strips, Cotija and cashew Caesar dressing—De Buena Planta
Little Gem: Buttermilk, radish, salted egg and dill—Mes Amis
Vegan Caesar: Little Gem, nutritional yeast, croutons, cracked pepper and herb —Lodge Bread Company
Next week, in Part 2 of Flavor Expedition: Los Angeles: Dry-aged finfish and fat-washed cocktails