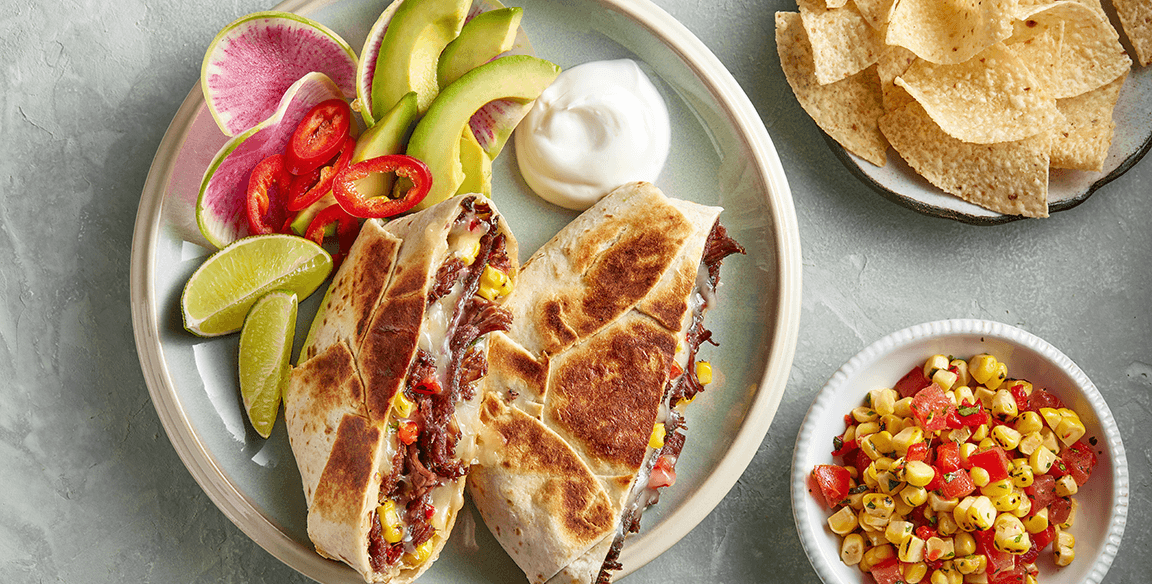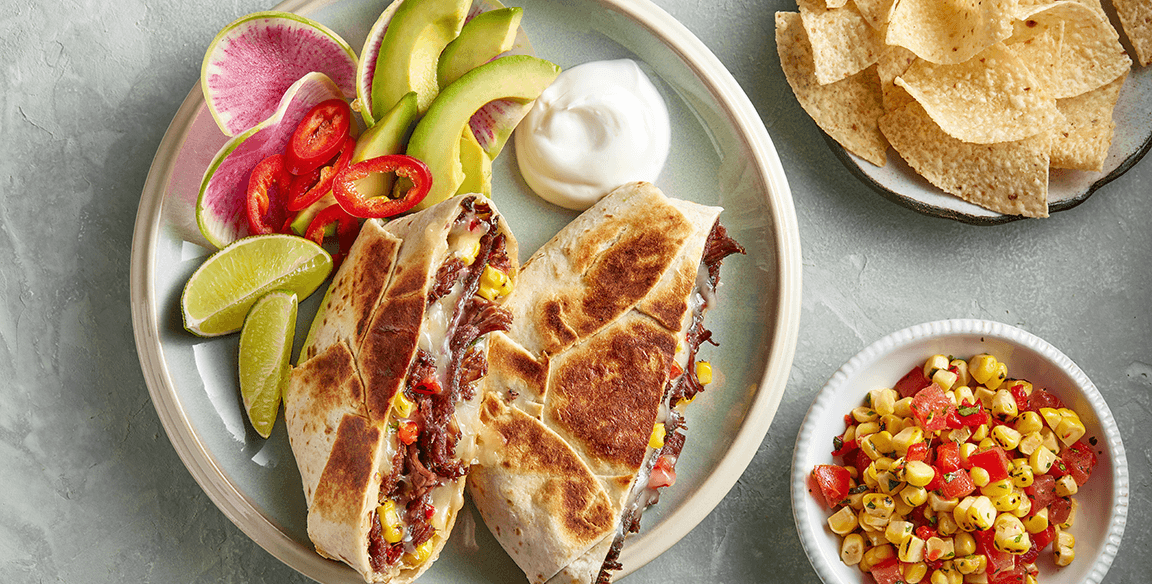 California Cheesy Short Rib Crunch Wrap
Recipe courtesy of Chef Kevin Felice
Sponsor: California Milk Advisory Board
Servings: 24
Ingredients
Corn Salad: (Yield 2 quarts)
2 lbs roasted corn
2 ½ c ¼-inch dice tomatoes
1 1/3 c ¼-inch dice roasted red peppers
2/3 c lime juice
2/3 c chopped cilantro
1/3 tsp salt and pepper blend
Short Ribs: (Yield 5 pounds)
3/4 oz salt and pepper blend
1/4 oz ancho chile powder
3/4 oz blended oil
5 lbs boneless short ribs
3/4 lbs minced garlic
1 c sliced red onion
1 c diced tomatoes
3 halves lime
4 qts beef stock
1 1/2 oz red wine
Short Rib Crunch Wrap:
12 12-inch flour tortillas
5 lbs braised Short Ribs
5 lbs Real California shredded whole milk mozzarella
Mole sauce, as needed
2 qts Corn Salad
12 6-inch blue corn tortillas, fried
12 6-inch flour tortillas
Paprika, as needed
3 c Real California sour cream
Directions
For the Corn Salad:
Combine everything in a large container.
Cover and refrigerate for up to 3 days.
For the Short Ribs:
Combine the salt blend and ancho powder and season the short ribs on all sides.
Heat up a large rondo with the oil. Sear the ribs on each side until they are golden brown. Remove from the pot and add the garlic and onions. Cook for 5 minutes. Add the tomatoes, limes, wine and stock. Bring to a boil.
Place the short ribs in a deep hotel pan. Pour the liquid over them. Wrap in plastic and foil and place in an alto sham at 250 degrees F for 12 hours. Allow the ribs to cool in the liquid. Strain and shred them for service and return the meat to the liquid. It can be refrigerated for up to 4 days.
For the wraps:
Layer each 12-inch tortilla with about 3 ounces short ribs, 3 ounces cheese, some mole and 1/3 cup corn salad, then a blue corn tortilla.
Make another layer of short ribs, cheese, mole and corn salad on top. Top with a 6-inch flour and fold the sides of the large tortilla up and over. Press it down tightly.
Rub the outside of the wrap with paprika and sear the folded side on a flat top for 3 minutes. Flip over and sear the bottom side. Remove and place on a sheet pan in a 350 degree F oven for 5 minutes. Cut in half and serve half a wrap per person with more mole and sour cream.
Project Management: Summit F&B
Photography: Carlos Garcia // Food Styling: Peg Blackley & Bree Williams