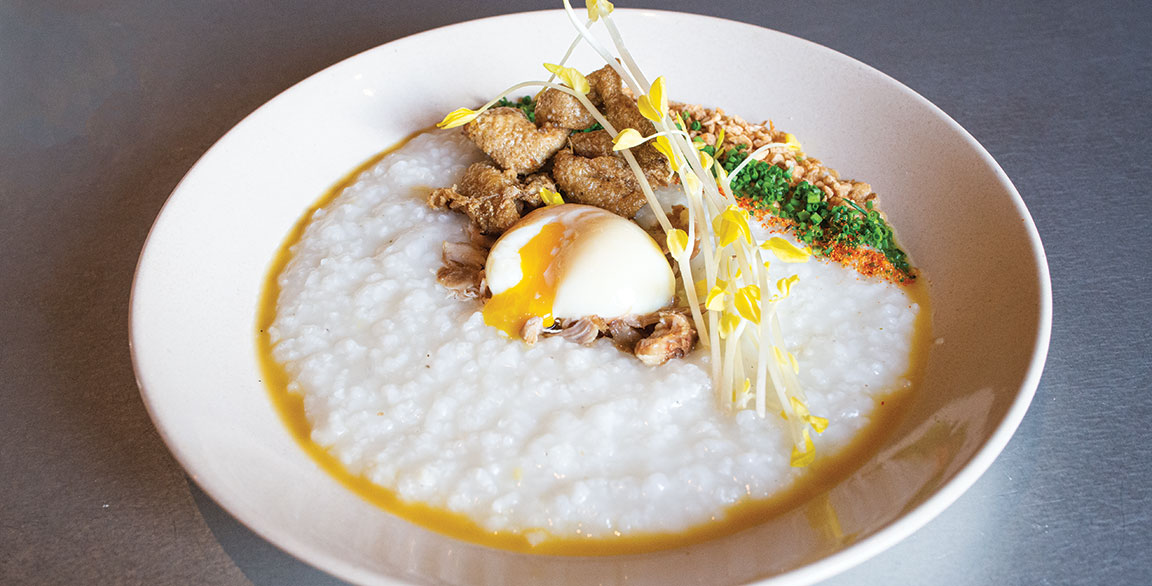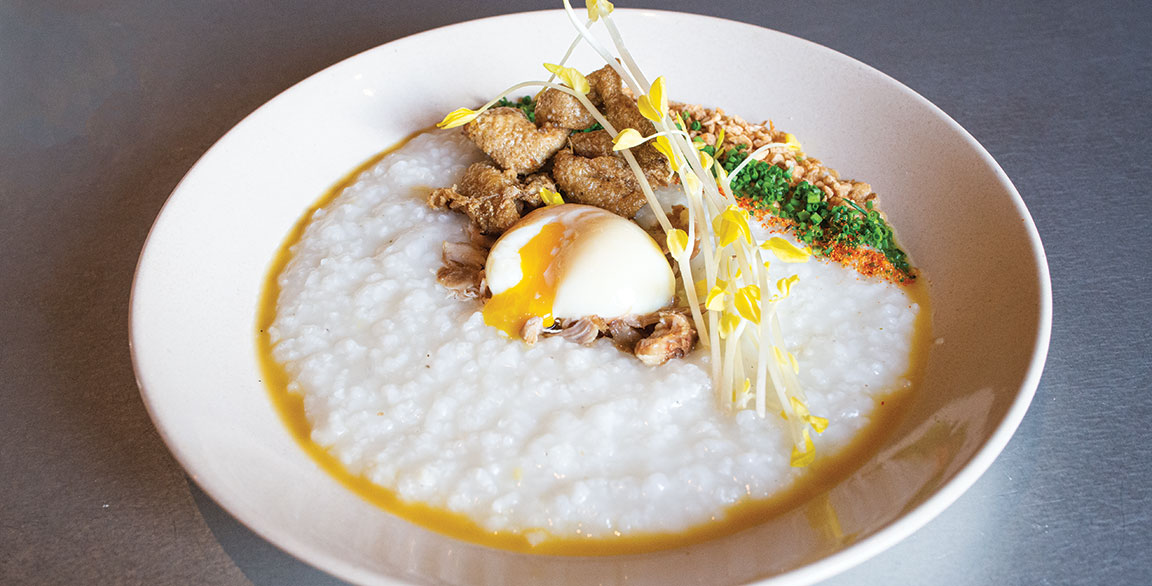 By Gerry Ludwig and Nick Gonring
July 8, 2020
Time will tell how many of the 117 restaurants we visited in New York, Los Angeles and Chicago during our most recent research will remain after our industry reopens. What will surely remain, however, are the reasons we carefully chose those venues from our original target list of more than 450 establishments opened for one year or less—fresh concepts that have carved out clear menu differentiation via new ingredient and flavor combinations, along with clever preparation and service twists. The following trends and menu opportunities gleaned from our research satisfy the desire for new and adventurous dining experiences that consumers seek and demand from restaurants, today and in the future.
BRANZINO GOES BIG TIME
Branzino, also known as European sea bass or loup de mer, has become more popular, landing on menus in casual full-service and casual upscale restaurants across the country. It has a white flesh with a mild, delicate flavor that many American dining consumers find appealing. Branzino can be prepared in a variety of ways, but a growing number of chefs today are choosing to grill or roast it whole, serving it in a large format for sharing, which results in both a dramatic plate presentation and increased perceived value.
Another reason for its rising popularity is affordability. Today, high quality, domestically farmed varieties are available that are less costly than the imported European fish, yielding a fresher product and lower price.
Menu Standout: HONEY BUTTER SPUDS
The Korean comfort food of fried potatoes glazed in a sweet and spicy honey butter has emerged on today's newest menus in a big way. With just a few simple ingredients of brown sugar, honey, butter and cayenne, crispy potato chips, shoestring fries, tots or hash browns are tossed in the glaze, resulting in an irresistible flavor. Chefs are finding unique ways to take the ever-approachable fried spud and enhance it with flavor-forward ingredients.
Our favorite example is from the dessert menu of the modern Korean restaurant Oiji in Manhattan. Co-chefs and co-owners Brian Kim and Tae Kyung Ku dish out a generous mound of housemade spicy honey-buttered potato chips paired with two scoops of vanilla bean ice cream, "chips- and-dip" style.
Down the street in the East Village, modern Korean concept Nowon offers its own savory signature version, swapping the chips for tots, served in a pool of labneh and sprinkled with furikake seasoning.
Bite Me, an Asian fast-casual sandwich joint in Los Angeles, menus huge portions of honey butter-coated shoestring fries that are nearly identical to the dish served in the fast food concepts of South Korea.
Creative Toppings
Many chefs have enhanced their branzino dishes with unique crispy toppings to impart textural contrast, while others are layering in boldly flavored ingredients.
The branzino at Chicago's Pizzeria Portofino highlights classic simplicity, grilled over charcoal and topped with Kalamata olives, artichokes and a lemon-butter sauce.
At New American restaurant Crown Shy in New York, chef James Kent serves a whole branzino, butterflied, pan fried and served skin-side up atop a Latin-inspired squash mole.
Chef Keiichi Kurobe's Japanese-Italian mash-up concept Blackship in Los Angeles features pan-seared branzino with hearty greens and shelling beans in a pool of lemon verbena broth, finished with dollops of the Japanese plum condiment umeboshi.
Large Format
The versatility of branzino truly shines when it is served whole and shared with the table. Some chefs are stuffing the fish with aromatics, citrus and compound butters to perfume the flesh as it roasts, while others prefer to butterfly the whole fish and pan sear it skin-side down to achieve a crackling exterior.
Nightshade, an Asian-Californian concept in Los Angeles, serves a whole-roasted branzino that's been butterflied flesh-side up. The fillets are alternately smeared with a green chive and ginger paste and a red Szechuan chile paste. The dish is finished tableside with a generous pour of fortified fish-bone broth and garnished with lime cheeks and cilantro.
At new pan-Latin restaurant Amaru in Chicago, chef Rodolfo Cuadros debones a whole, head-on branzino and stuffs it with lemon and thyme. He pan roasts and tops it with a brown butter mojo, Peruvian corn salad and charred kale.
CONSERVAS: UNCANNILY GOOD
Even today, many Americans hold the general perception that canned seafood translates to inferior quality. Some hold this association from wartime stories of the past, when tinned seafood was rationed to soldiers or stocked in a basement bunker with shelf-stable canned goods as a preparatory survival measure.
However, tinned fish, called conservas in Europe, offer an array of highly craveable flavors. Family-run canneries and artisan producers offer premium seafood that is harvested at its prime, cooked delicately to perfection and then freshly preserved in shelf-stable tins. In Europe, conservas have been a mainstream staple on restaurant menus for decades, and now American dining consumers are starting to embrace them as the charcuterie of the sea.
Although conservas were most frequently found on Spanish tapas menus in our research, we also saw them in numerous full-service concepts as shared plates or as a base ingredient. Some chefs are purchasing conservas as a simple "open-and-serve" menu addition, while others are making their own and serving them in purchased empty tins.
Tinned
The easiest and most frequent treatment of conservas is served straight up in the can. All Together Now, a modern café in Chicago, simply serves a tin of imported sardines with cornichons and a sliced baguette with cultured butter.
Similarly, at nearby Wherewithall, chefs Beverly Kim and Johnny Clark offer bread service with a tin of Spanish sardines and roasted pepper salsa.
Tinned & Housemade
While the majority of restaurants are purchasing tins of conservas for their menus, some chefs prefer to do it in house. Chef Teresa Montaño of Spanish tapas restaurant Otoño in Los Angeles creates an escabeche of house-cured Hope Ranch mussels with pimentón and shallots.
In Chicago's Logan Square, Young American wine bar menus a clam dip made with house-cured and smoked Manila clams, crème fraîche and Montreal spices, served with crispy nori and toast points.
As an Ingredient
Chefs have taken advantage of using tinned seafood as an umami-packed ingredient to insert bursts of flavor—with just a small quantity. Additionally, it is a good way to cross-utilize one menu item as a shareable and later as a key ingredient to accentuate a dish. The clever Korean/American mash-up Perilla in Chicago serves a sardine conserva as a small accompaniment to its kimchi, pickled daikon and toasted rice. Pliable flash-fried nori sheets anchor the shared plate to build your own seaweed wraps.
Menu Standout: Bubu Arare
Bubu arare are manufactured tiny, crunchy rice pearl spheres sold ready-to-use in bags. They make an eye-catching and texturally appealing garnish for any dish that calls for a bit of crunch. The only labor involved is to cut open the bag and grab a handful. They are available in several different colors including white, golden brown and a rainbow of other colors.
Enhancing a plate presentation with bubu arare may be basic or elaborate. Filipino restaurant Cebu in Chicago serves a grilled flap steak marinated in soy and calamansi, simply adorned with a sprinkle of white bubu arare.
At nearby upscale-casual spot Entente, chef Brian Fisher uses a generous sprinkle of golden bubu arare to finish his salad of Little Gem Lettuce garnished with shaved bottarga, Bosc pear, Parmigiano-Reggiano and basil.
The potential to create a showstopping presentation with bubu arare is evident in the Spicy Roasted Rice Cake from chef Eunjo Park at Kāwi, a Korean concept in New York: a spiral of housemade rice cake that is pan roasted, topped with shaved Tennessee ham and chile jam, then finished with a crusting of white and golden bubu arare, furikake and fried shallots.
FILIPINO CUISINE BREAKS OUT
While the popularity of Filipino cuisine has increased incrementally over the past decade, our most recent research reveals a sharp rise in the number of new Filipino concepts, both traditional and modern, opening across the three major cities. In total, over a dozen new restaurants debuted in the 12-month period between research trips.
This comes as no surprise, as Filipino cuisine offers a combination of comfort and craveable flavors matched by few global cuisines. Bright flavors in sauces and marinades are achieved via the use of citrus, vinegars, soy sauce, herbs and spices, anchored in homestyle dishes based on an array of noodles, fresh vegetables and hearty proteins. These flavors are easily understood and appreciated by consumers seeking new dining experiences, providing opportunity for chefs and operators to incorporate them into mainstream menus.
Pancit Progresses
Noodle dishes are at the heart of Filipino cooking. Pancit, which is based on a variety of rice flour-based noodles, is the most prevalent, with dozens of local variations originating from every region of the Philippines.
In Chicago, the menu at Young American features a Vegetable Pancit, thin rice noodles tossed with market vegetables and topped with fermented cabbage and a sunny-side egg. The dish luglug is made with a thicker rice noodle, such as the version served at nearby Bayan Ko. At this Filipino-Cuban concept, it features scallops, chicharrón, egg yolk and saffron, and a generous topping of whole lobes of West Coast uni.
Pancit Guisado, served at modern Filipino spot Ma'am Sir in Los Angeles, features a corn starch and rice flour-based noodle known as bihon, stir-fried with chop suey vegetables, soy sauce and calamansi.
Rolling Along
Lumpia is the Filipino version of a spring roll, traditionally filled with ground pork or beef and mixed vegetables, rolled very tightly and deep fried to an intense crunch. They are not difficult to prepare and would make an easy fit as a bar snack or sharing plate on a variety of casual menus.
The Lumpia Shanghai at lunch spot Ord & Broadway in Los Angeles are filled with a combination of chicken and shrimp, garnished with a sprinkle of cured egg yolk and a drizzle of XO sauce, and accompanied by a mound of the classic Filipino fermented papaya salad known as atchara.
A decidedly upscale Lumpia is served at nearby Ma'am Sir: long, tightly rolled cigars filled with shrimp mousse and lardo, deep fried to a crackly crunch, topped with lobes of West Coast uni and served with a small squeeze bottle of spicy vinegar. Our team's favorite is the Lumpia Shanghai at Young American, stuffed with ground beef, pork and Spam and served whimsically in a Spam can alongside sweet chile sauce and an explosively delicious bagoong condiment based on fermented smelt sauce.
Lechón's Menu Moves
Classically, lechón is a whole-roasted suckling pig in Filipino cuisine. Today most chefs simply roast the skin-on belly portion of the pig, which is perhaps the most indulgent cut, featuring a high fat-to-meat ratio accompanying the crackling outer skin—truly an indulgent treat. Ma'am Sir serves a classic lechón plated for sharing, atop a lemongrass salsa and garnished with papaya atchara.
The Bayan Lechón at Bayan Ko is served in a pool of classic Mang Tomas sauce, a bold purée of roasted pork liver, brown sugar and vinegar bound with breadcrumbs.
Restaurant Cebu in Chicago's Wicker Park neighborhood specializes in authentic regional Filipino cuisine, and its signature "Visayan-Style" Lechón Belly is a prime example—stuffed with onion, garlic, lemongrass and star anise before roasting, and served thickly sliced with garlic rice, pickled carrot slaw, and a soy and calamansi hot sauce.
Of course, the strongest indicator of a cuisine moving into the mainstream is when chefs begin to mash up the cuisine with disparate global dishes, ingredients and flavors. Such is the case at Bayan Ko, where the menu features Spanish-inspired Croqueta Tots, panko-breaded and deep-fried balls of shredded smoked ham hock, served with a banana ketchup aïoli.
Filipino pimento cheese is served at Young American, flavored with charred scallions, roasted red peppers and sambal, accompanied by uniquely clever wonton toast points.
The Garlic Fries at Ma'am Sir are akin to a Filipino poutine, topped with crispy fried smelt, roasted garlic and lemon aïoli; while Spoon & Pork, offering modern Filipino comfort food in Los Angeles, serves a vegan Coco Jack Bowl filled with coconut-braised jackfruit, gooseberry-infused black rice, ginger, garlic, fermented black bean and chile oil.
Menu Standout: CODDLED EGGS
Eggs continue to be a highly popular ingredient on menus, as a topper, in unique Benedict treatments and in baked egg dishes. Coddled egg dishes, where the eggs are cracked into a ramekin and baked in a water bath, are rapidly emerging and providing differentiation on menus. And in typical creative fashion, chefs are employing a variety of unique vessels, accompaniments and umami-rich garnishes to distinguish their coddled egg offerings.
At Tartine in Los Angeles, the typical ramekin is replaced with a shallow earthen bowl, and the eggs are topped with chives and dollops of cured trout roe, accompanied by grilled sourdough slices brushed with olive oil and seasoned with za'atar.
For her signature Coddled Duck Eggs at all-day café Hunky Dory in Brooklyn, N.Y., chef Kirstyn Brewer fills a ramekin with thick rosemary cream, which she crowns with two duck egg yolks before baking.
Overwhelmingly, the favorite dish of our research team in this category is the Arroz Coddled Egg at modern Filipino spot Spoon & Pork in Los Angeles. It's a multi-layered flavor bomb featuring egg-topped creamy rice porridge garnished with garlic, ginger, togarashi, fish sauce, calamansi reduction and crispy bits of fried chicken skin.
A note from Gerry Ludwig
One of the greatest compliments I have received while writing for Flavor & The Menu was from a reader who stated that "Chef Gerry views our industry from a glass half-full perspective." That may be because I view myself as a chef who writes, rather than as a journalist.
With the emergence of the novel coronavirus, we're being told that we are living in an unprecedented time. But events including both World Wars, the 1918 flu pandemic and the Great Depression prove otherwise.
Obviously, the challenges before us are great. I have many friends who own restaurants, and the sharpest of them are telling me that the delivery/takeout/curbside business they are currently doing is still resulting in a 70 percent drop in sales. They are also telling me that if they can break even or endure a small loss at this time, they will keep the lights on and look forward to when conditions improve. Of course, my friends in places like New York City, where rents are steep and laws are written to favor landlords, tell a much more dire story. They are brave individuals, but they were brave to get into this business in the first place.
We're being told that this crisis will reshape our industry. Of course it will. So did the emergence of nationwide full-service chains in the '70s and '80s. There are two things I know for sure, however. First, the creative and entrepreneurial spirit of chefs and restaurant owners is indomitable. Second, this coronavirus is not.