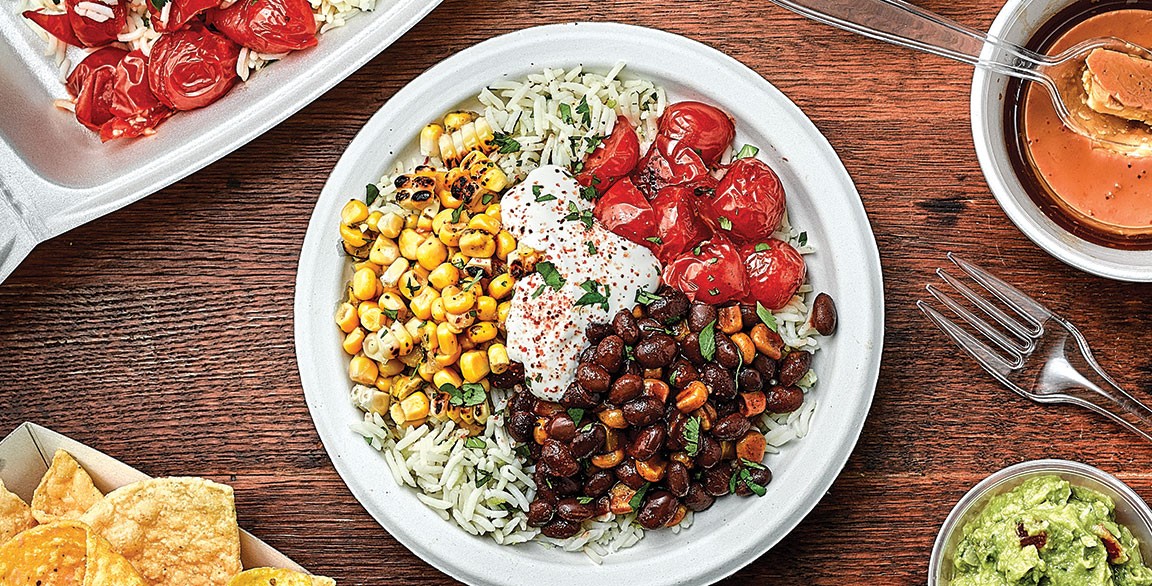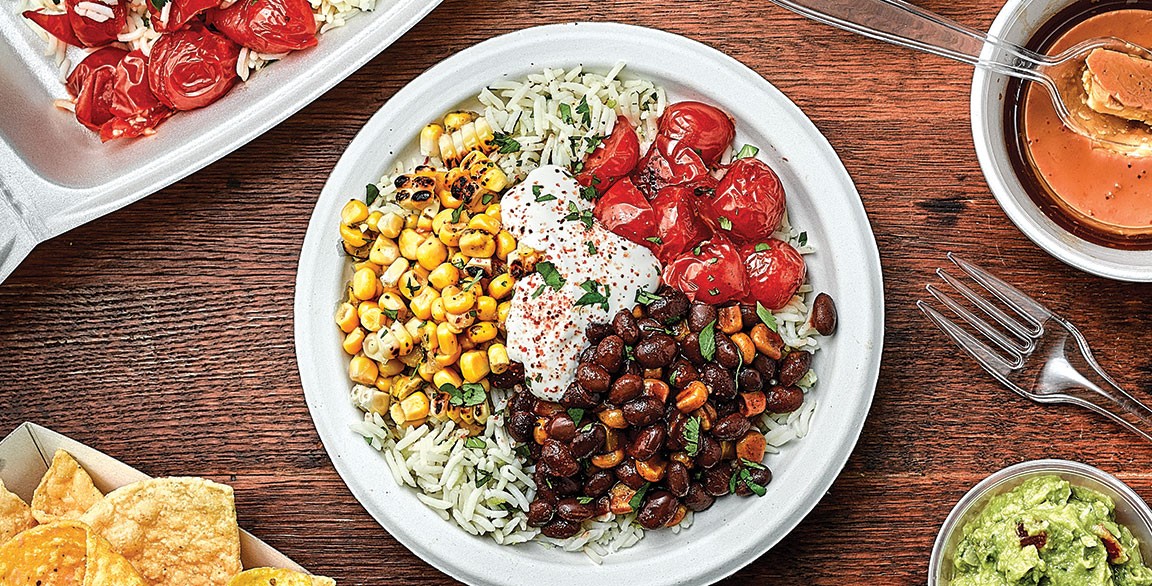 As menu developers adjust to the new normal, with its shifts in flavor preferences and dining habits, one thing is certain—plant-forward cuisine remains a bright fixture in the foodservice firmament. If anything, its relevance across menus has deepened as a result of the pandemic. More consumers are paying closer attention to the nutrition and functional benefits of their food. "Although comfort is where we're skewing at the moment, people are hyper-focused on health," says Maeve Webster, president of Menu Matters, a foodservice consultancy based in Arlington, Vt. "Plant-based eating is intuitive—they don't need to think about it: 'I'm eating plants so I'm doing the right thing for myself.'"
That kind of easy decision-making pushes recognizable, familiar plant-forward menu items onto center stage. Yet where's the stage? In-store dining now shares the spotlight with takeout and delivery. What does plant-forward flavor innovation look like when balancing brand experience with portability?
Farmer's Fridge has been successfully answering that question since it started its vending-machine concept, populating busy on-the-run places like airports, office buildings and college campuses with jarred fresh salad and bowl builds. The pandemic forced the brand to pivot, too, taking its portability model and moving it to home delivery.
"We still had to think about portability, but we had to shift our thinking from eating on the go to eating at home," says Emily Stucker, director of menu development for the Chicago-based concept, with 400 "fridges" across six states and offering home delivery, too. Farmer's Fridge, known for its plant-forward, wholesome selections, quickly found that the at-home consumer wanted more variety and longer shelf life, she notes, often ordering on a Monday for meals and snacks for the week. For example, to extend the freshness of salads with avocado, the brand offers bundles of two salads, removing sliced avocado from the containers and including a whole one with the order. "One avocado can be split between the two salads, and stays fresher longer," she says.
Other considerations, like access to microwaves and the ability to pour out items into bowls or onto plates, have also impacted thinking. And as consumers move back into office spaces, solutions like new heatable jars make some items, like the Falafel Bowl, more flexible for either cold or hot enjoyment.
Delivering craveability
Health and wellness, portability and convenience all fall in line behind flavor experience. "Achieving craveability can be hard in the plant-based world," says Stucker. "The balance of flavors and textures is incredibly important." She points to the Falafel Bowl's success as an example. It features baked herb falafel, turmeric couscous with parsley, red cabbage slaw, cucumber and tomato, with a housemade chickpea-garlic sauce. "Any time we can work in creaminess, it helps boost craveability," she says. The vegan build resonates with non-vegans, too. "Mass appeal ingredients that are crunchy and creamy with balanced flavors are really successful," she says.
Matthew Luaders, director of culinary R&D for CSSI Culinary, based in Chicago, calls out familiarity of format as a smart pathway to portable success with plant-forward menu items. "It is much easier to get vegan items onto someone's plate if they are low-risk, meaning that a diner is still getting the reward they expect from their favorite restaurant and coming away satisfied," he says. He suggests looking to delivery-friendly plant-based ingredients—ones that hold heat and maintain structure—that translate well into favorite, familiar profiles. "Pulses take on flavor easily, so customize your flavor inclusions or toppings to create trend-forward comfort dishes like a Greek Black Bean Burger or Vegan 'Meatball' Banh Mi," says Luaders.
Working with comfort-centric builds can help with craveability and portability of plant-forward dishes. A Hatch Green Chile and Hominy Gratin, developed by Farley Kaiser, corporate executive chef of Wawa, an East Coast-based convenience store chain, boasts comfort, crave and practicality. Hominy, which she describes as "sweet, nutty and earthy," is the star of the gratin, flavored with roasted Hatch chiles and enriched with Monterey Jack. "It's ideal for delivery because the cheesy crust holds in the heat and maintains the texture of the hominy," says Kaiser.
Practical Matters
Logistical considerations are key in keeping craveability intact. "With plants, you have to think about how they're going to travel—they're typically not going to maintain temperature as well, and they have the potential to release a lot of moisture," says Webster. "Think about different preparations or slightly undercooking the produce to take into account carryover cooking. If the onion is roasted can it be pickled instead? Can you switch broccoli, which doesn't hold heat well, to a root vegetable?"
Stucker from Farmer's Fridge studies every component of a build and every aspect of packaging when calibrating the impact of delivery on the brand's plant-focused menu. "We look at the architecture of a dish: grains and beans at the bottom because they're great at absorbing flavors without losing structure," she says. "High-moisture items go in between, then greens at the top. Any type of topping that we want to remain crunchy, like pepitas or pistachios, go over the greens to keep their texture." She also considers ingredient choices and the way produce is cut. "We constantly test variables and varietals. We source Persian cucumbers because they're smaller with lower moisture content so they'll release less in the container," says Stucker. "For our seasonal salad with strawberries, we use a larger cut so the coverage is good and because the smaller you cut, the more it degrades over time due to the oxygen exposure and cell wall breaking down."
Webster stresses the value of tucking in at-home instructions for reheating or cooking. She also says it's imperative that the delivery experience should tie back to the brand with relevance, connection and even a bit of fun. "Add compelling marketing messaging that draws people to the fun things about plants. Do you partner with a farm or grower? If running a seasonal item, include a packet of seeds as a promotion. Deliver a meaningful connection back to your brand."