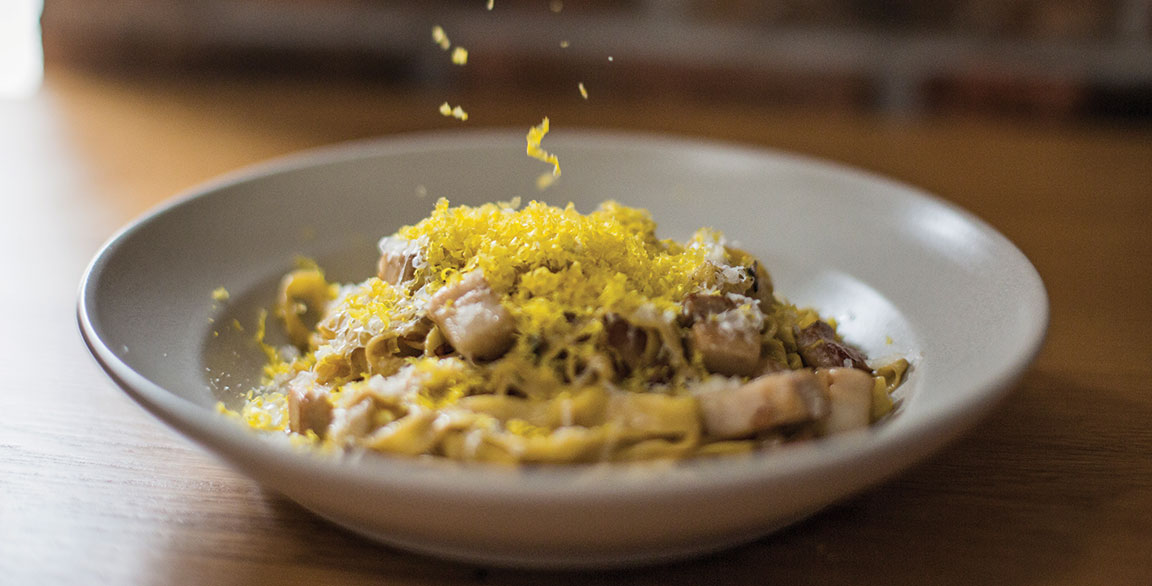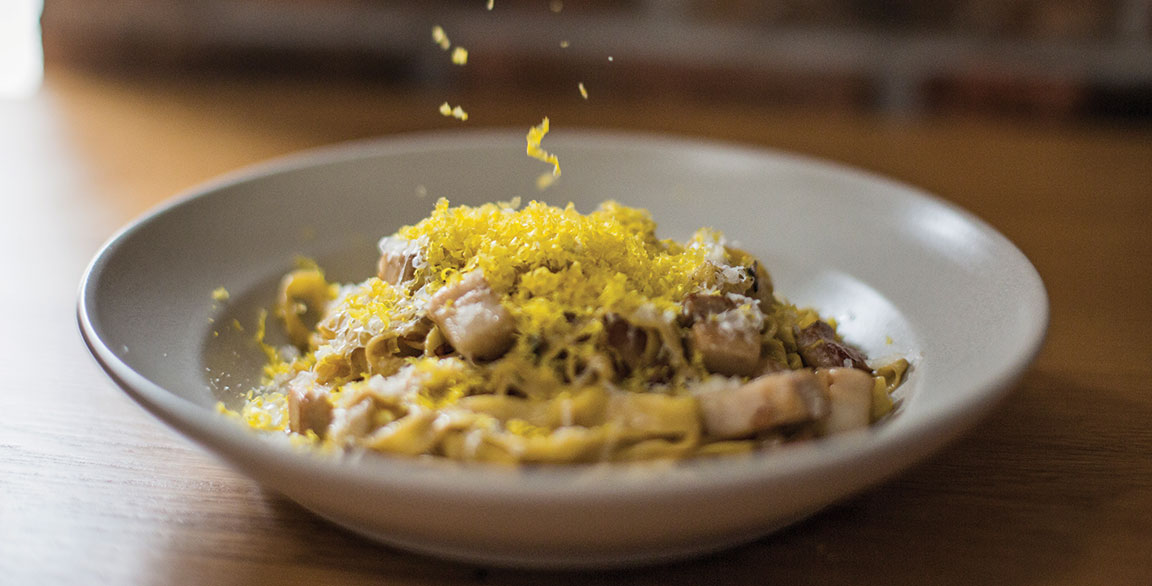 By Maeve Webster
July 8, 2020
Rome is not only the birthplace of modern civilization, it's also the provenance of the indulgent, creamy pasta carbonara. This dish ranks high among comfort-centric pastas, thanks to its combination of rich, savory ingredients that includes some type of bacon, egg yolk, Parmesan and/or pecorino Romano and pepper.
In our current climate, that comfort factor makes pasta carbonara an optimal canvas for innovation. While consumers may crave comfort after months of anxiety and uncertainty, the modern consumer's comfort zone is far wider than that of previous generations. As such, pasta carbonara—and the carbonara profile—is an ideal base upon which to safely experiment.
Pasta carbonara doesn't have a clear origin story—some accounts link it to Italian charcoal workers, others to Romans using wartime food aid ingredients from America—bacon and powdered egg yolks—to flavor their pasta. Another story ties the word "carbonara" to "carbonata," or cured pork. In all stories, the core ingredients have locked this pasta presentation into an iconic Italian dish that diners know and love today.
MAXIMIZING CRAVE FACTOR
Though beautifully simple when served traditionally, innovation brings new translations of this classic, with chefs playing with carbonara's flavor wheel, spinning its winning ingredient mix and using its familiarity with consumers in order to encourage trial.
Tre Rivali, housed in the Kimpton Journeyman Hotel in Milwaukee, includes a few modern touches. Its Carbonara features crispy pork belly and salt-cured egg yolk, paired with the traditional pecorino Romano.
At Odd Duck, a modern American restaurant in Chestertown, N.Y., duck fat replaces guanciale, and the addition of Calabrian chile, snap peas and duck hearts amps up flavor in its Smoked Spicy Duck Fat Carbonara.
In Honolulu, Kapiolani Spaghetti House offers a Japanese take on carbonara with the inclusion of takana pickles (pickled mustard greens).
Some operators are leveraging the appeal of pasta carbonara, but moving it into different formats. Carbonara's rich profile is showing up as a sauce on pizzas and flatbreads. Passero in Arlington Heights, Ill., serves up a great example with its Carbonara Pizza, featuring bacon, truffle cream, shaved asparagus, roasted mushrooms, egg and pecorino cheese.
Carbonara also easily slides into breakfast, thanks to the egg and bacon components. As evidence, look to the Carbonara Eggs Benedict at the Eating House in Coral Gables, Fla., and the Carbonara Omelette at Parkland Restaurant in Allentown, Pa.
Rethinking the basic carbonara dish can lead to unique menu ideas. Felidia, Lidia Bastianich's Manhattan flagship restaurant, serves a veg-centric fall appetizer of Kale & Spaghetti Squash "Carbonara" with a farm egg, crispy bacon and pecorino cheese.
The menu at M'tucci's Italian, with multiple locations in New Mexico, runs a Carbonara Risotto, starring smoked pancetta with pecorino cheese, grilled asparagus and a soft-poached egg.
Pearl couscous serves as the base of the carbonara appetizer at The Mercury in Dallas, flavored with black truffle vinaigrette and a soft-poached egg.
At a time when the need for reassuring comfort foods is driving consumer purchasing, pasta carbonara answers that call. Its broad appeal across generations makes it the ideal base for operators looking to create a menu workhorse with optimal craveability.
CARBONARA'S MENU REACH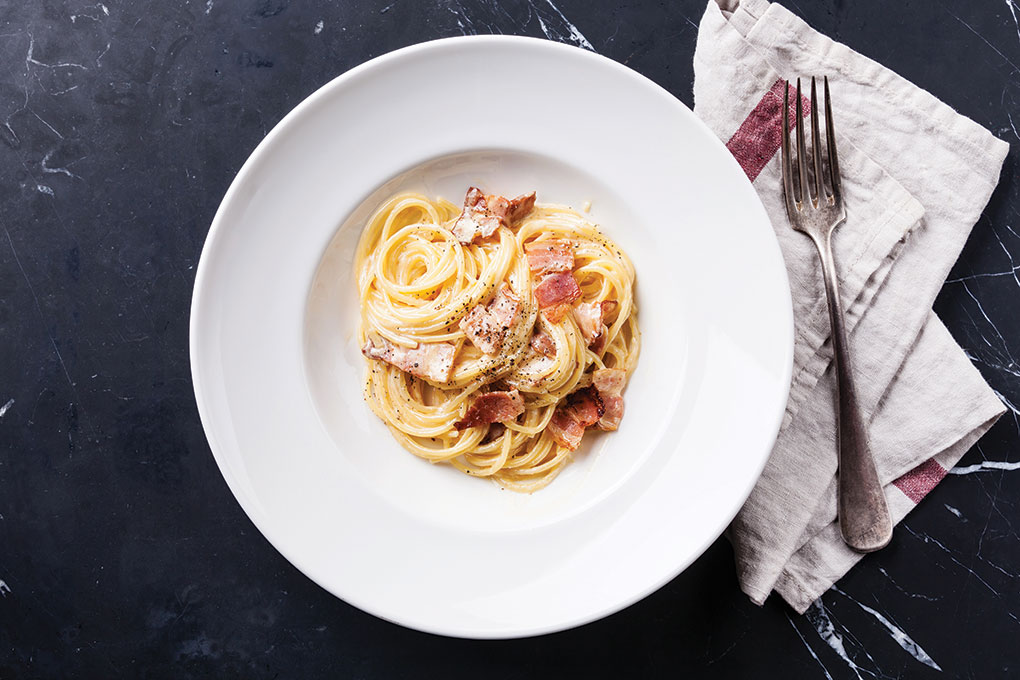 Pasta carbonara boasts an ingredient combination that promises comfort, satisfaction and flavor. Taking those craveable elements and moving them into different areas can create excitement and carve out menu differentiation. Here are five ways to spin carbonara:
Benedict
Peppered chicken sausage
Soft-poached egg
Pecorino hollandaise
Lemon zest
Pasta nests
Pasta Salad
Peppered bacon
Soft-boiled egg
Pecorino cream sauce
Calabrian pepper rings
Rotini pasta
Grilled Cheese
Hickory smoked bacon
Caramelized onions Mozzarella cheese
Pepperoncini
Parmesan-egg-dipped
Italian bread
Plant-Based
Crispy shiitakes
Yellow beet "yolk"
Cashew cream sauce
English peas
Red-lentil pasta
Flatbread
Crispy guanciale
Olive oil-fried eggs
Fior di latte &
pecorino
Charred broccoli raab
Grilled piadina