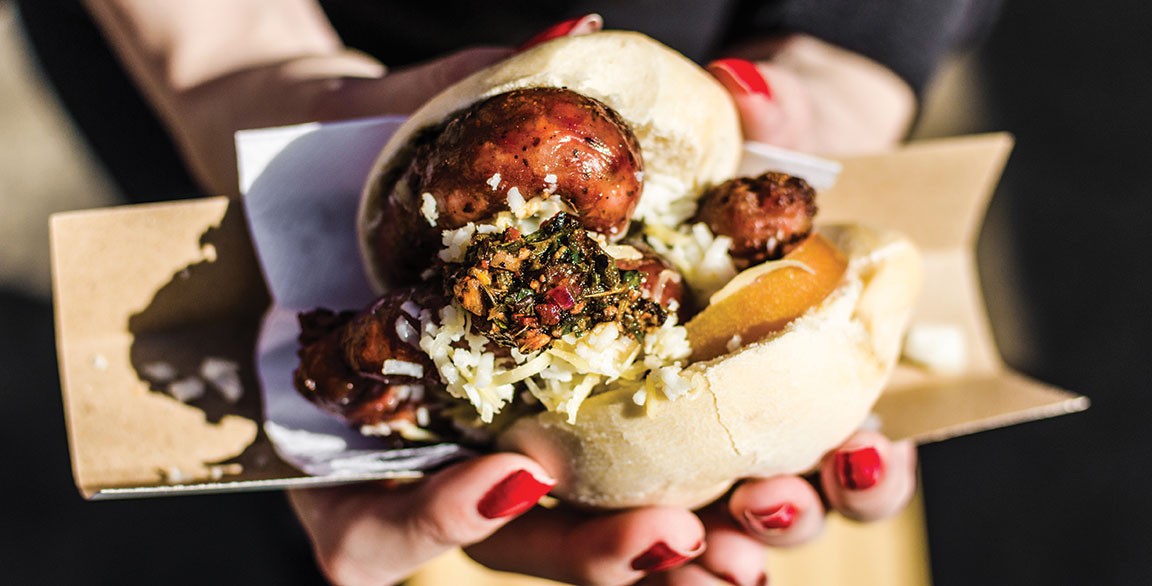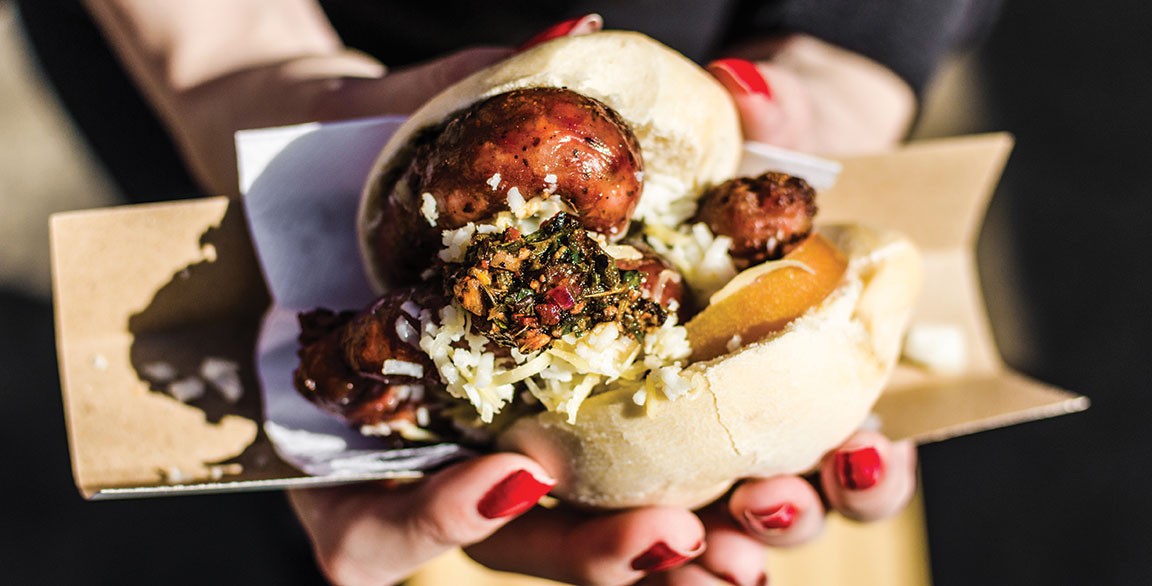 Grillers like hot dogs, brats and sausages are operationally friendly, providing restaurants ease of execution—an even more valued quality today. Furthermore, the familiarity of grilled links—no matter the country of origin—offers an ideal platform for flavor play, encouraging chef-crafted spins on these beloved classics. It threads the needle between guests' desire for comfort food and their hankering for something new and exciting. Anchoring innovation in the firm foundation of a classic, we wanted to ground culinary ideas in that universe, then think strategically and focus on ways to apply trending flavors via a signature sauce, glaze, salsa, slaw or flavoring. Highlighted are 10 types of grillers with ideas that showcase creative flavor combination in hot dog-style handhelds and skewers that can work as part of dine-in, takeout or in-home meal kits year-round.
1

Brats

Brats offer rich, hearty, savory flavor, inflected with different spice combinations or ingredient infusions. This provides operators with a diverse platform for creativity, especially when building out seasonal or global profiles.

Hot Cheddar BBQ Brat
Grilled cheddar brat + jalapeño and cabbage slaw + smoky barbecue sauce + potato bun

Thai Sausage Skewer
Grilled red Thai curry brat + yellow bell peppers + sweet chile glaze + side of cucumber and peanut salad
2

Italian Sausage

This flavor-packed sausage shines as the star in a dish. Mild, sweet or hot—it brings bold flavor to menu builds. Complement it with equally vibrant ingredients for maximum effect.

Mediterranean Sausage Hero
Grilled sweet Italian sausage + arugula + roasted red pepper + feta and olive relish + focaccia bun

Caprese Sausage Kebab
Grilled hot Italian sausage + cherry tomatoes + prosciutto-wrapped bocconcini + pesto schmear + side of balsamic-dressed greens
3

Bologna

Thick-cut bologna, charred on the outside and juicy inside, evokes nostalgia. Deepen this emotional connection with the consumer by menuing high-quality American regional artisanal offerings. Guests will appreciate the craftsmanship and savor the big flavors and interesting combinations.

Bologna Naan-wich
Grilled bologna (thick slices) + Havarti cheese + honey harissa + naan round

Southern Bologna Skewer
Grilled ring bologna (thick pieces) + Vidalia onion wedges + grain mustard/peach baste + side of mac and cheese
4

Game/Poultry Sausage

Artful menus strategically balance close-in menu items with edgier offerings. Premium sausages up the ante with their unique characteristics and exotic flavors. Position these items to guests looking for the unexpected in their meal experiences.

Mandarin Duck Sausage Sub
Grilled duck/pork sausage + frisée + orange marmalade-pear compote + hoisin mayonnaise + mini sweet potato sub roll

Great Plains Skewer
Grilled buffalo sausage + pistachio gremolata + pickled cherries + side of wild rice salad
5

Seafood Sausage

The opportunities with seacuterie remain strong. Seafood sausage offers a break from the norm, giving operators a path to showcase a signature blend or a delicious option targeted at seafood lovers. Play up the lighter appeal with clean, bright flavors.

Summer Griller Roll
Grilled shrimp/scallop sausage + shredded lettuce + charred radicchio + citrus tartar sauce + butter-griddled bun

Salmon Sausage Kebab
Grilled salmon sausage + sumac squash/zucchini rounds + lemon wedges + dill tzatziki + side of spinach salad
6

Chicken Sausage

Chicken sausage, with its healthful appeal, is a popular alternative to other sausage fillings. Its ability to seamlessly blend with ingredients versus dominating a recipe is a benefit to chefs looking for it to play a secondary role to bigger flavors.

Sweet Sausage Crunch Roll
Grilled chicken and apple sausage + maple Brussels sprouts slaw + grated Jack cheese + brioche roll

Delhi Skewer
Grilled garam masala chicken sausage + mango + butter chicken sauce + side of basmati rice
7

Chorizo

Chorizo registers with today's diners as a flavor-forward ingredient. Beloved by consumers because of its savory heat, this sausage is a high-impact ingredient with star power.

Muy Rico Bocadillo
Grilled chorizo + sliced avocado + black bean gravy + shaved manchego cheese + cornmeal bun

Chorizo Elote Kebab
Grilled chorizo + fresh sweet corn rounds + elote seasoning + cheese glaze + side of watermelon salad
8

Andouille

Aside from its impeccable flavor, dense texture and double smoking, the history of andouille is inviting to consumers who appreciate food with a narrative. Merge the beauty of New Orleans with surging interest in South American cuisine for distinct builds.

Gaucho Sub
Grilled andouille + chimichurri + Malbec caramelized onions + Cotija cheese + crusty French roll

Mardi Gras Kebab
Grilled andouille + blackened chicken breast pieces + bell peppers + side of crab queso dip and corn spoonbread
9

Frankfurter

The classic hot dog is a prime base for imaginative toppers, making it a great vehicle for both customization and signature builds. Focusing on renewed comfort and elevating proven, familiar flavors feels relevant in current times.

"Hot" Pretzel Dog
Grilled frankfurter dipped in hot sauce + Sriracha cream cheese + crispy potato straws + roasted fresh jalapeño rings + soft pretzel bun

Franks & Potatoes Kebab
Grilled all-beef frankfurter + mini creamer potatoes + beer glaze + chives + side of blanched green beans
10

Kielbasa

This garlic-infused, thick rope-style sausage is a retail favorite, offering familiarity on menus. The ability of kielbasa to morph easily with the addition of both sweet and savory flavors makes it a versatile menu option with broad applications.

White Pizza Sub
Grilled kielbasa + creamy artichoke/portobello sauce + buffalo mozzarella + garlic-bread sub roll

Hawaiian Kielbasa Skewer
Grilled smoked kielbasa + pineapple + brown sugar-teriyaki glaze + side of fried rice
4 Satiating Sides
Maximize grillers by cross-utilizing them across the menu. Sliced, chopped or ground—introduce a touch of savory richness by simply incorporating sausages into a favorite side dish. These can be positioned as either a value-added accompaniment or as a mini meal. Here are four categories that benefit from the addition of grilled links.

1. Beans
New Mexico Maple Baked Beans: Maple baked beans + sliced Hatch chile brats
Coastal Beans: White bean salad + sliced seafood sausage
2. Mac and Cheese
Tuscan Mac: Traditional mac and cheese + ground Italian sausage
Blue Mac: Blue cheese mac and cheese + chopped venison-blueberry sausage
3. Slaws
Creole Slaw: Creamy celery root and bell pepper slaw + chopped andouille sausage
Sausage + Slaw: Honey mustard cabbage and walnut slaw + ground smoked chicken sausage
4. Vegetables
Fire Beans: Sautéed fresh green beans + ground chorizo
Prost! Veggies: Roasted root vegetables + sliced German-style brats