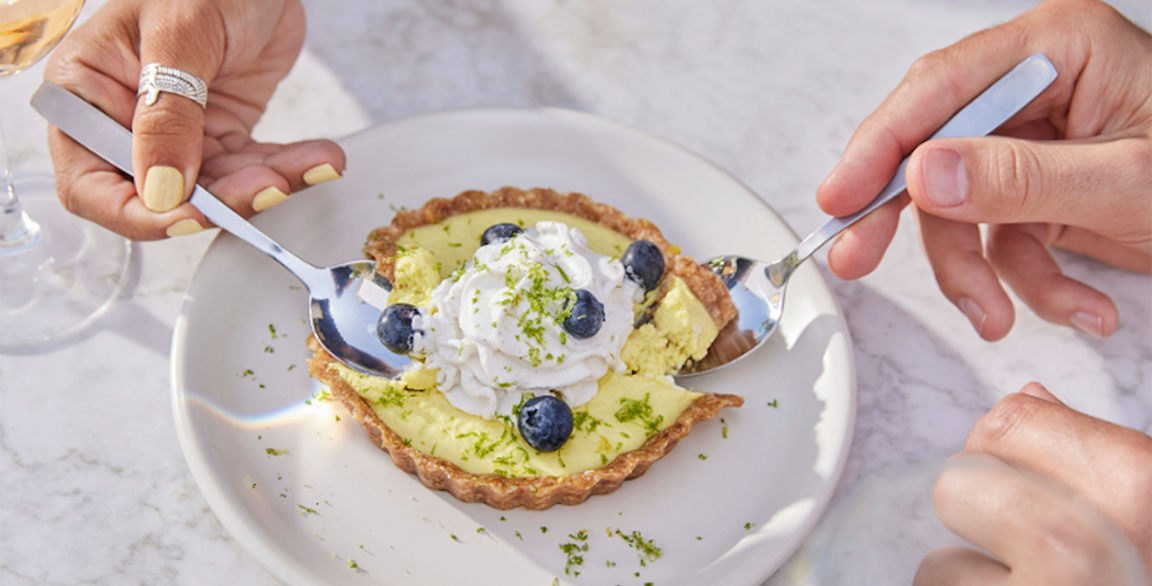 By Maeve Webster
October 27, 2022
Dates are plump with rich history, singular flavor and coveted health benefits, and are enjoying steady growth on modern menus. This small but mighty fruit is asserting itself in interesting applications, showing off its versatility in both flavor and form—from fresh and dried to powdered and granulated.
Dates are one of the oldest cultivated fruits. These sticky, sweet morsels were a staple in many ancient cuisines, and their fundamental appeal has persevered for centuries, passed down in traditional dishes, carried to other cultures through migration and now gaining fresh appreciation among menu developers seeking to tap into their flavorful history—and wholesome positioning as a natural sweetener—in trend-forward recipes. Dates are a classic fruit worthy of attention across a broad spectrum of modern cuisines and concepts.
DATING CULTURE
Many food historians suggest that the cultivation of dates started over 6,000 years ago. Originating in the Middle East, the hearty date palm was, over time, carried to many other regions with similar dry climates, such as Greece, Italy, North Africa, Spain, Mexico and India. Tasty fresh or dried, dates were popular provisions with explorers, traders and migrants as they crossed the globe, which is why we find them in a range of dishes from Middle Eastern pastries (ma'amoul cookies) and Indian shakes (khajoor milkshakes) to Moroccan lamb tagine and Mexican mole.
Dates are one of the most sustainable and environmentally friendly crops. While certainly edible when ripe, the fruit is often left to dry on the tree: a truly energy-efficient, solar-powered preservation technique that provides for a significantly longer shelf life.
Among more than a dozen varietals on the market, the Medjool and the Deglet Noor are the most common dates available and familiar to American consumers. And while Medjool dates are usually available whole and are often identified by name on menus, Deglet Noor dates are typically pitted and chopped, and rarely called out on either menus or retail packaging. Each variety boasts a distinct profile, but all skew toward sweet flavor notes that carry surprising depth, providing intriguing complexity in both sweet and savory applications. Dates also can add textural interest as well as manageable moisture.
A big driver behind dates' modern appeal in menu development is that they serve as a functional ingredient, yielding a good source of fiber and energy. They also meet heart-healthy characteristics set by the American Heart Association, boasting polyphenols, which are said to help maintain healthy triglyceride and cholesterol levels. High in natural sugar, dates are being used to create more wholesome sweetener alternatives, such as granulated date sugar, date syrup, date paste and date molasses.
APPEAL "Dates have a rich, buttery, caramel flavor that reminds me of biting into a piece of baklava made with date syrup while watching my father steep thick, strong Greek coffee on the stove. They're incredibly versatile and can be used in everything from bakes to marinades and salad dressings to sauces. It's important to balance the delicate flavor of dates with something that enhances its caramel quality, such as orange zest or cinnamon. Dates can be applied as a natural sweetener, adding nuance to dishes. They are great for balancing the sweetness of a sauce or complementing a salty dish."

APPLICATION "My favorite is using dates as a sweetener when making housemade plant "milks," such as vanilla oat. Dates are well known in baking applications, but I believe we could push the boundaries by incorporating them more into savory dishes. It would be great to have dates show up in applications you do not expect, for example: a date chimichurri, date and mint salsa, date and walnut pesto or even as an addition to a soup. At Stanford's Saffron Mediterranean Kitchen concept, we highlight dates in our vegetarian tagine, on our mezze bar and on our Chef's Tables to introduce new flavors to students. I think dates could be a great catalyst for moving diners toward a more plant-forward diet since they work so well with nuts, grains and legumes."

CHRISTINA BETONDO, SENIOR ASSOCIATE DIRECTOR OF STUDENT CULINARY EXCELLENCE AT R&DE STANFORD DINING, STANFORD UNIVERSITY, CALIF.
ANCIENT TRADITIONS, MODERN APPLICATIONS
Despite a limited number of menu mentions today, Datassential estimates that 80 percent of consumers are familiar with dates, positioning them well for innovative applications. Retail may have pulled ahead of foodservice in leveraging the opportunities dates provide, given several new product introductions launched in the past year. These include Joolies Jooliettes Dark Chocolate Date Nibbles (starring diced Medjool dates), Rollin' n Bowlin' nut butter-stuffed dates and Hibisbloom Sahara Breeze hibiscus flower drink featuring white hibiscus, dates and lemon. But dates are steadily making their way onto restaurant menus, standing on the foundation of a few traditional favorites and benefitting from forward-leaning culinary creativity.
One of the most enduring menu items featuring the fruit is the bacon-wrapped date. Anything wrapped in bacon is eminently approachable, and these "swalty" (sweet and salty) treats hit all the right notes for a starter, small plate or bar snack. At globally inspired small-plate concept Remix Kitchen Bar in Long Beach, Calif., the deceptively simple Bacon-Wrapped Dates appetizer is elevated with a tomato-Calabrian chile marmalade. Sixty Vines, a wine bar based in Plano, Texas, keeps it simple but impactful by oven-roasting its Bacon-Wrapped Dates and serving them with a balsamic glaze.
DATES, 5 WAYS

Five date products to explore:
Date vinegar (rich, fruity and dark)
Date sugar (tastes like butterscotch)
Date powder (use in place of refined sugar)
Date syrup (ideal for pancakes, French toast, oatmeal, yogurt and beverages)
Date jam (pairs well with charcuterie, cheese boards, sandwiches, toast builds, waffles and pancakes)
Given the functional benefits of dates, it's not surprising to find them in healthier applications. Los Angeles vegetarian restaurant Localita & The Badasserie blends dates with hemp "milk," coconut "yogurt," banana, avocado, cocoa powder and peppermint in The Dirty Shamrock smoothie, which is featured on its Probiotic & Beauty Smoothies menu. Sqirl, a globally inspired café also in Los Angeles, created a Vegan Horchata featuring Kokuho Rose brown rice and using organic Medjool dates as a natural sweetener.
While dates are authentic to many North African and Middle Eastern dishes and beverages, such as ma'amoul and jallab (a Lebanese beverage featuring date molasses), no menu developer should feel constrained by these traditions. On the brunch menu at Davanti Enoteca, a rustic Italian restaurant with locations in Western Springs, Ill., and San Diego, the Polenta Spoonbread is a great example of craveable modern date innovation. Served in a skillet, the polenta is topped with Medjool dates, honeycomb and "sunny" eggs.
Loaded fries are updated at modern Indian restaurant Indarra, in Huntington Beach, Calif., which menus Tikka Masala Fries with a creamy tomato-fenugreek sauce and tamarind-date chutney topping, along with chopped tomatoes, red onions, shaved scallions, ginger and fresh cilantro. And, of course, pizza offers another low-risk entry for dates to get in on the action. San Diego-based Leucadia Pizzeria & Italian Restaurant offers a great example with its Pear-Gorgonzola-Arugula specialty pizza, imbued with further flavor nuance with the addition of dates.
Whether offered on its own as a compelling bite—as with the Rosewater-Infused Dates served with Portuguese olive oil and Maldon sea salt flakes at Mediterranean restaurant Dune in Los Angeles—or used as a showcase ingredient in an inventive sweet or savory dish, dates' moment has arrived. Thousands of years in the making, dates are a classic ingredient grounded in deep roots with exciting potential for thoroughly modern, on-trend offerings.
APPEAL "I think the pandemic helped with all types of dried fruits: figs, apricots and, of course, dates. When you couldn't find toilet paper or chicken wings, you always knew dried fruit was available! Dates are healthy, store well and long, and are easily eaten as is or cooked. For me, dates offer two things: texture and natural sweetness. I think there is no better dish that explains the importance of those than the classic Spanish dish dátiles rellenos: bacon-wrapped dates. Who does not love those—smoky, fatty, crispy bacon around a sweet and soft date that has been warmed? So simple but so perfect. I keep that in mind when I use dates as a binder for a fruit bar or stir them into ice cream—texture and sweetness."

APPLICATION "I want to do a fruit-type leather of dates and use it to wrap a pork belly. In its final cook-sear with a blow torch, it would become an inverted bacon-wrapped date with some cool port sauce."

MATTHEW BURTON, PRESIDENT/EXECUTIVE CHEF, MBURS LLC CULINARY CONSULTING