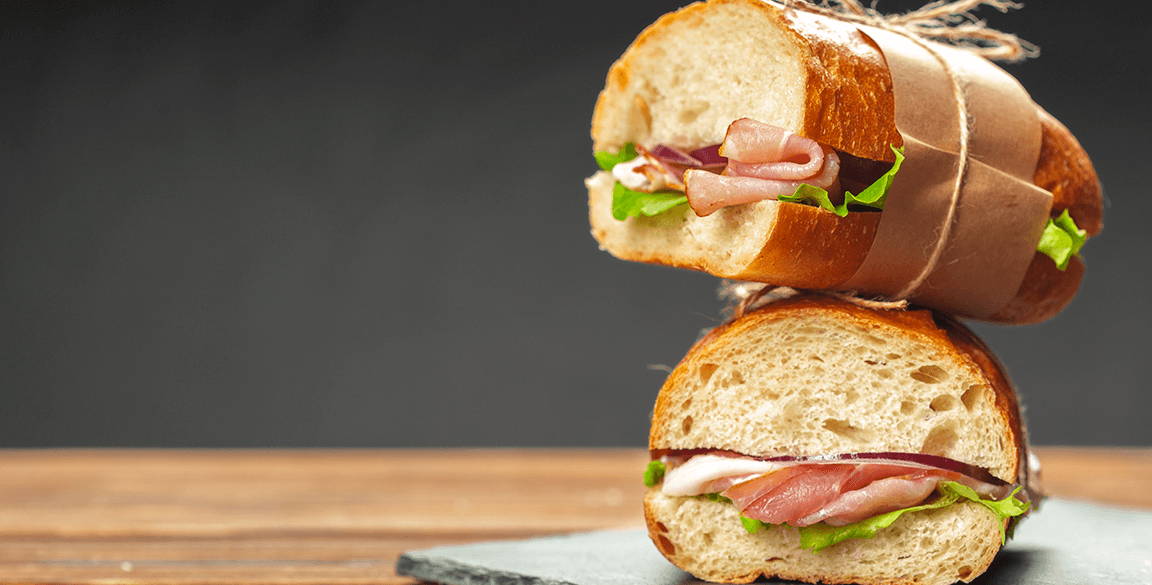 Operators are leveraging the bocadillo, the classic Spanish sandwich finding its way to restaurants across the U.S., and making it work as a bar snack or shareable. The operational execution is as simple as preparing a full-length sandwich, then slicing it into smaller portions.
Here we look at how chefs can capitalize on three top trends, incorporating charcuterie, Latin/tropical comfort, and veg-centric ingredients, into the smaller format bocadillo build. All feature a traditional baguette and minimal, high-quality flavor components.
TRY THIS:
1

CHARCUTERIE BITES

Charcuterie, especially when cross-utilizing existing menu ingredients, is ideal for small-bite bocadillos where make-ahead preparations can benefit back-of-house operations.
Three-Peat: Mortadella-Genoa salami-prosciutto + provolone + baguette (dotted with balsamic syrup)
Rillettes Roulette: Pork rillettes + charred shishito peppers + pickled red onions + baguette (spread with pepper jelly)
Capi Cool: Spicy capicola + marinated artichoke hearts + shaved manchego + baguette (rubbed with garlic)
2

LATIN/TROPICAL COMFORT BITES

Spark interest with more adventurous sandwich eaters via the craveable duo of tender meat chunks paired with an intriguing lip-smacking sauce, touting bold Latin flavors and the joyous brightness of the tropics.
Chimi Barbacoa: Chopped barbacoa + cream cheese chimichurri + baguette
Milky Mojo Carnitas: Mojo carnitas + whipped ricotta-chamoy spread + baguette
Hot Berry Chicken: Pulled guajillo-garlic roasted chicken + strawberry-habanero queso blanco + baguette
3

VEG-CENTRIC BITES

Leverage the fervor surrounding plant-based offerings with full-flavored vegetable-centric sandwich plays, which highlight exciting trend-forward flavor combinations.
Miso Eggplant Bocadillo: Roasted Japanese eggplant + yuzu-pickled watermelon radish + miso hummus + baguette
Mediterranean Crisper Bocadillo: Tempura broccolini + buffalo mozzarella + romesco + baguette
G. Shroom Q Bocadillo: Cornmeal-fried oyster mushrooms + creamy yellow mustard white cabbage slaw + smoky barbecue sauce + baguette
FEATURED RECIPE
Smoked Brisket and Charred Radicchio Baguette
GET THE RECIPE FOR Smoked Brisket and Charred Radicchio Baguette