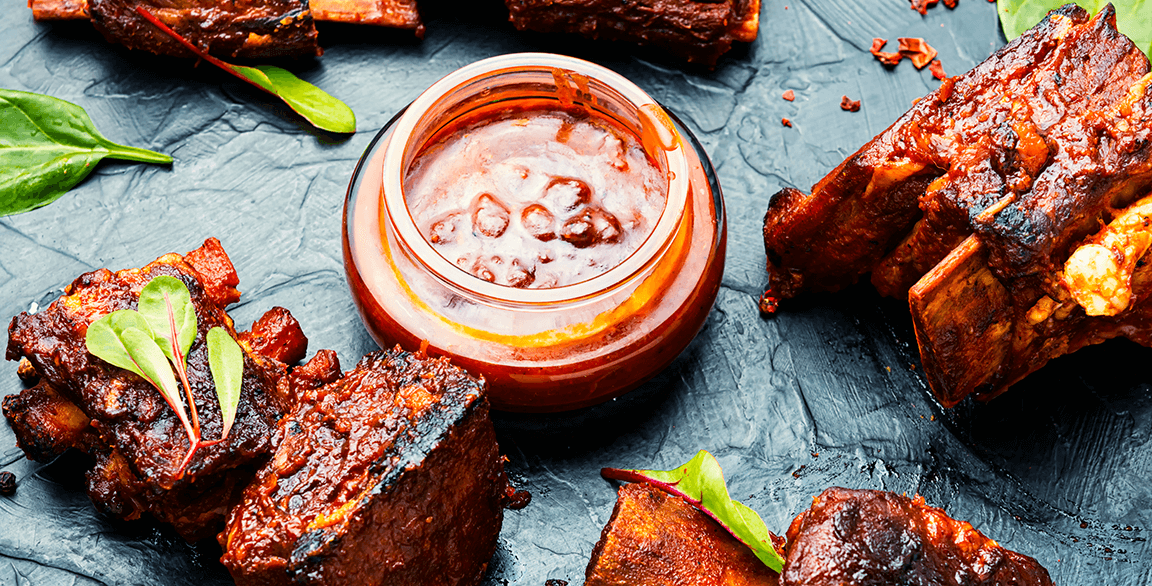 Coffee introduces intriguing complexity when used in in dry or wet rubs, marinades, stews, chilis, sauces and vinaigrettes. Consider experimenting with coffee varieties and stages of roasting, discovering the qualities best suited for imparting distinctive flavors specific to different menu items. Pair the boldness of coffee with equally strong flavors for optimal results.
Here, we infuse the complexity of coffee into modern comfort-centric dishes for signature results.
BREWED COFFEE
Use brewed coffee to enrich slow-cooked and simmered dishes with deeper notes, enticing roasted smoky nuances.
Brown Sugar Java Baked Beans: White beans + brewed coffee + brown sugar + molasses + ketchup + charred country ham bits + onion + seasonings
Coffee Buco: Veal shank + brewed coffee + chicken broth + tomato/onion/garlic/ginger + orange gremolata
Sunday Supper: Slow-roasted beef chuck pot roast + brewed coffee + beef broth + Dijon + carrots/parsnips/pearl onions/bliss potatoes
Robusta Meatballs: Seared and simmered pork shoulder/chorizo meatballs + brewed coffee tomato sauce + jalapeño + flat-leaf parsley + shaved Parmesan
COFFEE CONCENTRATE
Use the robust flavor of coffee concentrate to enliven meats, dressings and sauces with an assertive spin on comfort.
Barista Barbacoa Taco: Coffee concentrate-marinated and chipotle-ancho chile-braised beef chuck + onions/cilantro + finger lime pearls + corn tortillas
Café Brisket Salad: Chopped smoked brisket + roasted butternut squash + baby spinach + ricotta salata + rye croutons + black cherry-coffee vinaigrette
Mocha Mole Pork: Thick-sliced and slow-roasted pork loin + coffee-chocolate mole
Jolted Ribs: St. Louis ribs + buttered date syrup-coffee glaze + cracked black pepper
ESPRESSO POWDER OR BREWED GROUNDS
Use ground coffee texture to add immediate interest and rustic flair as a rub, cutting through fatty meats or feature flavored blends to richly season savory dishes with coffee brightness.
Gaucho Ribeye: Roasted boneless whole beef ribeye with dark coffee-sea salt rub + red chimichurri au jus
Coffeehouse Slider: Vanilla hazelnut coffee-crusted braised pork belly + Havarti cheese + sweet potato crisps + Hawaiian style bun
Espresso Beef Wellington: Puff pastry + thinly sliced prosciutto + espresso mushroom duxelles + seared beef tenderloin
Italian Primo Dog: Black Angus beef frank + roasted red pepper strips + black truffle oil-espresso aïoli + torpedo roll
FEATURED RECIPE