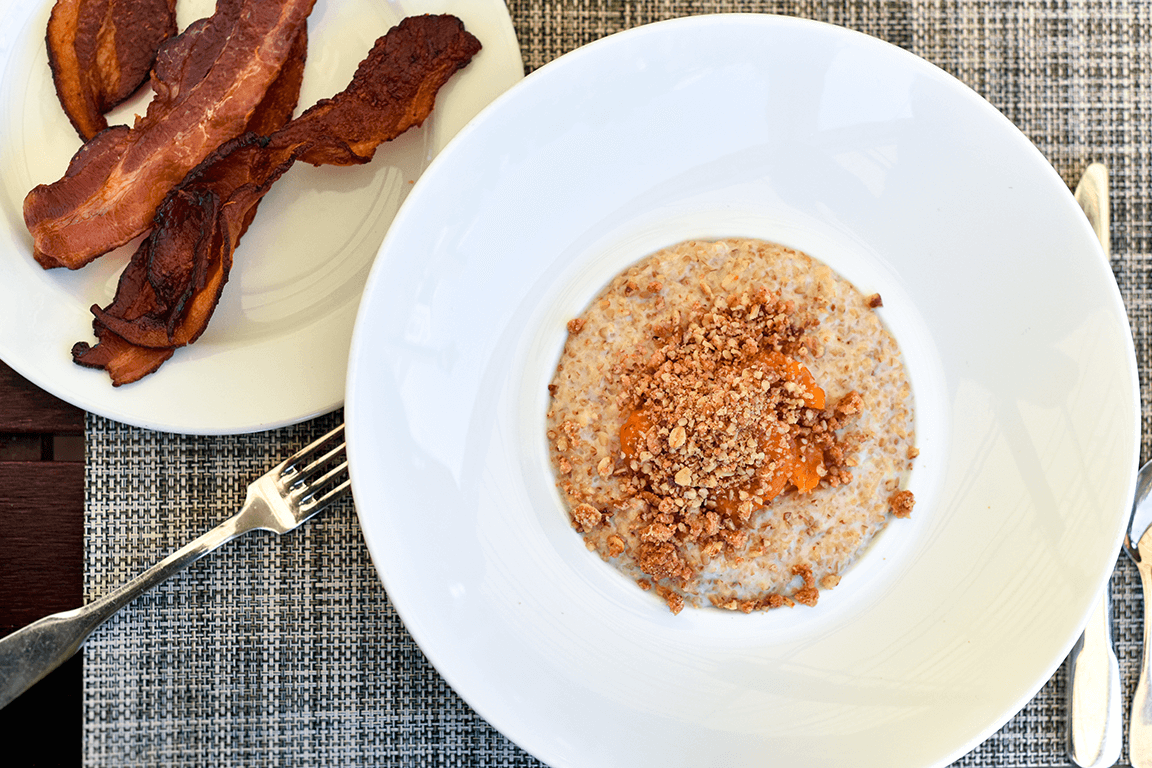 Porridge is a comforting dish gaining broader traction on breakfast menus, thanks to inspired, modern offerings. Key factors driving the trend are Southeast Asian flavors, the appeal of healthful breakfast bowls and a consumer appreciation for new experiences.
Two standouts today are oatmeal and Asian congee. Both provide a canvas for flavor building. The comforting allure lies in constructing a naturally creamy mouthfeel paired with textural contrasts and doctored with flavor infusions from innumerable toppings. Experiment with grains (cuts of oats, rice varieties, fonio, barley, farro, sorghum, corn, or blends thereof), dip into savory porridge, or expand current breakfast bowls by moving dinner flavors into breakfast. Maya Congee Café in Brooklyn, N.Y., menus a great example with its Pork Congee: a rice porridge blend of jasmine rice, quinoa, brown rice and dates, all slow cooked in ginger, garlic and jalapeños.
Here are 10 fresh takes to inspire your operation's menu development and make a statement with deeply rich, warming flavors.
TRY THIS:
OATMEAL
Hot or cold, oatmeal transforms from basic to irresistible with trending Asian ingredients, especially with spiced and savory flavors.
Overnight Matcha Bubble Oats: Chilled rolled oats + coconut milk + matcha + honey-gingered black tapioca pearls (topper)
Savory Sunrise Oatmeal: Hot rolled oats (chicken bone broth) + scrambled eggs + thick soy sauce drizzle + furikake sprinkle
Hot Honey Ube Oatmeal: Hot steel-cut oats + ube powder + fresh blueberries + gochujang-honey drizzle
Flossed Apple Oatmeal: Hot rolled oats + sautéed Chinese five-spice-brown sugar apples + pork floss
Red Eye Oatmeal: Hot rolled oats + shaved griddled ham steak + Chinese red bean (paste) red eye gravy + black sesame seeds
CONGEE
Congee serves up a wonderful (and warm) foundation for introducing Asian stylings and adapting American breakfast flavors, providing an easy way to blend contemporary with traditional.
Bacon and Egg Porridge: Red rice congee + crispy chopped smoked bacon + poached egg + chile crunch + deep-fried maple dough strips on the side
Forbidden Steak and Egg Porridge: Forbidden rice congee + chopped peppered sirloin steak + fried egg + crispy shallots
Biscuit Porridge Pot Pie: Roasted long-grain rice congee + breakfast sausage crumbles + grated white cheddar + golden biscuit top
Loco Moco Porridge: Short-grain white rice and garlic congee + grilled hamburger chunks + brown gravy + fried egg
Spicy Butternut Porridge: Jasmine rice congee + cubed roasted butternut squash + seared ground chorizo
GET THE RECIPE FOR Brunch Fried Rice