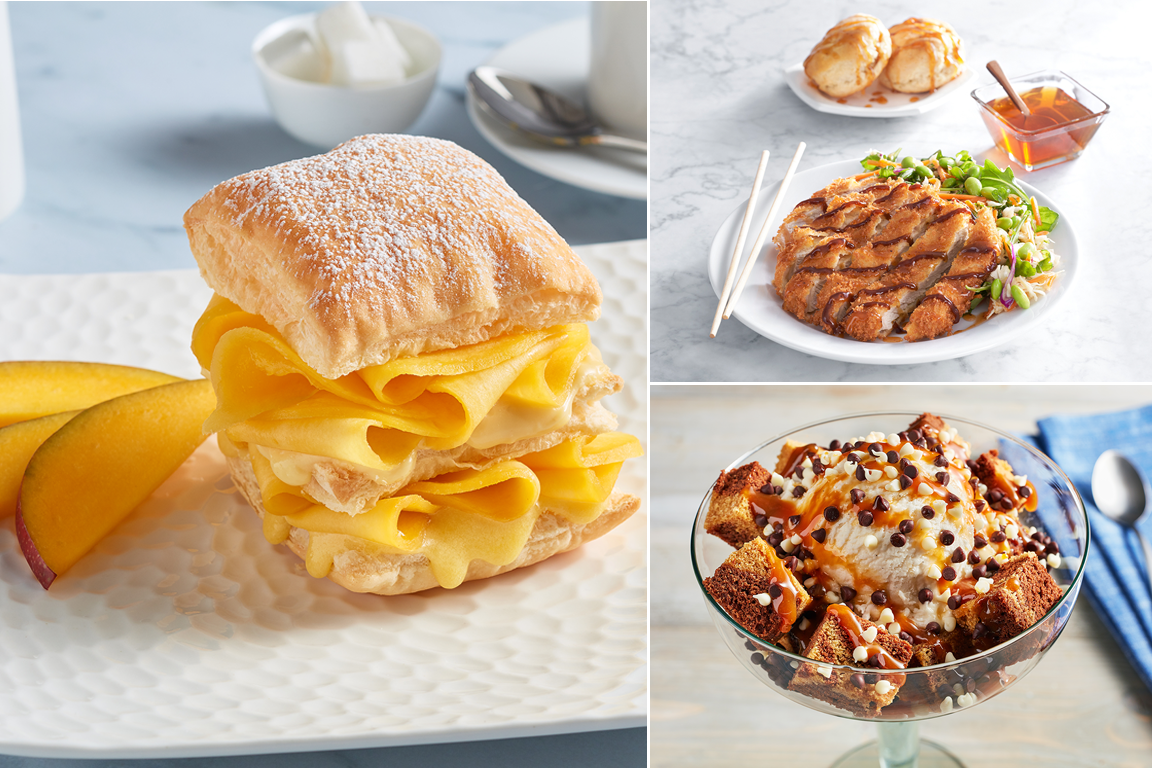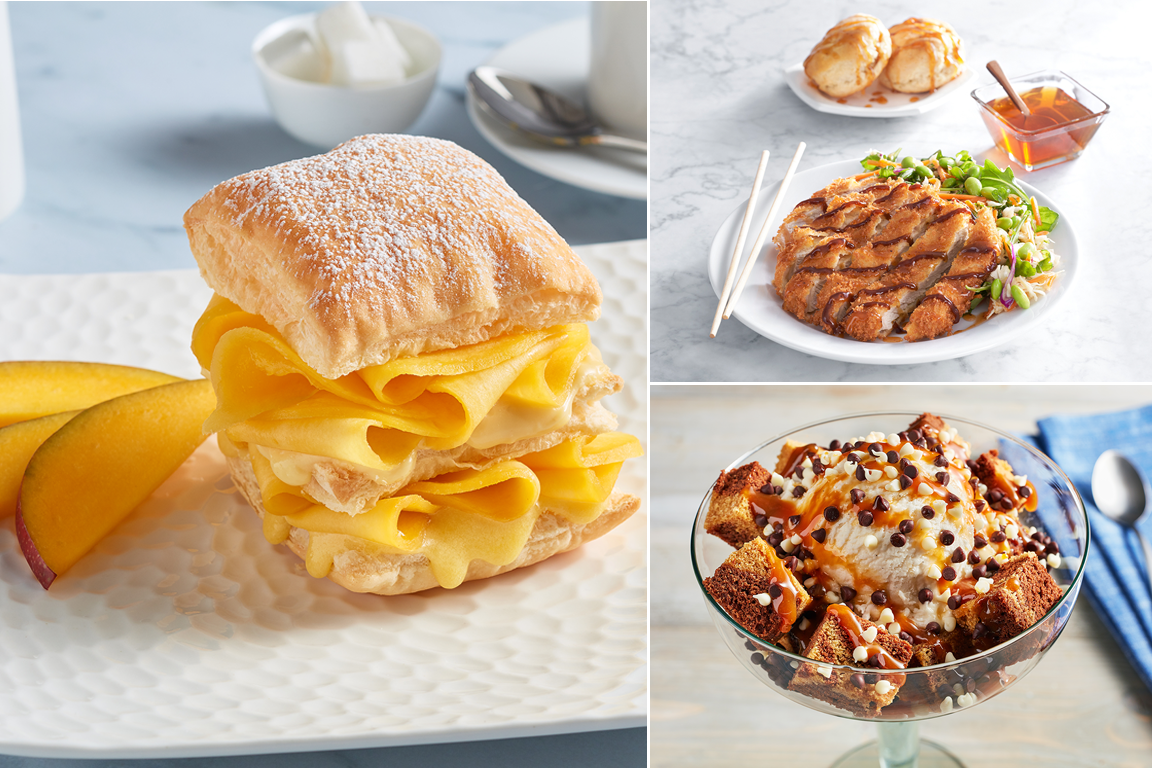 By Patricia Fitzgerald
February 10, 2023
Kitchen Collaborative is a recipe-development initiative formed by Summit F&B and Flavor & The Menu. To fuel flavor innovation, a group of talented chefs partnered with sponsor brands and commodity boards to create recipes that showcase the passion and potential of our industry.
"I like the idea of people gathering, sitting together, talking and eating. Smiles around the dinner table look good to me," says Brian Paquette, Director of Culinary Innovation, Chili's Grill & Bar. "This fuels my heart and soul." His recipes are typically inspired by conversations about favorite foods, foods that deliver comfort, foods that signify celebration and foods that evoke joy. "When developing recipes, we should always know the guest we want to serve," he notes.
Crowd-pleasers are certainly the order of the day with Paquette's trio of Kitchen Collaborative recipes: one craveable entrée (Whipped Morita Chile-Infused Honey-Glazed Tonkatsu with Honey Butter Biscuits) and two dazzling desserts (Fresh Mango Napoleon and Chocolate Marbled Pound Cake Sundae).
Fresh Mango Napoleon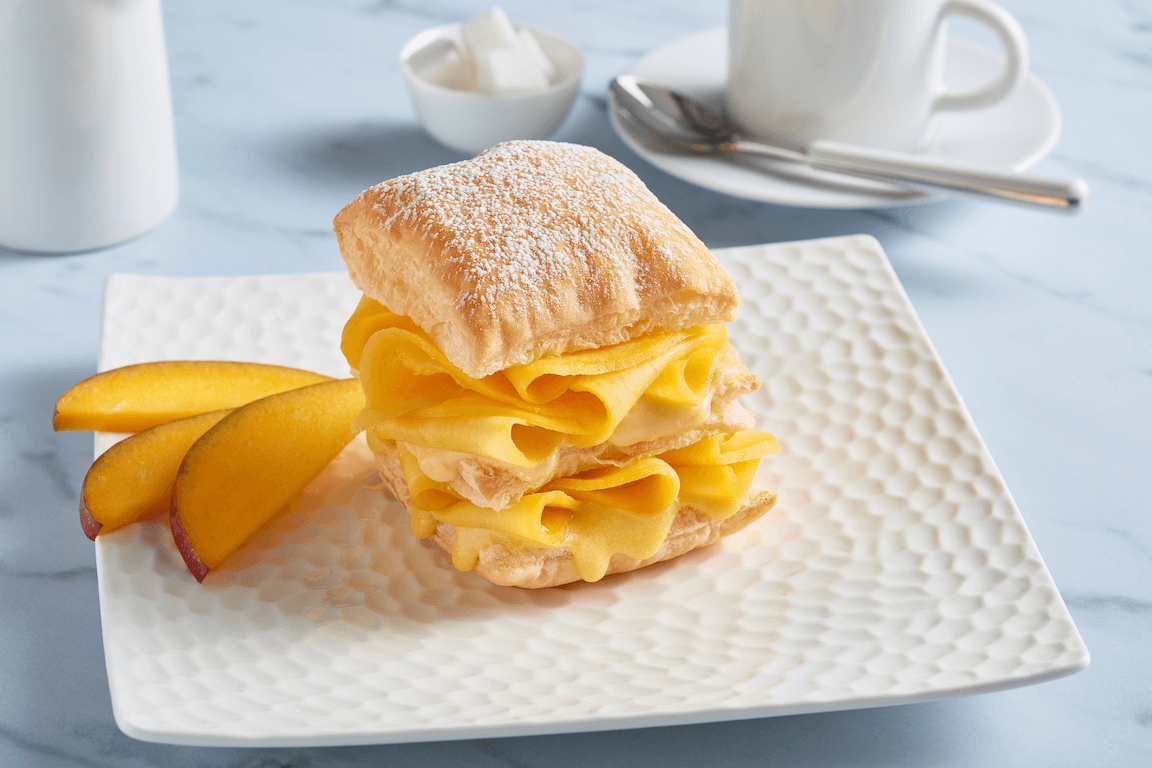 Photo: Carlos Garcia // Food Styling: Peg Blackley
In this Fresh Mango Napoleon, Paquette goes all in on the tropical fruit, producing a "light, crispy, indulgent" dessert that features fresh mango and mango curd. "I love the flavor intensity that mango can impart," says Paquette, conceding that careful calibration is required to keep those notes from becoming overwhelming. This includes pairing it with a vanilla-forward pastry cream and using firm, ripe fruit-but not too ripe, which can add too much sweetness and throw off the balance of flavors, he warns. "If the fruit yields under the pressure of my thumb, with enough resistance not to bruise, then we are ready to go."
After preparing puff pastry, the pastry cream and the mango curd, the dessert's assembly is a study in masterful construction. Paquette places one rectangle of pastry on top of a small dollop of pastry cream, which serves as an anchor during delivery and presentation. The pastry is topped with mango curd and slices of fresh mango. The next pastry layer is topped with pastry cream and more fresh fruit. A final pastry square tops the tower and is dusted with confectioners' sugar.
The dish is a visual stunner. "I want diners to know that the mango is the star," explains Paquette. "Fresh and vibrant, yet light and crispy. You can almost taste it before you take a bite."
Whipped Morita Chile-Infused Honey-Glazed Tonkatsu with Honey Butter Biscuits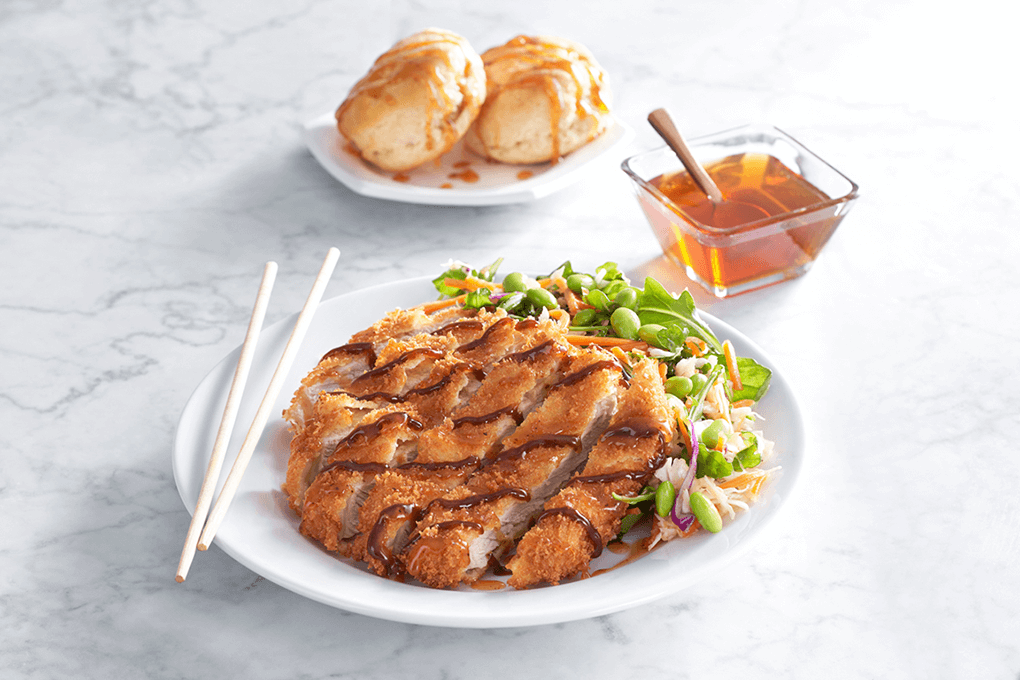 Photo: National Honey Board
"Honey is not just sweet. It is nuanced," says Paquette. "Like wine or cheese, the pairings you can create with honey are endless. Dressings, sauces, marinades, toppings, infusions, glazes, butters, drinks—need I mention bourbon? There are no bounds to where we can use honey in recipes." With his Whipped Morita Chile-Infused Honey-Glazed Tonkatsu with Honey Butter Biscuits, Paquette goes for the hat trick in his aim to educate—or at least remind—fellow chefs of honey's remarkable versatility.
In this dish, Paquette highlights the flavor complexity of honey by infusing it with morita chiles. "They're fruitier and sweeter than the famed chipotle," he explains, adding, "Moritas are also smoked for less time than chipotles, leaving them softer and more raisin flavored." Paquette specifies a wildflower varietal to bring honey's natural sweetness forward as a counterpoint to the smoky, spicy chiles. "When I attempted using stronger-flavored honey varietals, they were in a bit of competition with the chiles. I was looking for harmony in flavor, not a battle."
Paquette scores three times with the morita-infused honey. It is drizzled over the top of the panko-crusted pork loin and then mixed with a salted butter to glaze hot biscuits. It's also paired with white balsamic vinegar, oil, salt and pepper to dress a salad of arugula, cabbage, carrots and edamame. He explains that his concept for this dish is a global take on a fried pork chop and biscuits, having recently been introduced to tonkatsu and singing its praises as an approachable initiation to Japanese food. "I also really liked the idea of a Japanese classic hanging out with its Mexican-inspired old friend, honey."
Chocolate Marbled Pound Cake Sundae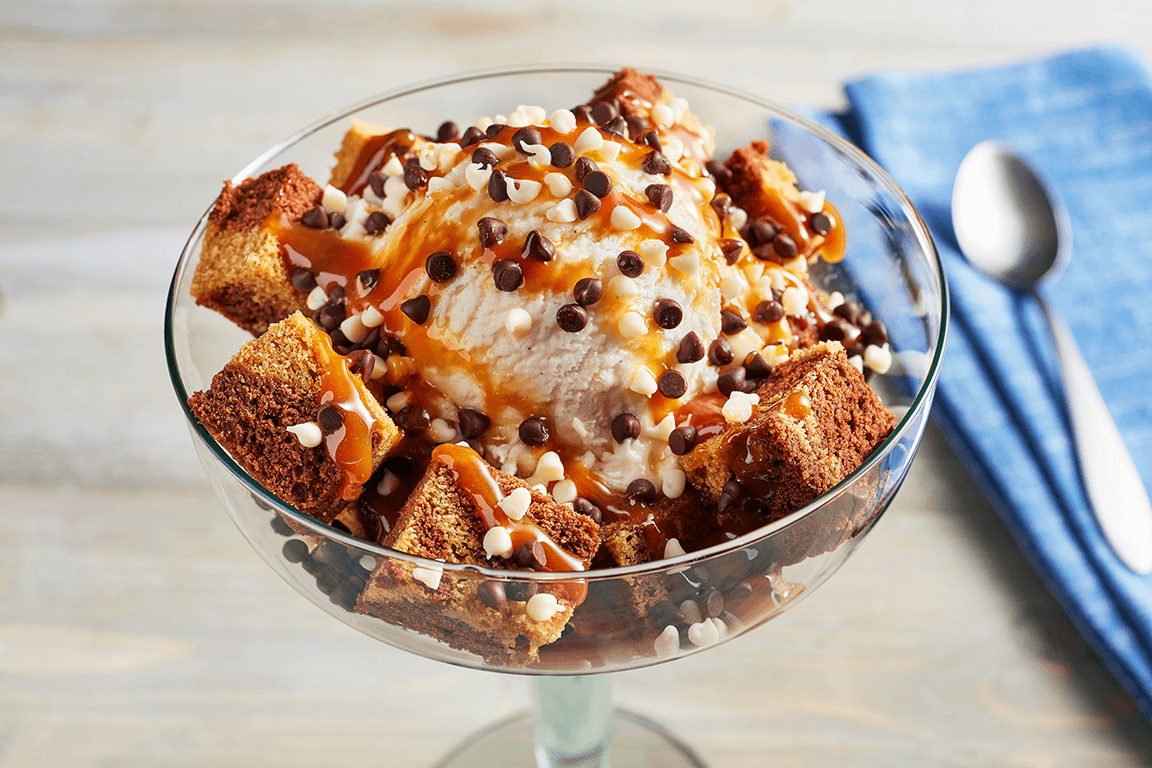 Photo: Carlos Garcia // Food Styling: Peg Blackley
Dessert indulgence doesn't get much more iconic than the choice between an ice cream sundae or a generous slice of sumptuous cake. But why pick? In his Chocolate Marbled Pound Cake Sundae, Paquette relieves diners of this difficult decision by merging these classics into a single dish. "In my experience, indulgence is becoming more of an earned moment—we allow it less often today than in the past," he notes. "So, when the time for indulgence arrives, familiarity and known flavors tend to dominate our choices. And chocolate, caramel and ice cream always speak to me."
Employing two batters to create a marbled pound cake, Paquette uses Ghirardelli® 52% Dark Chocolate Chips in the dark version, then doubles down on the rich flavor by using Ghirardelli® Classic White Chocolate Chips in the light batter. Using scoops, the batters are layered in even amounts in loaf pans, selected instead of round cake pans to reduce waste when cutting into cubes for final assembly. "Simply scooping the batter achieves a nice marbled effect," says Paquette, noting that placing the batters side by side or top and bottom can vary the look, if desired.
For each portion, Paquette places cubes of the cake in a bowl, topping these with a "hearty" scoop of vanilla bean ice cream and a "generous" drizzle of Ghirardelli® Sea Salt Caramel Premium Sauce. A sprinkle of both white and dark chocolate chips finishes the dish. "I geared this to the guest in casual dining," he notes.
Project Management: Summit F&B
Photography: Carlos Garcia // Food Styling: Peg Blackley