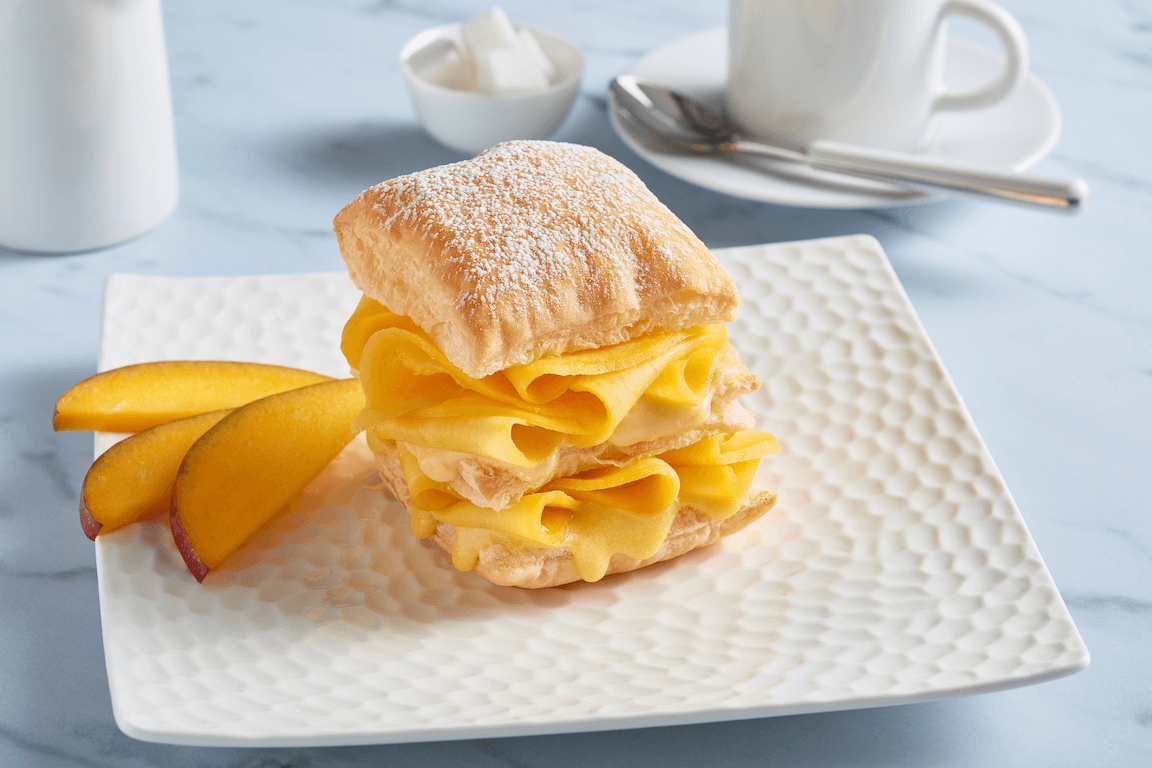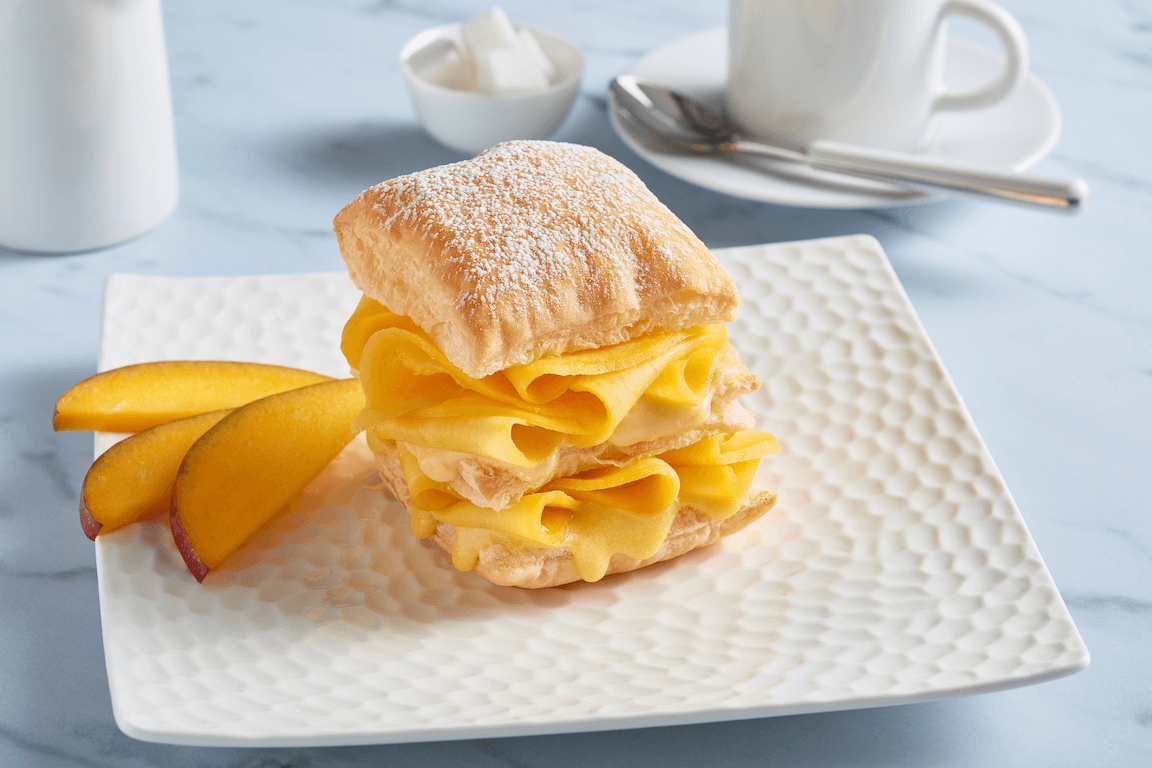 Fresh Mango Napoleon
Recipe courtesy of Brian Paquette
Sponsor: National Mango Board
Servings: 24
Ingredients
Mango Purée:
4 large, firm fresh mangos
Simple syrup, as needed
Mango Curd:
1 c granulated sugar
4 large egg yolks
1 large egg
⅔ c fresh Mango Purée
½ c unsalted butter
½ tsp kosher salt
Vanilla Pastry Cream:
2 c whole milk
1 Tbsp vanilla extract with seeds
4 oz granulated sugar
1 oz cornstarch
1/4 tsp kosher salt
4 egg yolks, cold
1 oz unsalted butter, cut into 1/2-in cubes
Assembly:
4 puff pastry sheets, trimmed to 9 x 9 in, cut into 3-in squares
Confectioners' sugar in a shaker
Directions
For Mango Purée:
Cut each mango parallel and as close as possible to the seed on both sides to get 2 dome-shaped "halves". Note: this will leave the center of the mango with lots of flesh that will be used for the puree.
Carefully peel the mango halves to preserve as much of the flesh as possible.
Using a mandoline, carefully slice the mango into thin half moon-shaped slices; set aside for assembly.
Place flesh cut from the center of the mangos, free of skin and seed, in a blender. Begin to blend and slowly add 1 Tbsp simple syrup at a time to achieve a smooth purée. Set aside 2/3 c for use in the curd recipe.
For Mango Curd:
Whisk together the sugar, yolks and egg. Set aside.
In a heavy-bottomed stainless medium sauce pot, gently heat the Mango Purée, butter and salt over low heat until butter has melted.
Remove pot from heat and whisk a few tablespoons of the mango mixture into the egg mixture. Continually whisking, add a few tablespoons of mango mixture into eggs at a time.
Pour all the mixture back into the pot. Set over medium heat. Use a heatproof spatula to continually stir mixture, making sure to scrape the bottom and edges of the pot. Cook for about 5 to 8 minutes, until mixture has thickened to nappé consistency and has reached a temperature of 160°F.
Remove from heat and strain curd through a fine-mesh strainer into a medium bowl. Cover with plastic wrap, allowing the wrap to lay directly on the surface of curd. Chill in the fridge for at least 2 hours to thicken and cool.
For Pastry Cream:
In a 2-qt stainless steel pot, combine milk and vanilla. Bring to a bare simmer over medium heat. Remove from heat.
In a large bowl, set up an ice bath.
In a medium heatproof mixing bowl, stir together sugar, cornstarch and salt. Whisk in egg yolks until mixture is pale yellow, smooth and fluffy, about 1 minute.
While whisking continuously, slowly pour milk into egg yolk mixture in a thin stream, until all of it has been added.
Return the mixture to the pot. Cook over medium heat, whisking constantly, until pastry cream begins to thicken, about 5 minutes. Once it thickens, continue to whisk, pausing every few seconds to check for bubbles, about 1 minute. When it begins to bubble, set a timer and continue whisking for 1 minute.
Remove the pot from the heat; whisk in butter until melted and thoroughly combined. Strain pastry cream through a fine-mesh sieve set over a heatproof medium bowl. Immediately place plastic wrap on the surface. Transfer bowl to prepared ice bath to chill for 30 minutes, then refrigerate until cold, about 2 hours.
When ready to use the pastry cream, whisk until smooth.
For Assembly:
Preheat oven to 400°F. If using a convection oven, use lowest fan speed and reduce heat to 375°F.
Bake pastry squares on parchment-lined pans for 10 to 15 minutes, until they are puffy and light golden brown.
For each serving, using a sharp knife, carefully cut a baked pastry square into three even rectangles.
Place a small dollop of pastry cream on a serving plate and place one rectangle of pastry on top. This will keep the napoleon from sliding around during delivery.
Top the pastry layer with 2 Tbsp of Mango Curd and 5 slices of fresh mango.
Place another rectangle of pastry on top of the mangos and repeat the process, this time with 2 Tbsp of pastry cream and 5 slices of mango.
Place a top rectangle of pastry on the napoleon and dust with confectioners' sugar.
Chef Notes
Use ripe, firm mangoes for this recipe as it will result in a more dramatic presentation and give some texture to the dish. Using very ripe fruit adds a bit too much sweetness and the balance of flavors is lost.
Project Management: Summit F&B
Photography: Carlos Garcia // Food Styling: Peg Blackley