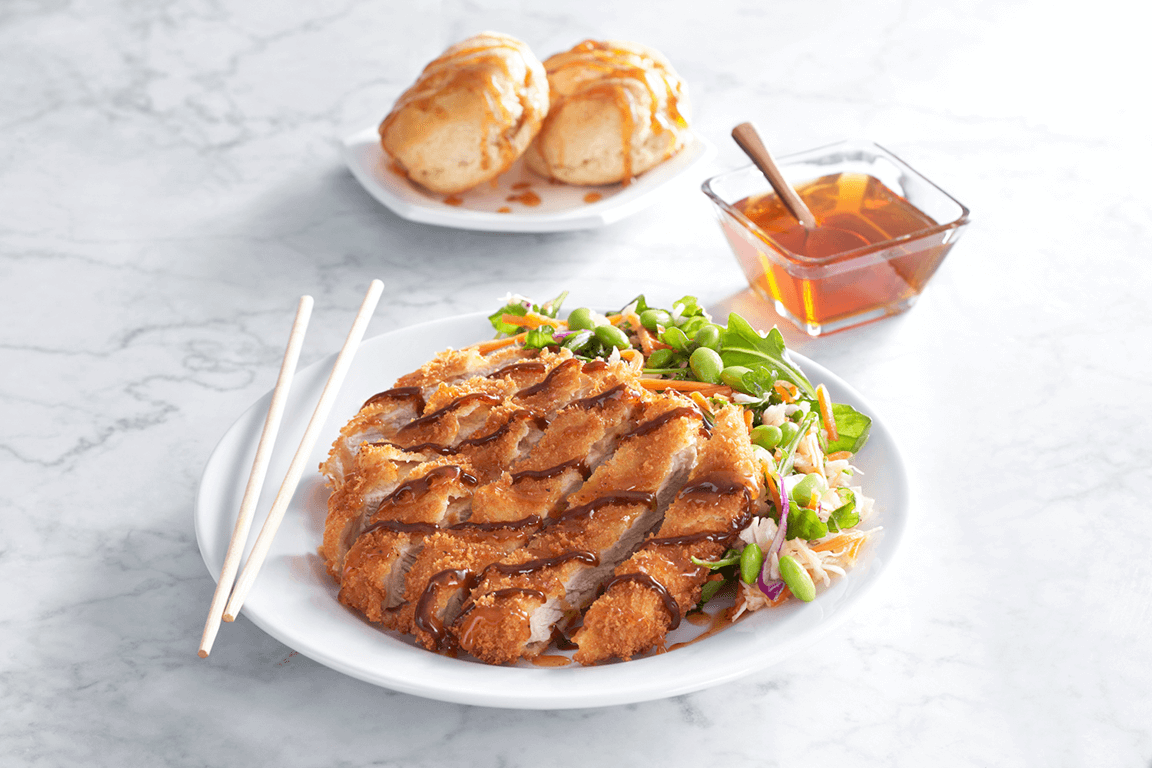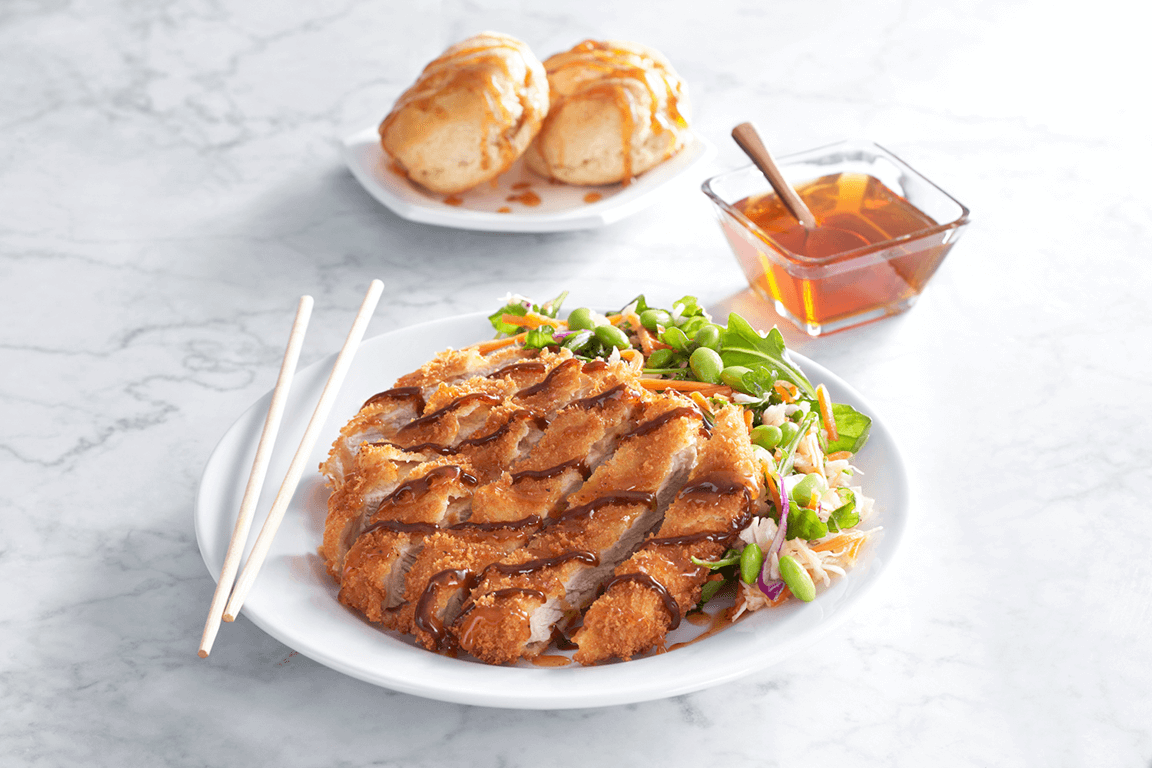 Whipped Morita Chile-Infused Honey-Glazed Tonkatsu with Honey Butter Biscuits
Recipe courtesy of Brian Paquette
Sponsor: National Honey Board
Servings: 24
Ingredients
Morita Chile-Infused Honey:
4 c local wildflower honey
4 oz Morita chiles, rough chopped
Honey Butter:
1 c Morita-infused honey
1 c salted butter
Vinaigrette:
1 c olive oil
¼ c white balsamic vinegar
¼ c Morita-infused honey
1 tsp kosher salt
1 tsp fresh fine ground black pepper
Biscuits:
48 place and bake frozen biscuits
Honey Butter, melted, as needed
Salad:
4 lb arugula
1 lb coleslaw mix containing green cabbage, red cabbage and carrot
1 lb shelled, steamed and cooled edamame
Tonkatsu:
24 1-in-thick pork loin chops, trimmed of cap fat
Kosher salt, as needed
Finely ground black pepper, as needed
Panko breadcrumbs, as needed
Cornstarch, seasoned with salt and pepper, as needed
Beaten eggs, seasoned with salt and pepper, as needed
2 c hoisin sauce, warm
Directions
For Morita Chile-Infused Honey:
Combine the honey and chiles in a stainless 2-qt pot on medium heat.
Bring the mixture to just under a boil, then remove from the heat and allow to cool for 30 minutes.
Pour mixture into a blender and blend for 1 minute on high. The mixture will get light in color and take on a whipped consistency.
Pour mixture through a fine-mesh strainer and set aside for use in other components as well as the glaze for the tonkatsu.
For the Honey Butter:
Combine the infused honey and butter in a microwaveable container and melt on high for 1 minute. Stir mixture and melt for 20 more seconds at a time, until mixture is completely melted.
Set aside and hold warm for use on biscuits.
For the Vinaigrette:
Combine the oil, vinegar, infused honey, salt and pepper in a stainless steel bowl and whisk until combined and honey is dissolved.
Set aside for use in dressing the salad just before plating.
For the Biscuits:
Bake prepared biscuits according to directions on package.
Once biscuits come out of the oven, immediately brush the tops with the melted Honey Butter. Set aside to cool.
For the Salad:
In a bowl large enough to contain all of the arugula and cabbage mix, combine them.
Set aside for use when plating and hold edamame separately.
For the Tonkatsu:
Cover a sturdy surface with enough plastic film to evenly place 4 or 5 pork chops with enough room for them to double in size when pounded.
Sprinkle the chops with salt and pepper
Cover the chops with a layer of plastic film and, using a meat mallet with medium force, pound the chops evenly to ½ in thickness.
Once all pork is pounded, set aside and preheat a deep fryer to 350°F. Prepare your frying set up of seasoned cornstarch, seasoned beaten eggs and panko breadcrumbs.
Start by completely coating each pork cutlet in the cornstarch mixture, then in the egg mixture, and then completely coat with cornstarch. Coat again in egg and cornstarch.
Place breaded cutlet in the deep fryer for about 3 minutes, or until the internal temperature is a minimum of 140°F. Place on paper to drain and season lightly with salt.
For Plating:
Place 4 oz of the salad mixture in a small bowl and add 1 Tbsp of the prepared vinaigrette. Toss to combine and carefully place the salad on the plate of your choosing for service.
Top the salad with 2/3 oz edamame, about 7 or 8 beans.
Slice the pork tonkatsu into ½-in-thick slices, being careful to not disturb the breading and to keep the cutlet appearing intact. Carefully place the sliced cutlet on the plate, leaning the cutlet on the salad.
Drizzle 1 Tbsp of the hoisin over the cutlet and 2 Tbsp of the Chile-Infused Honey, being sure to allow honey to run onto the plate.
Place 2 warm biscuits on the plate next to the salad and tonkatsu and pour over an additional 1 Tbsp of the warm melted Honey Butter on the biscuits.
Chef Notes
Be careful with this one. I made this dish several times to get all of the components just right and as soon as I turned my back, it was gone. The honey complements every component of this dish differently and showcases its versatility all on one plate. Mixed with fat, combined with acid and infused with smoky heat. Crazy, stupid delicious.
Project Management: Summit F&B
Photography: Carlos Garcia // Food Styling: Peg Blackley