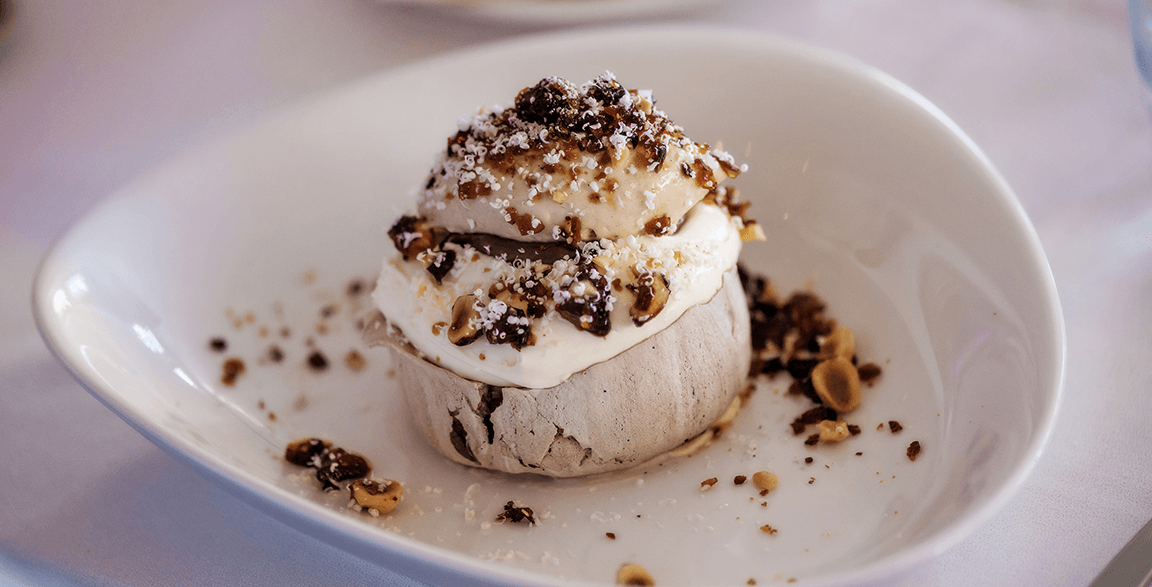 Coffee-forward desserts can tap into the energizing year-round menu appeal that hot and chilled coffee beverages have garnered, transitioning favorite coffee drinks and their crave-inducing seasonal flavors into aspects of contemporary dessert features. Restaurants can incorporate top sellers like the latte, mocha, Dalgona, espresso or cold brew into dessert mainstays or seasonal LTOs anticipated by diners with the change of the seasons.
Here, we provide in-market examples from across the national landscape and offer inspiration with a "try this" section, reflecting coffee opportunities within each season.
FALL
Pair coffee with soothing sentimental flavors like caramel, cinnamon roll, maple, pumpkin spice, gingerbread, graham cracker and cider.
Caramel Macchiato Crêpe: Italian espresso gelato, caramel spread, dark chocolate-covered espresso beans, chocolate chips, caramel bites, espresso powder, caramel drizzle, whipped cream on a freshly made crêpe
Daily Drip Coffee & Desserts, Glendale, Ariz.
Pumpkin Spice Latte Swirl: Pumpkin spice doughnut dipped in a pumpkin spice/sugar blend, swirled with white buttercream and coffee buttercream
Krispy Kreme, based in Winston-Salem, N.C.
TRY THIS
Cornucopia Nitro Cake: Miniature vanilla bundt cake + maple-poached pears + nitro coffee sabayon
WINTER
Pair coffee with rich, full flavors like dark chocolate, brown sugar, chai, peppermint, butterscotch, roasted nuts, warming spices and chiles.
Opera Cake: Rum chocolate sponge, coffee butter cream, ganache, chocolate cream, Kona coffee ice cream
53 By The Sea, Honolulu
Coffee Dessert Flight: Tiramisu, mudslide cake, caramel macchiato-cremeux cinnamon cake truffle
Ocean House Restaurant, Dennis Port, Mass.
TRY THIS
Chocolate Java Pavlova: Chocolate pavlova + whipped espresso cream + chai-spiced black mission fig compote + pomegranate-coffee liqueur drizzle
SPRING
Pair coffee with invigorating flavors like tree fruits, berries, white chocolate, horchata, vanilla, florals, herbals and honey.
Gone Bananas: Banana pudding ice cream, caramel drizzle, fresh banana slices, praline pecans, whipped cream, espresso
Perets Dessert & Coffee Bar, Oklahoma City, Okla.
Dalgona Coffee Nutella (Shibuya Toast) topped with chocolate ice cream, Dalgona coffee, Nutella, almond cookie, chocolate drizzle and whipping cream
Sweet Memes, with locations in Houston and Austin
TRY THIS
White Mocha Churros: Lavender sugar-dusted churros filled with white mocha cream
SUMMER
Pair coffee with refreshingly cheerful flavors like citrus, berries and tropical fruit.
Cold Brew with Coconut Cream: Light and bright Slingshot Coffee cold-brew sorbet twisted with lush coconut cream
Jeni's Ice Cream, based in Columbus, Ohio
Breakfast in Lima: Plantain cake, coffee-lime buttercream, chocolate ganache and chocolate crunch
sugargoat, Chicago
TRY THIS
Charged Berry Cheesecake Hand Pie: Whipped cream cheese + açai-blueberry-green coffee extract filling + pie dough + violet sparkling sugar