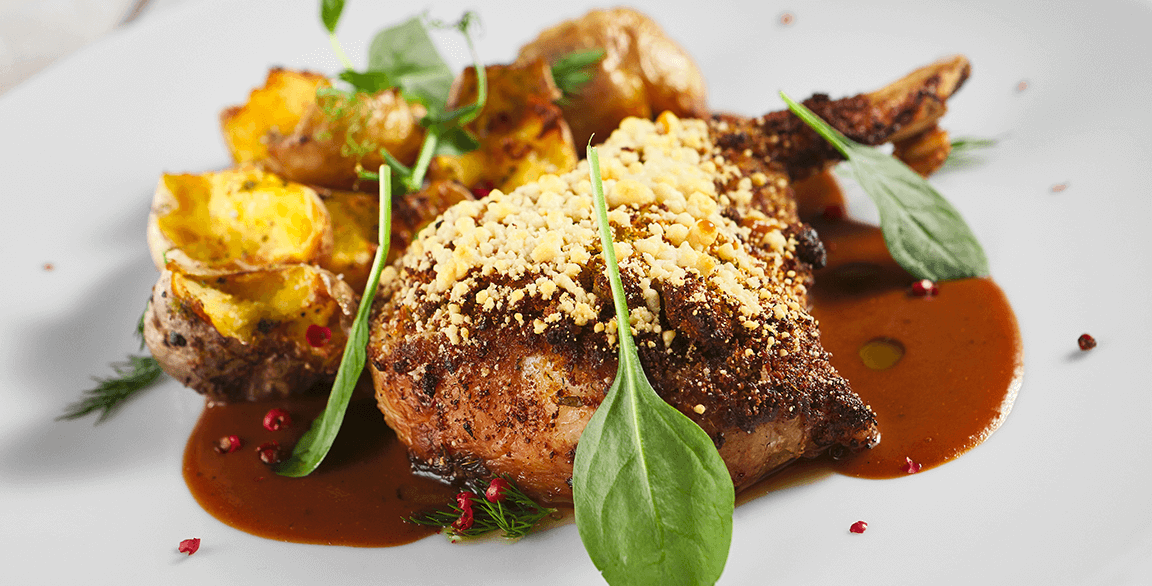 Coffee is a premier flavor to market and cross-utilize, especially on breakfast and brunch menus. Kickstart your morning menu with subtle yet discernable coffee-spiked flavor sensations. Leverage the broad appeal of coffee, utilizing its assertiveness to boost dimension, adding deeper aromatics and a touch of bitterness for complexity.
Here, we offer four coffee-infused condiments/toppings/finishes, providing variations and application ideas. Each serves as a modern flavoring system designed to enhance the breakfast experiences and engage coffee-loving patrons.
1

COFFEE GRAVY

Coffee gravy delivers new experiences in a craveable comfort-centric format.
TRY THIS>
Coffee-Onion Gravy: Sautéed minced yellow onion + cold-brew coffee + beef broth + red wine + Worcestershire + red wine vinegar + cornstarch + rosemary
Redder Eye Gravy: Coffee liqueur + orange juice + pan drippings (ham or beef) + smoked paprika + butter
Coffee Country Gravy: Ground breakfast sausage + flour + whole milk + chicken broth + cold-brew coffee + cracked black pepper + brewed coffee grounds
APPLICATION
Scrambled Egg Rolls: Scrambled eggs + shredded hashbrowns + bacon + Colby-Jack cheese + eggroll wrapper + coffee-onion gravy (for dipping)
2

COFFEE GLAZE

Coffee glazes allow menu developers to push the flavor envelope, offering an assertive, yet familiar flavor profile. Get specific with your coffee type or region, calling out its style or provenance.
TRY THIS>
Caribbean Coffee Glaze: Espresso powder + Serrano pepper jelly + dark rum + ginger + garlic + clove
Ancho-Coffee BBQ Glaze: Cold-brewed coffee + ancho chile + smoky barbecue sauce + honey
Maple Coffee Glaze: Snap-chilled coffee + maple syrup + tamari + grain mustard
APPLICATION
Caribbean Sunrise Bowl: Saucy black beans + soft scrambled eggs + carnitas tossed in Caribbean coffee glaze + cotija cheese crumbles
3

COFFEE JAM

Enticing savory coffee jams elevate breakfast handhelds, tying into the daypart theme nicely.
TRY THIS>
Espresso-Bacon Jam: Espresso powder + smoked bacon + caramelized onion/garlic + brown sugar + bourbon + cracked black pepper
Hot Java-Berry Jam: Coffee concentrate + raspberry preserves + harissa + crushed walnuts + scallions
Cracklin' Joe Jam: Coffee concentrate + orange marmalade + chopped pork cracklin's + red pepper flakes
APPLICATION
Java Smashed Burger Melt: Smashed burger + white American cheese + fried egg + espresso-bacon jam + English muffin bread
4

COFFEE WHIPS

Luscious coffee "whips" deliver signature indulgent versatility across the breakfast menu.
TRY THIS>
Whipped Jalapeño Mocha Butter: Unsalted butter + cream cheese + coffee liqueur + cacao nibs + jalapeño
Espresso Comeback: Espresso powder + Southern comeback sauce
Coffee Schmaltz-oli: Chicken schmaltz aïoli + brewed coffee grounds + Sriracha
APPLICATION
Mocha Me Crazy Toaster: Black Forest ham-stuffed French toast + whipped jalapeño mocha butter
FEATURED RECIPE