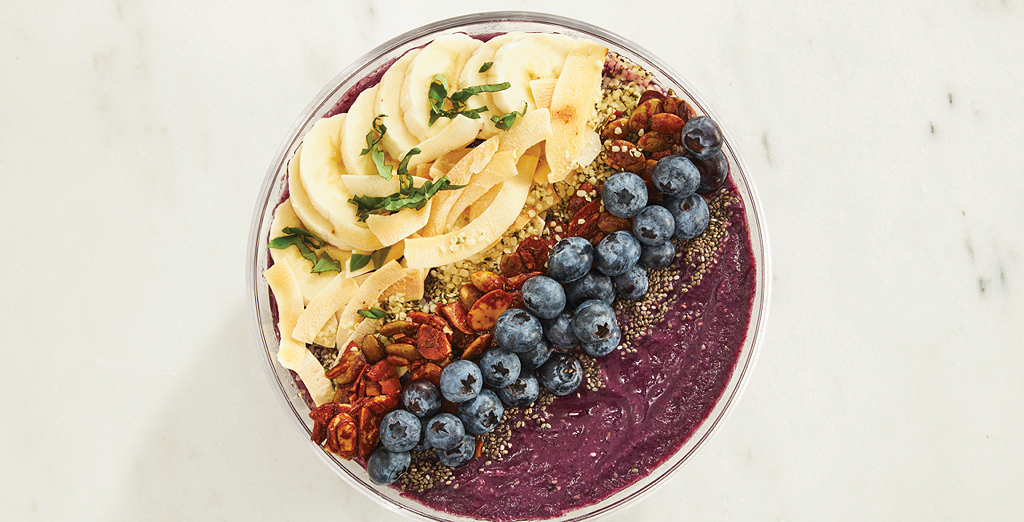 By Flavor & The Menu
October 4, 2022
Breakfast is rebounding, now that consumers are swinging back into their regular routines and looking for menu items that are both unique and delicious. According to Datassential, restaurant brands are keying into the opportunity—73 percent of operators are offering breakfast as of this year.
What do diners want at breakfast? Ask 10 people that question and you'll likely get 10 different answers. But whether they crave wholesome, indulgent, sweet or savory, incorporating blueberries into breakfast items is a sound strategy—a whopping 73 percent of patrons believe blueberries make a dish more appealing and 64 percent say that blueberries make a dish taste better.* It's hard to argue against that—blueberries lend recipes their famous sweet-tart flavor, plump juiciness, nutrient-dense profile and beloved familiarity. For operators, blueberries serve up versatility, offered in a number of forms, including fresh, frozen, dried, powdered, canned, puréed, and freeze-dried.
70% of patrons indicate a willingness to PAY MORE for dishes that include blueberries*
POWER BREAKFAST: Blueberry Playa Bowl
The Blueberry Playa Bowl stars a blend of fresh bananas, frozen blueberries and coconut milk, along with a colorful array of fresh blueberries, banana, shredded coconut, hemp seeds and micro basil. A crispy topping of an Almond-Pepita-Maple Crunch offers a craveable crunch. Developed by John Franke, on behalf of SRG Culinary Council for the U.S. Highbush Blueberry Council, he uses IQF blueberries instead of the more traditional açai berries for a few reasons.
"IQF blueberries offer a significant cost savings over frozen açai purée," says Franke. "They're also a super versatile pantry staple that I can use across my menus, from sauces to baked items, beverages and desserts. Frozen blueberries allow me to inventory one less costly item while still delivering a vibrant, on-trend customer favorite in a way that is operations-friendly. Customers love the health halo of blueberries and this application offers them in an innovative yet approachable way."
WHOLESOME COMFORT: Blueberry Cinnamon Toast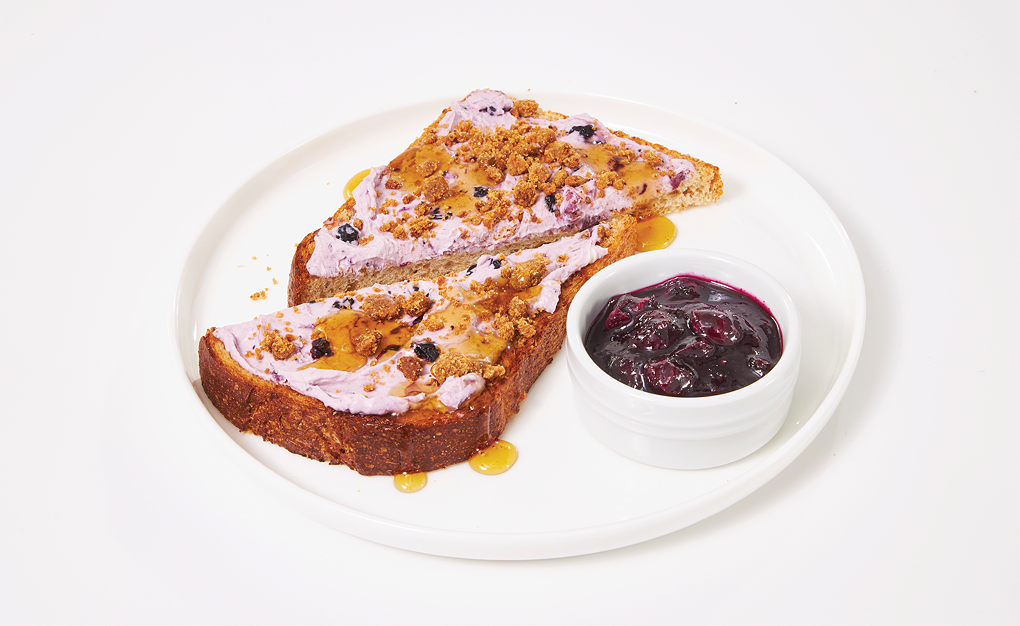 Here, Franke serves up comfort, nostalgia and menu differentiation with a creative take on the breakfast favorite, French toast. This Blueberry Cinnamon Toast sees whole-wheat toast topped with a layer of vibrant blueberry cream cheese (cream cheese puréed with canned blueberries, dried blueberries, heavy cream, honey, cinnamon and salt). It's topped with a craveable baked blueberry streusel "magic dust" (blueberry powder, flour, light brown sugar, granulated white sugar, salt and unsalted butter), then drizzled with vanilla-cinnamon maple syrup, and served with a side of blueberry compote. "The streusel is pretty classic, but the blueberry powder makes it memorable, adding color and flavor," says Franke. He suggests other uses for it beyond the toast, such as a topping for blueberry muffins, cobblers or parfaits.
This build can also be tweaked. "This is great as a breakfast toast or as a full-service brunch menu sweet-toast appetizer," says Franke. "You could further differentiate it with an infused honey, micro mint and maybe a dash of powdered sugar."
Find on-trend menu ideas featuring blueberries or contact us for custom innovation support at blueberry.org/foodservice
* USHBC Patron Study 2021 Demand for Blueberries at Foodservice