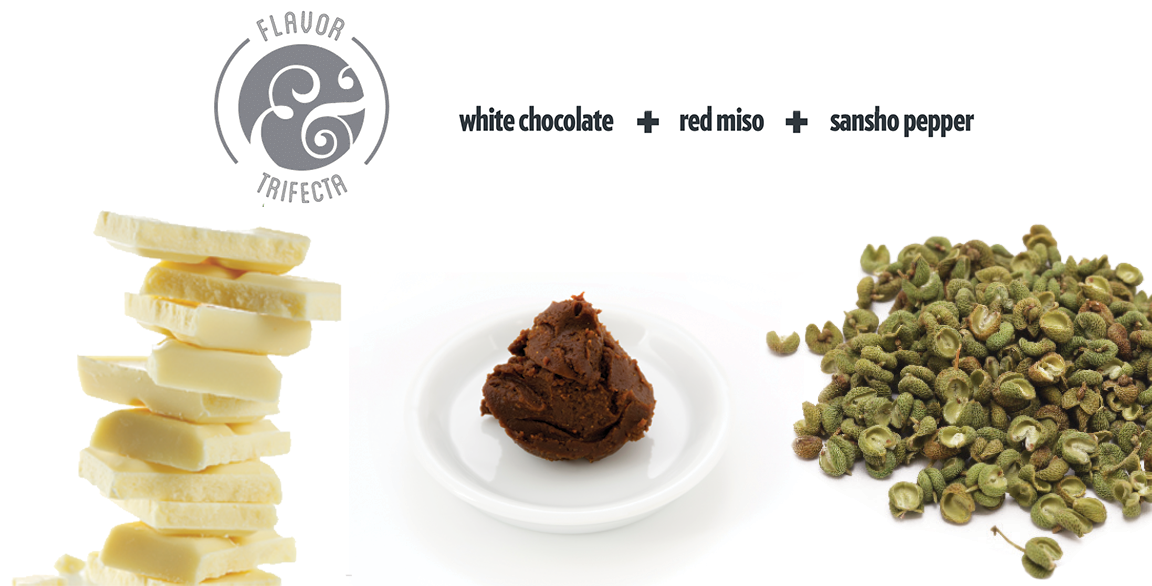 By Flavor & The Menu
October 6, 2022
Pablo Zitzmann grew up in a German-Mexican household in his native home of Bogota, Colombia, then immersed himself in the food cultures of Hong Kong, Japan and Hawaii. As chef/owner of Zitz Sum, an Asian-inspired restaurant in Coral Gables, Fla., he specializes in small plates and dumplings. On the savory side, Zitzmann serves dishes like Pork Potstickers with brown butter tosazu (fermented vinegar), cucumber, crunchy garlic and herbs; and Bing Bread, a sourdough Chinese-style flatbread, with local honey-miso butter, furikake and olive oil. Dessert offerings include Hong Kong-Style French Toast with peanut butter crumble and milk iced tea gelato.
We asked Zitzmann to consider an ingredient trifecta that both surprises and inspires. He came back to us with white chocolate, red miso and sansho pepper.
"I love this combination and have used it in a mousse for a dessert we do from time to time," he says. "I like to caramelize the white chocolate, then make a mousse with it where we fold in the red miso, which adds saltiness and complexity. I finish it with a couple of dashes of ground sansho pepper, which is the Japanese counterpart to Sichuan peppercorn."
The three ingredients bring out the best in each other. "I like how versatile white chocolate is. The fattiness of the chocolate highlights the sansho pepper's floral flavor, and the citrus notes from the pepper clean the palate a bit," says Zitzmann. "Red miso's salinity and savoriness amplify everything."
Aside from featuring the trio in the mousse, Zitzmann also likes using the combination of white chocolate, red miso and sansho pepper in other applications, including entrées. "We make a marinade for black cod using these three ingredients and the result is killer," he says.