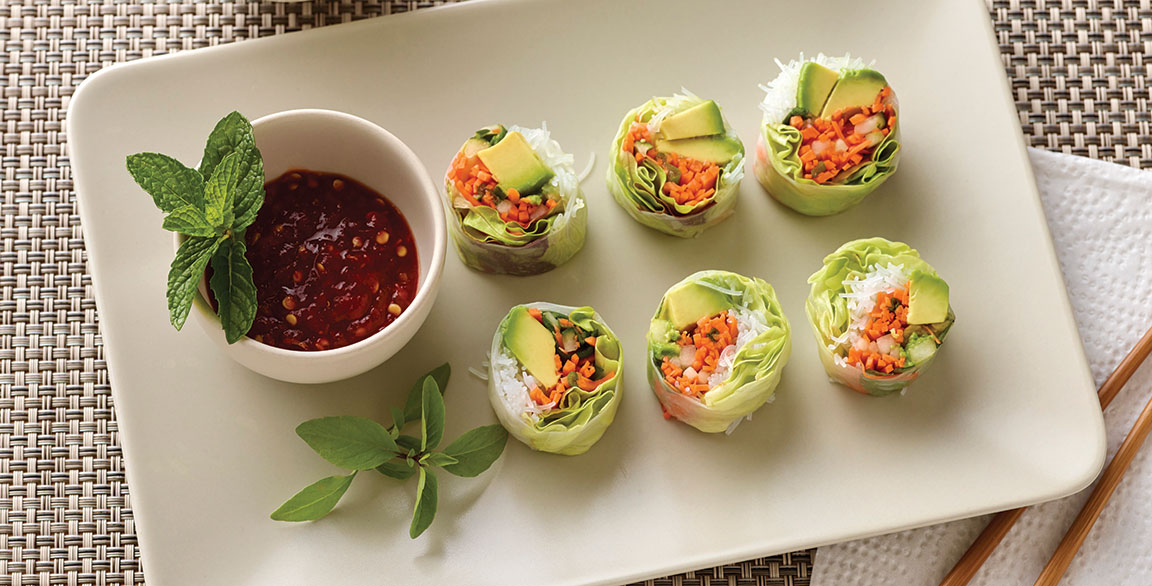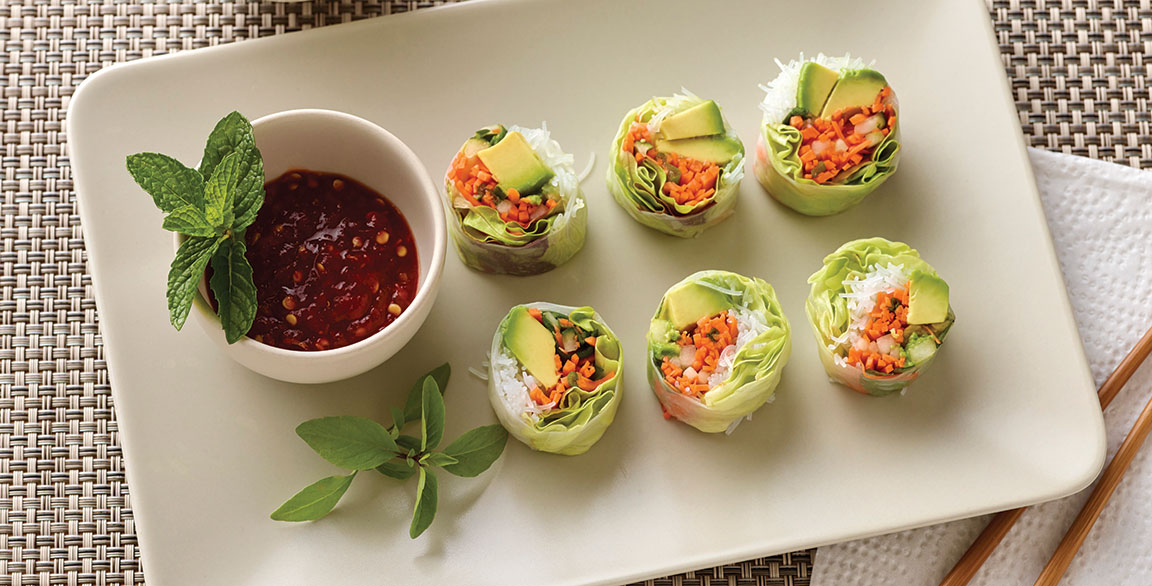 By Eliza Amari
July 8, 2020
Menu developers are paying closer attention to how their dishes work in the to-go world. In fact, table stakes are now higher. Menu items can't just "work." In this new reality, they need to wow consumers in order to compete. Curbside and delivery models have dug deeper grooves into daily routines, forming new consumer habits and building greater expectations.
The challenge, as it was pre-pandemic, is to create dishes that thrive as portable items, holding temperature, maintaining texture and delivering on the brand experience. That's a tall order, and restaurant concepts nationwide are innovating their curbside/delivery platform at lightning speed. Commodity boards are at the ready to assist with both flavor innovation and practical solutions. Five of them share takeout-friendly ideas here.
1

Rolling with It

These Avocado Summer Rolls (see main image above) provide a light and fresh takeout option in an attractive format that holds well during transport. Ripe California avocados, rice vermicelli, fresh Thai basil and mint, and a pickled mixture of carrots, green onion and cucumber, are rolled into Bibb lettuce and spring roll wrappers. Playing out the California theme, Fresno chiles spike the accompanying savory-vinegary-hot sambal.

The flavor play and ingredient mix in this recipe, developed at contemporary concept Kale & Clover in Scottsdale, Ariz., capture the lighter side of the plant-forward movement, offering a bright bite packed with fresh flavors.

"These rolls are ideal for to-go or delivery because they travel well chilled. As the temperatures outside heat up, this is a great item that's light and fresh," says Jason Hernandez, chef at Blade & Tine Culinary Consulting on behalf of the California Avocado Commission.

Hernandez shares other ideas on trend-forward, delivery-friendly offerings that feature California avocados: an Elote Slaw with roasted Brussels sprouts, corn, caramelized onion, bacon, fried garlic and avocado with Cotija dressing and crispy tortilla chips; and a California Avocado & Moroccan Spiced Salad with arugula and micro greens tossed with avocado za'atar goddess dressing, avocado slices, everything spiced croutons and lemon zest.
2

Comfort Classic

Potato salads fit into the collective mood of the country right now, which calls for comforting, nostalgic, craveable foods. From an operational standpoint, they work incredibly well in takeout, effectively holding their flavor, texture and temperature. "Potato salads are one of the original takeout food superstars," says Adam Moore, chef/founder of Chicago-based Flashpoint Innovation, and culinary consultant for the Idaho Potato Commission. And, of course, the format offers a world of possibility for flavor play. He points to this Idaho Fingerling Potato Salad as illustration.

"This dish, from Josh Loeb, chef at The Westover, a café in Richmond, Va., combines multiple fingerling varieties and preparation techniques resulting in different textures and flavors, alongside vibrant colorful garnishes that add further interest," he says.

Ruby Crescent, Russian Banana and French fingerling varietals are boiled, baked, sautéed and fried. Here, they are tossed with broccoli, oven-dried cherry tomatoes, hard-boiled egg and pickled cucumber, with mustard and sour cream lending support. "Each variety has a different taste, texture and visual appeal, which makes them a perfect foundation for the salad," says Moore.
3

Living Larb

This Chicken Larb with Grapes, served over white rice, features fresh, flavor-packed ingredients that are ideal for takeout. The bowl is built like a traditional Thai and Laotian dish—ground chicken seasoned with mint, ginger, lemongrass, cilantro, lime, chile peppers and fish sauce—but then adds signature touches. Fresh grapes and red onion tossed in rice vinegar introduce color, crisp texture and a sweet-tart accent that plays well against the aromatic, citrusy herbs, the heat from the chiles and the savory umami of the fish sauce.

"Once the dish is created and packaged for delivery, it will hold its form, arriving at its destination with its bold flavors, pleasing mix of textures and visual appeal intact," says Courtney Romano, foodservice consultant for the California Table Grape Commission. "The halved grapes retain their juices and don't run, helping to preserve the original form of the dish." Chicken and grapes are a classic combination, and this particular recipe can be served as a bowl, a filling for lettuce wraps or an entrée salad on a bed of Asian greens.

Fresh grapes are well-suited for takeout meals and offer ideal menu versatility. "Other ideas for takeout with grapes include grilled meat and grape skewers that can be served hot or cold—think Mediterranean chicken and grapes; Korean barbecue-spiced beef and grapes; or Thai prawn and grape skewers," says Romano. "Creating a signature chicken or tuna and grape salad, served on its own or packaged with an artisan roll to assemble at home, is also a great takeout item."
4

Wrapping up Flavor

Wraps are built for takeout, traveling well thanks to their sturdy format. This Blueberry Brie Walnut Wrap features a savory blueberry compote, fresh blueberries, Brie and honeyed walnuts, enclosed in artisan flatbread and complemented by a side of mixed greens dressed with a blueberry-balsamic glaze.

"The combination of sweet/tart blueberries, creamy cheese and toasted nuts makes for a timeless flavor trio," says Rosalyn Darling, associate culinary director at Sterling-Rice Group, on behalf of the U.S. Highbush Blueberry Council. "The crunch of the honeyed walnuts, sweet and lightly tart bursts of fresh whole blueberries, the juicy and savory blueberry compote, and rich Brie cheese create a dynamic play in mouthfeel and texture that work perfectly across the menu from brunch to lunch, a starter/shareable or an entrée."
5

Handheld Huevos

As off-premise dining continues to grow, innovative handhelds such as this huevos rancheros-inspired Crunchy Egg Wrap provide diners a delicious option. A flour tortilla is spread with guacamole, then layered with a crispy fried corn tortilla, savory black beans, scrambled egg and salsa verde. The tortilla is folded, then pan fried or grilled to seal it.

"When crafting on-the-go egg sandwiches, keep the egg center stage. For example, a soft scramble held together by cheese keeps the flavor centralized and balanced," says Phaedra Ruffalo, senior director, market development, at the American Egg Board. "Or put French ham, tomato, spinach and Gruyère into an omelette that goes onto a toasted brioche bun, topped with mayo for richness." Sauces and spreads, in fact, are a great way to extend the richness of an egg. "You may lose the Instagrammable moment from a dine-in experience, but the right sauce recreates that creaminess without dripping everywhere," notes Ruffalo.