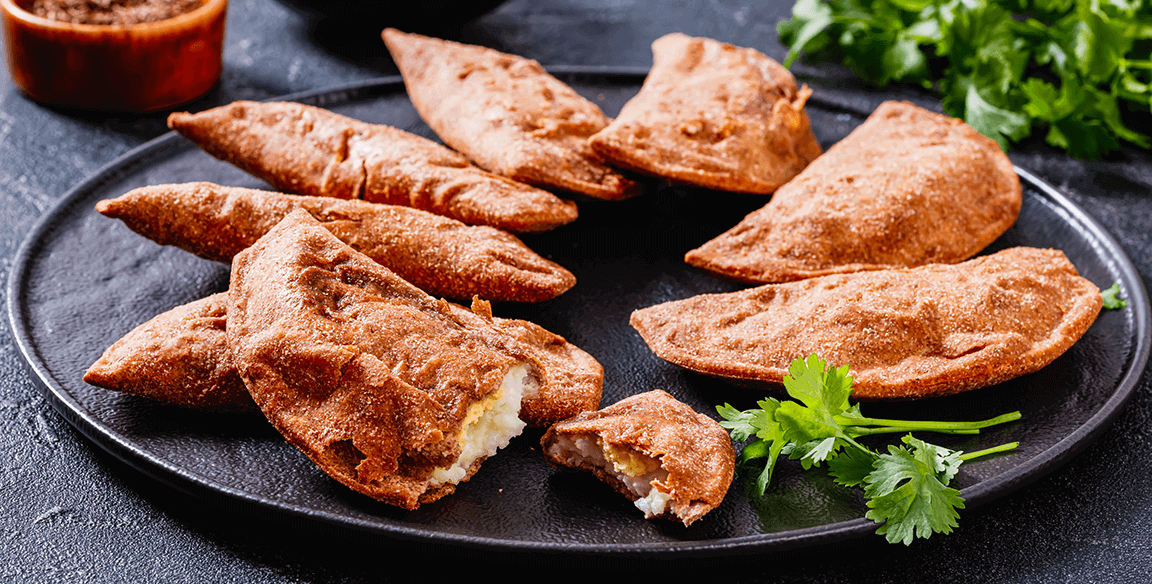 As morning menus diversify, hand pies can share space with breakfast sandwiches, winning in the realm of convenience and portability. Hand pies afford operators the ability to offer a large format or miniature versions, like with 7-Eleven's three-pack of Mini Spicy Breakfast Empanadas stuffed with sausage, egg, cheese and peppers.  Innovation around new handheld forms that merge global with mainstream brings a fresh look to breakfast menu development.
Arepas, empanadas, gorditas (Mexican "pita pockets" made with masa and stuffed with cheese, meat or other fillings) or pupusas (stuffed round corn cakes from El Salvador) can reshape morning menus. While the names may not yet be mainstream, their distinctive texture, big flavor and alluring fillings are spot on and immediately relatable.
Hand pies with classic breakfast fillings pull in proven flavors, appealing to patrons wanting safer exploration of a new handheld form. Hand pies with contemporary breakfast fillings venture into more daring flavor combinations, enticing adventure-seeking patrons to forgo the common bun, biscuit or bagel for a new experience.
Here, we serve up inspiration with classic and contemporary breakfast hand-pie ideas, along with in-market sightings.
CLASSIC BREAKFAST
TRY THIS:
Brekkie (arepa): Breakfast sausage crumbles + shredded crispy hashbrowns + pepper-Jack cheese
Skinny Benedict (pupusa): Shaved smoked ham + hard-boiled egg slices + thin avocado slices + pico de gallo + hollandaise dip (on the side)
Carnitas Huevos Rancheros (gordita): Soft-scrambled eggs + refried black beans + carnitas tossed in green chile gravy + grated Chihuahua cheese
ON THE MENU:
‣ Ham, Egg & Cheese (empanada): Ham, scrambled eggs, oven-roasted potatoes, cheddar-Jack cheese, salsa
—Maria Empanada, Denver
CONTEMPORARY BREAKFAST

TRY THIS:
Southern Purple Rain (pupusa): Fried chicken tender slices + blueberry-guava compote + whipped white cheddar-cream cheese
Popeye (gordita): Scrambled egg whites + roasted portobello mushrooms + peppered bacon crumbles + goat cheese creamed spinach

Hotter Mess (arepa): Seared ground chorizo + burrata + candied jalapeno
ON THE MENU:
‣ Empanada al Caballo: Large empanada filled with grass-fed beef, organic black beans, fried sweet plantains, and Venezuelan white cheese; topped with a fried egg
—Arepa Mia, Atlanta