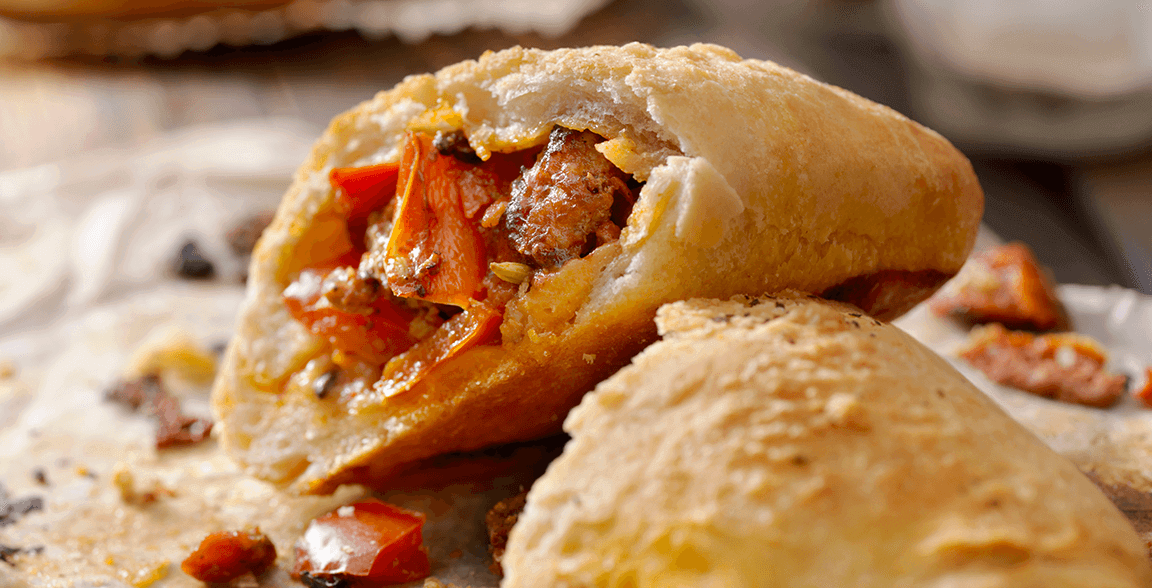 When consumers find a menu item they love, they regularly want to repeat that experience. Offering that flavor experience in a new format affords patrons more opportunities to enjoy what they love. Savory hand pies offer a craveable, portable vehicle for delivering familiar favorites.
Reformatting popular dishes into hand pies provides operators ideal off-premise options. Position these as easy to eat, quick bites of a menu favorite that satisfy cravings when time does not allow for a sit-down meal.
Here are 10 well-known regional dishes made more accessible via savory hand pies. All impart comfort nestled within crispy carriers. Big flavor and fun are the thread that weaves them together.
NORTHEAST
Chicken Parm (pupusa): Crispy chicken breast bites + marinara + Parmesan + buffalo mozzarella
Black n' Blue (pasty): Charred filet mignon bites + Gorgonzola cream sauce + roasted cremini mushroom slices + crunchy onion straws
SOUTHEAST
Jambalaya (pupusa): Andouille sausage bites + pulled chicken + white rice + peppers/onions/celery
Chicken-Fried Steak (pasty): Chicken-fried steak bites + cream gravy + mashed potatoes
MIDWEST
Burnt Ends (arepa): Burnt ends + KC barbecue sauce + smoked provolone + creamy apple-cabbage slaw
Detroit Pie (pasty): Pepperoni + Wisconsin brick cheese + fontina + garlic-tomato sauce
SOUTHWEST
Sweet-Heat Fajitas (pupusa): Chipotle-honey skirt steak bites + bell peppers/red onions + smashed avocado
Enchilada Verde (arepa): Carnitas + Hatch chile sauce + black beans + Cotija crumble
NORTHWEST
Totchos (pupusa): Smashed crispy sweet potato tots + smoked peppered bacon pieces + Tillamook cheddar sauce + spiced marionberry glaze
Beer Beans n' Franks (pasty): Kielbasa bites + brown sugar-craft beer baked white beans + minced Serrano chile
---
FEATURED RECIPE
Spiced Pulled Chicken in Corn Cake
GET THE RECIPE FOR Spiced Pulled Chicken in Corn Cake