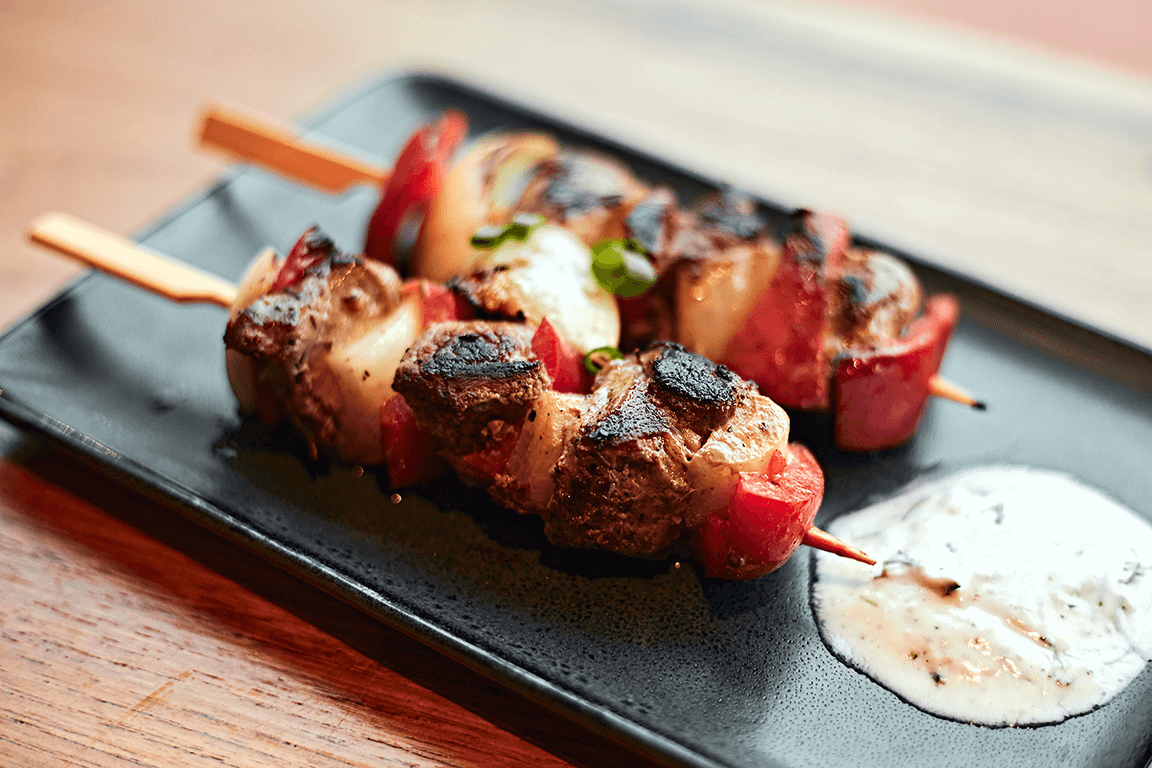 By robcorliss
May 23, 2023
Asian flavors captivate consumer imagination with new global flavor discovery. Chefs wanting to elevate flavor experiences can look to Asian-style pork skewers as a jumping off point for inspiration.
Here, we utilize fresh pork's blank canvas (ground, sliced, cubed) as the featured ingredient for culinary creativity with skewer-style creations, zeroing in on seven areas where Asian influences produce next-level, on-trend tastes that generate menu excitement.
1
GLAZES/SPRITZES
Glazing or spritzing a pork skewer during cooking, with trend-forward Asian profiles, produces a caramelized, textured stickiness—along with enticing hues and charred bits—which create delectable, heightened mouthfeel.
Tamarind + galangal + turmeric + orange juice + fish sauce + honey glaze
Okinawan black sugar + soy sauce-caramel glaze
Tropical fruit-gastrique spritz
2
SPICE BLENDS
Rolling a cooked pork skewer in a signature Asian-infused dry spice blend imparts an immediate pop of external flavor to complement every succulent savory bite.
Star anise + cinnamon + clove + coriander + cracked black pepper + dried scallion
Matcha sea salt + black sesame seeds + red chile
Black garlic + onion + Sichuan peppercorns + sugar + flaked salt
3
SCHMEARS
Applying a housemade Asian-centric schmear to one side of the pork skewer right before service creates an impactful and highly visual punch of flavor.
Togarashi Gremolata (cilantro, shiso leaf, lime zest, gingerroot, togarashi, oil)
Malay "Romesco" (red chiles, roasted tomato, garlic, roasted peanuts, ginger, lemongrass, pandan, mirin, oil)
Thai Chermoula (Thai basil, mint, cilantro, lime, coconut flakes, chili paste, shallot, cumin, salt, oil)
4
BUTTER BASTING
Basting a pork skewer during cooking with bold Asian-flavored whipped butter (or unsweetened coconut cream) creates nuanced, rich flavors ideal for complementing pork's versatility.
Sriracha + yuzu + butter
Sambal oelek + kaya + butter
Miso + coconut sugar + butter
5
DIPPING SAUCES
Accentuate patrons' love of pork further with a distinctive Asian-flavored dipping sauce that evokes a memorable pork skewer experience.
Spicy peanut sauce
Gochujang barbecue sauce
Soju tare sauce
6
SKEWERING/SERVING MATERIAL
Utilizing a natural element with Asian cues as the skewer or serving vessel imparts subtle flavor into the pork and can communicate ancillary story lines.
Lemongrass or sugar cane stalk skewer
Bamboo skewer
Banana leaf as a handheld serving vessel
7
COOKING MATERIAL/SURFACE
Imparting identifiable flavor on a pork skewer via specific cooking materials/surfaces provides an additional way to shape flavor and story from various Asian regions.
Binchotan charcoal (authentic Japanese)—known for thermal conductivity, low smoke point, long burn and odorless smoke
Thaan charcoal (Thai)—budget- and environmentally friendly
Konro grill (Japanese)—ceramic grill with wire rack
---