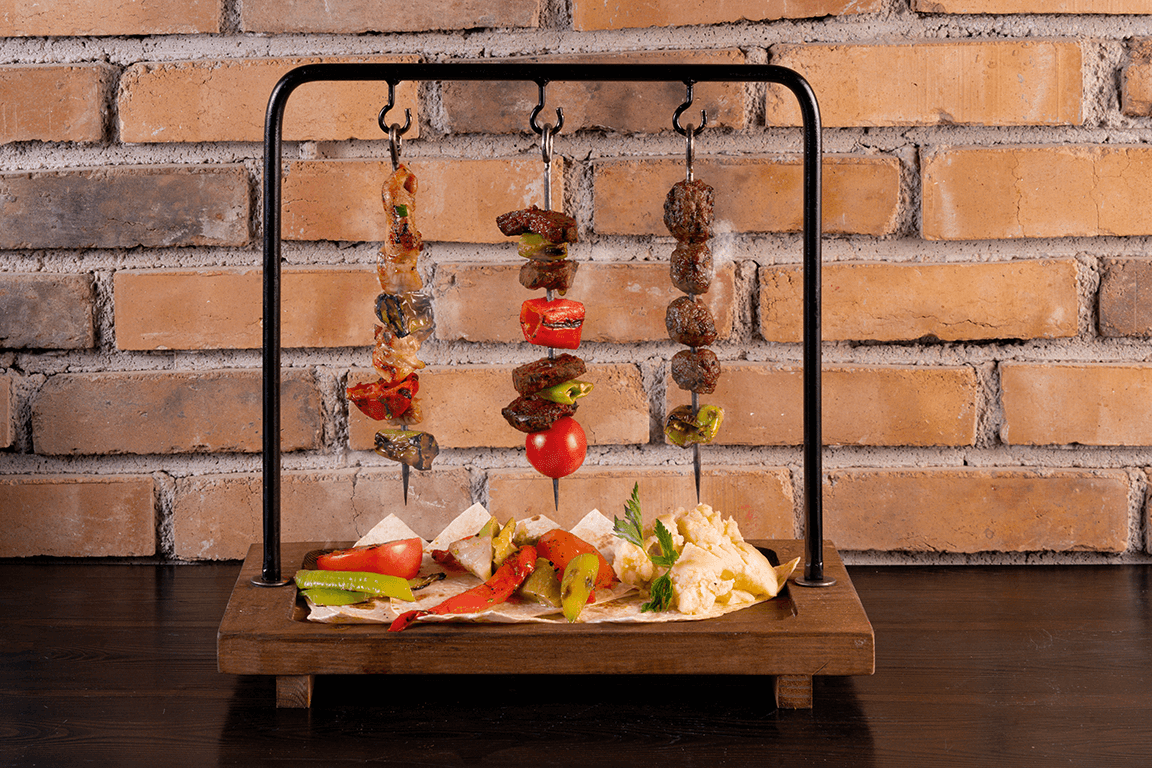 By Rob Corliss
May 23, 2023
Brunch affords endless opportunities to serve up original, engaging and flavor-forward menu items. The skewered meat trend fits nicely into the brunch space, carrying a fun, sociable vibe. Meat on sticks also offer operators flexibility across the brunch menu, moving easily between breakfast and lunch favorites, pulling from both the sweet and savory sides.
Here, we serve up 13 fresh ideas that spin skewers into modern brunch fare, demonstrating the many ways in which meat on sticks can be positioned.
"STICKS" AND SIPS
Bundling signature brunch drinks with a rotating selection of miniature meat skewers brimming with flavorsome global style creates a fun, adventurous approach to social dining.
TRY THIS:
Bloody Mary or Maria + Souvlaki: Pork shoulder slices (olive oil, lemon, garlic, oregano marinade)
Zero Proof Cocktail + Kushiyaki: Beef ribeye slices (tare marinade)
Mimosa + Seekh Kebab: Ground chicken breast and thigh patty (flavored with ginger, cardamom, chile powder)
Bellini + Satay: Chicken thigh strips (ginger, lemongrass, turmeric, coriander marinade)
Dirty Soda (soda of choice, cream, flavored syrup) + Suya: Sirloin steak cubes (peanut butter, roasted red bell peppers, onion, allspice, cayenne, ginger marinade)
Fruit Smoothie + Shish Kebab: Pork loin cubes (Urfa chile, sumac, mint marinade)
BREAKFAST "STICKS"
Menuing breakfast-centric dippable skewered meats adds whimsy to brunch offerings. Unexpected creations for patrons to discover create buzz while providing an alternative to typically featured handheld foods.
TRY THIS:
Benedict Kebab: Prosciutto wrapped soft-boiled egg wedge + rolled arugula + lightly toasted torn sourdough crouton + Parmesan hollandaise dipping sauce
Fried K-Dog Cristo: Half honey mustard pit ham and half Havarti cheese stick dipped in sweet corn batter then rolled in corn flakes (fried) + blackberry dipping sauce + powdered sugar dusting
Spicy Pork Fry-ttata Kebab: Crushed tortilla chip pork schnitzel slice + frittata slice + chorizo gravy dipping sauce
"Swicy" Hot Mess Kebab: Dry barbecue-rubbed slow-smoked pork belly bites + powdered doughnut holes + spicy maple glaze dipping sauce
LUNCH "STICKS"
Menuing unconventional heartier lunch-style skewered meats paired with an equally enticing side offers inspiration for menu category expansion.
TRY THIS:
Grilled Steak Oscar Skewer: Salt and pepper sirloin steak and asparagus tips skewer + over curly fries + crab-béarnaise sauce
Grilled Buenos Dias Skewer: Chipotle-honey glazed pork shoulder skewer + Mexican egg-fried rice and black beans + queso fresco pico
Flying Dragon Skewer: Thai red curry-coconut milk chicken breast skewer + over-mixed greens-pearl cous cous-cashew salad + pink dragon fruit vinaigrette
Smokehouse Sweets Skewer: Smoked beef brisket skewer + over-smashed brown butter sweet potatoes + wild berry demi