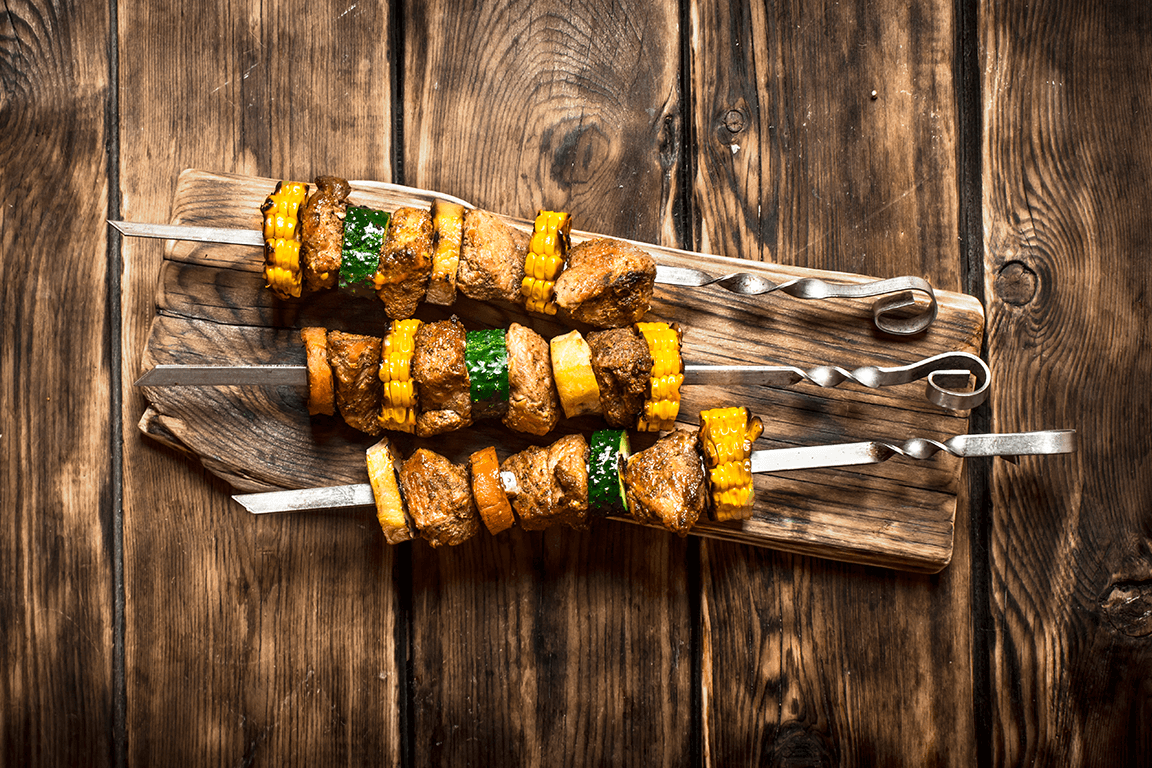 The warmer months offer an ideal time for skewered appetizer/shareable LTOs with modern flair. Chefs can pull in seasonal ingredients, combining them with trending flavors in unexpected ways for that all-important menu distinction. The universal appeal of "meat on sticks" provides opportunity to push flavor boundaries and have fun with shareable, seasonal presentations.
We highlight three categories that offer compelling flavor stories, with inspiration for menu development consideration.
1
BBQ SKEWER BITES
Featuring novel flavor creations that emulate the grilled essence of the backyard barbecue showcases summer appetizers that resonate with patrons. Intriguing glazes and dipping sauces add to a memorable skewered experience.
Grilled B-BBQ Bacon and Cheese: Peppered smoked bacon (woven-wrapped) + halloumi cheese cubes + blueberry-barbecue glaze
Grilled Radler Barbecue Beef: Sirloin steak cubes + oyster mushrooms + roasted miniature creamer potato halves + Radler beer-barbecue glaze
Grilled 'Bama Barbecue Chicken: Chicken breast strips (smoked paprika-brown sugar marinade) + roasted red bell pepper strips + Alabama white barbecue-yellow watermelon dipping sauce
2
FRIED SKEWER BITES
Fried bites are proven appetizer leaders any time of year. Spark additional menu interest by uniting a fried element with complementary peak summer flavor vibes, all on a savory meat skewer.
Southern Swag Skewer: Roasted kielbasa chunks + fried Vidalia onion wedges + drizzle of peach syrup
Gaucho Ranch Skewer: Sliced ribbons of grilled flank steak + crispy-fried potato tots + Cucumber chimichurri ranch dipping sauce
Spicy Fried CLT Romesco Skewer: Spicy-fried chicken strip chunks + heirloom tomato chunks + iceberg lettuce mini wedge + Romesco dipping sauce
3
COCKTAIL SKEWER BITES
Clean, bright flavors can satisfy sophisticated palates, providing tempting options for patrons craving flavor-packed lighter fare. Amplify this opportunity by styling out aromatic chargrilled meat skewers with spiced or heat-spiked classic summer cocktail flavorings.
Grilled Summer Margarita Pork: Pork shoulder slices (Tajín-margarita marinade) + fresh- blanched corn cob "discs" + red onion wedges
Grilled Spicy Mojito Steak: Beef skirt steak slices (honey-spiced rum mojito marinade) + Serrano pepper wedges
Grilled Hard Strawberry-Lemonade Chicken: Chicken thigh strips (habanero marinade) + green bell pepper wedges + bocconcini + hard lemonade-strawberry glaze
---