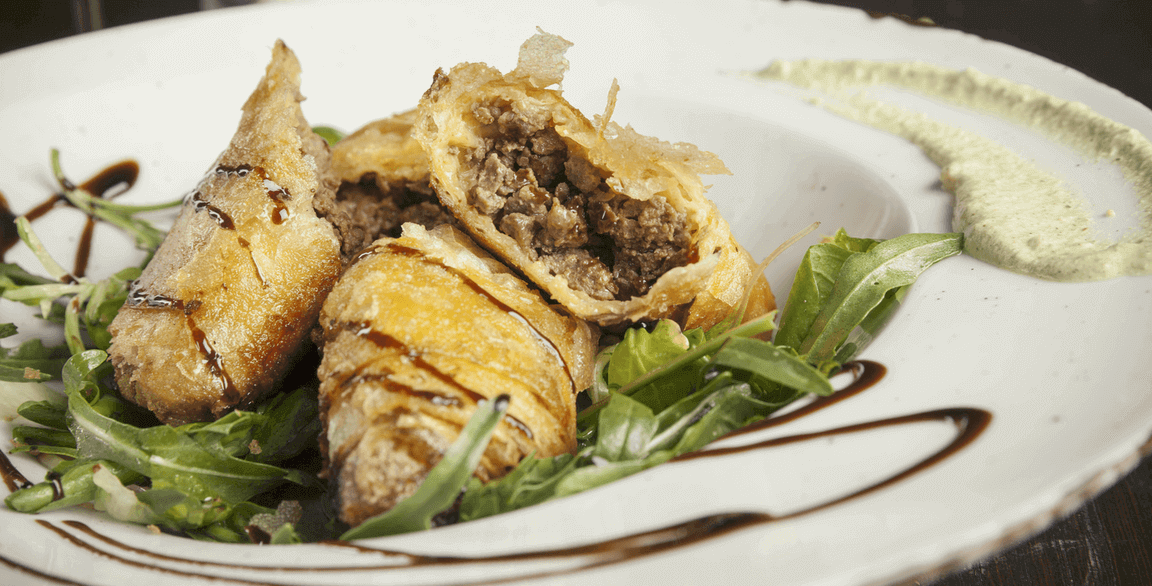 By Rob Corliss
May 15, 2022
Greek cuisine has gifted the culinary world with a treasure trove of exceptional dips. These not only bring rich flavor stories to the table, told through shareable dips with broad appeal. As a springboard to creative recipe development, we're highlighting three dips that offer a Greek flavor foundation from which menu developers can build off and create something entirely new and unexpected.
Chefs can introduce their signature variations with these dips, taking them out of a standard dip application and transporting them into compelling flavoring systems. Here, we continue that broader thinking, using each Greek dip as an unexpected yet integral part of recipe builds.
1

SKORDALIA
A rich and hearty yet silky and smooth dip made from puréed boiled potatoes (Idaho or Yukon gold), lots of garlic, a punch of red wine vinegar (or lemon juice), the richness of extra-virgin olive oil and sea salt.
DIP TRANSFORMATIONS:
Stuffing or filling for handhelds or shareables:

egg rolls
empanadas
potstickers
pastis
pierogi

Creamy base for dips, bowls or fillings:

potato-ham-cheese croquettes
spinach-artichoke dip
fish dips
salad bowls
shepherd's pie
IDEAS FOR MODERN MENU BUILDS:
Steak n' Garlic Potato Egg Roll: Skordalia + shaved prime rib + Havarti cheese (fried in a crispy wafer)
Frankie Goes to Bollywood (burrito): Skordalia (with curry powder added) + shredded pork + mesclun greens + pickled red onions + shredded carrots + cilantro chutney (wrapped in a flour tortilla, press-cooked in egg)
---
2

HTIPITI
A vibrant dip made from roasted red peppers, whipped feta cheese, olive oil, bright lemon juice (or red wine vinegar), garlic, red pepper flakes (or hot paprika) and sea salt
DIP TRANSFORMATIONS:
Sandwich/handheld spread:

burgers
fried chicken sandwich
club sandwich
grilled cheese
quesadillas
skillet cornbread

Finishing dollop:

enchiladas
loaded fries/tots/nachos
fried calamari
soup
tacos

Flavoring agent:

hot Buffalo chicken dip
queso
stromboli
mac n' cheese
chicken salad
IDEAS FOR MODERN MENU BUILDS:
Scarlet Crunch Burger: Angus beef burger + pine nut cheese crisp + leaf lettuce + htipiti + brioche bun
Greek Stuffed Shells: Large pasta shells + htipiti + ground beef/lamb + green olive pesto drizzle
---
3

MELITZANOSALATA (Greek Eggplant Dip)
An earthy rustic dip that's made from roasted small-chopped or puréed eggplant, minced red onion, garlic, extra-virgin olive oil, lemon juice, chopped fresh parsley, black pepper, sea salt (with cumin and red pepper flakes optional).
DIP TRANSFORMATIONS:
Base "warmed sauce" underneath:

steaks
pork loin/pork chops
chicken breasts
fish fillets
pizza
bowls

Filling:

pasta dishes
stuffed mushrooms
omelettes
frittatas

Topping or flavor accent:

baked potato
sautéed mushrooms
shrimp scampi
Bolognese
Soups
stir fries
chilis and stews

IDEAS FOR MODERN MENU BUILDS:

Greek Portobello "Lasagna": Grilled portobello cap + melitzanosalata with bacon added + mozzarella-feta + tomato slice topper
Sichuan Pork & Eggplant Bowl: Melitzanosalata + Sichuan-hoisin ground pork ragú + puffed rice noodles