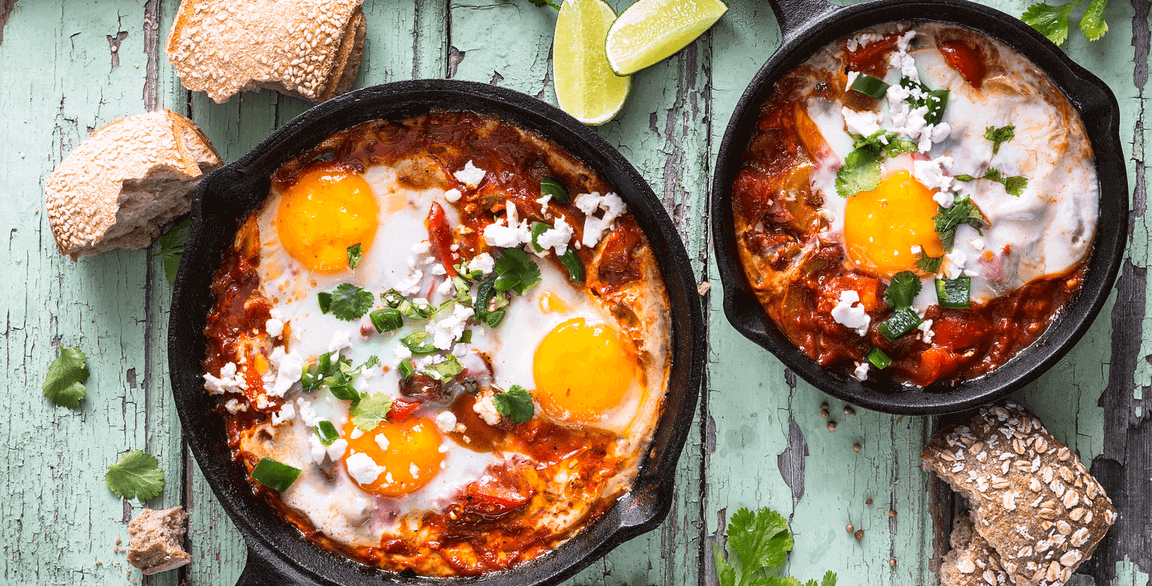 The flavors of Greece are being celebrated on inventive, playful menus across the country, often showing up in brunch items, retooled to fit the vibe yet perfectly at home and hitting all the right notes. It's no wonder really, as Greek cuisine provides chefs with a panorama of flavors, ingredients and dishes that are inviting, craveable, malleable and delicious.
Here are four brunch menu categories, brought to life with Greek-themed culinary thought starters. Each is inspired by Greek tradition merged and interpreted with American brunch stylings.
TRY THIS:
1

EGGS
The approachability of egg dishes is a blank canvas for Greek flavor overlay, providing chefs wide latitude with thoughtfully executed mash-ups.
Mykonos Benedict: Pan-fried tomato-feta fritters (grated fresh tomatoes, onion, garlic, feta cheese, flour, eggs, herbs); topped with braised pork belly, poached eggs and yogurt hollandaise
Moussaka-Style Omelette: Roasted eggplant, tomato and red wine simmered beef/lamb mixture stuffed inside a rolled omelette; topped with shredded crispy golden hashbrowns and goat cheese béchamel (gratinée)
2

CLASSICS
Merging classic Greek offerings with brunch bastions is a smart re-interpretation of flavors, providing opportunities for creating irresistible menu standouts.
Savory Tyropita French Toast: Two griddled thick slices of tyropita bread (grated halloumi and dried mint bundt cake); topped with breakfast sausage gravy
Baklava Pancakes: Two whole-wheat buttermilk pancakes stacked with a crispy dried fruit-cinnamon nut phyllo layer between them; then doused with warm honey-rose water syrup and a sprinkling of ground pistachio
3

HEALTHFUL
Playing up Mediterranean cuisine prowess, this provides operators a connection to wellness-minded patrons while delivering bright, bold flavors.
Broiled Feta: Broiled feta cheese wedge drizzled with olive oil and topped with oven-roasted summer tomatoes and lightly wilted fresh spinach; with a charred lemon wedge and pita chips on the side
Avgolemono Breakfast Porridge: Creamy short-grain white rice porridge with diced roasted chicken and lemon zest; topped with a fried egg, crispy shallots and chopped fresh dill
4

LUNCH-ISH
Pulling high-impact Greek ingredients into elements of simple salads and handhelds provides operators menu items with a premium feel.
Bulghur Bowl: Bulghur, arugula, crispy chickpeas, sliced pear tomatoes, red onion slivers and shreds of lemon-oregano flavored carnitas; roasted olive vinaigrette
Keftedakia (Greek meatball) Sandwich: Miniature meatballs (ground beef, onions, garlic, mint, parsley, thyme, cumin, cinnamon, breadcrumbs, egg) are roasted then simmered in tomato sauce; served in a challah roll topped with a dollop of whipped manouri cheese and pickled cucumber
FEATURED RECIPE
GET THE RECIPE FOR Mediterranean Frittata