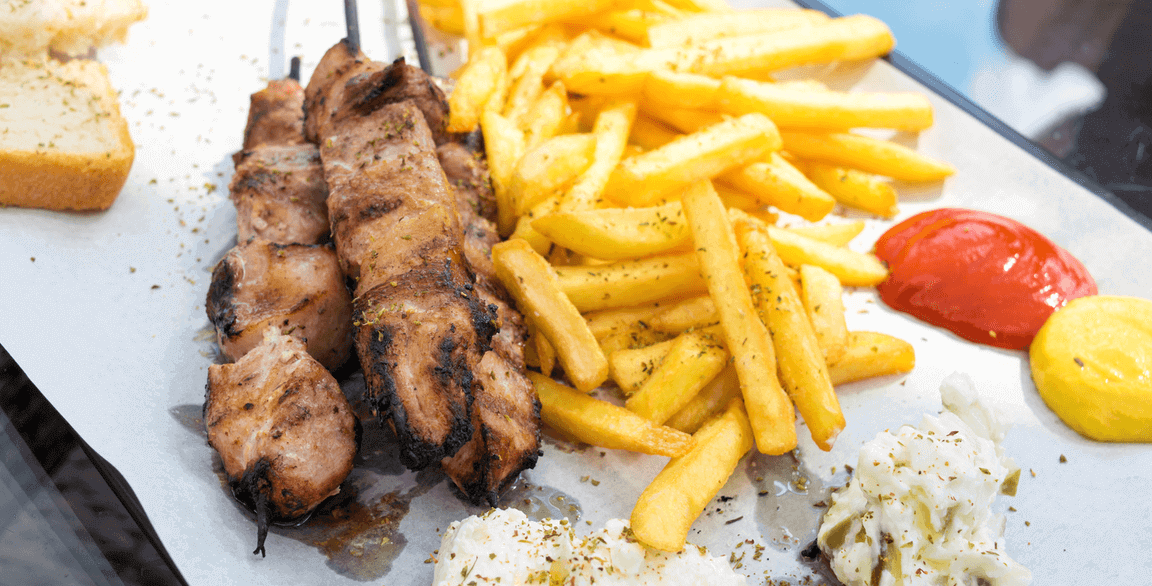 Souvlaki ("little skewer") is a Greek street food comprising smaller chunks of meat grilled on a small skewer, which today's operators can position as a skewered snack, appetizer, entrée component, small-plate dish on a catering menu, to-go menu item, or souvlaki can easily be slid off the skewer into a warm flatbread doused with tzatziki or some other flavorful sauce. It can feature pork, beef, chicken, lamb or plant-based protein, or a combination thereof.
Here are tips and modern approaches to souvlaki, revitalizing the much-loved Greek duo of grilled meat and a cooling dip—ideal for warm-weather menus and LTOs. The idea behind the flavor pairings is for the clean, natural flavors of marinated pork, chicken and beef to shine, and for the Greek yogurt-based dips to remain influenced by tzatziki's savory creaminess while employing today's flavor trends.
Soak wooden skewers in a mixture of vinegar-water-herb stems so they don't burn while grilling, but more importantly to release aromatics into the souvlaki, building flavor into all aspects of the experience.
Create signature acid-forward marinades (olive oil, lemon juice, honey, garlic, oregano, thyme, smoked paprika, black pepper, black lava salt).
Add complementary dips to further distinguish the souvlaki, building on creamy/cooling tzatziki while pushing flavor boundaries.
Take a simple approach by serving souvlaki-like fish and chips—menu a basket of lemon-garlic-feta fries directly topped with souvlaki.
TRY THIS:
1

PORK (tenderloin, loin or belly)
Greek Pork Souvlaki: Pork skewer + htipiti (Greek yogurt, feta, roasted red pepper, garlic, paprika, oregano, dill, lemon juice, olive oil)
Mexican Pork Souvlaki: Pork skewer + Mexican Cotija yogurt (roasted jalapeño, achiote, Cotija cheese, Greek yogurt, lime juice, avocado oil)
Southern Pork Souvlaki: Pork skewer + honey-hot mustard Greek yogurt (with crushed cracklin's)
2

CHICKEN (breast or thigh)
Greek Chicken Souvlaki: Chicken skewer + sunshine dip (sun-dried tomato, grated cucumber, oregano, chickpea hummus, Greek yogurt)
Cabo Chicken Souvlaki: Chicken skewer + avocado lime tzatziki (with shredded raw jicama)
Alabama Chicken Souvlaki: chicken skewer + golden white barbecue dip (Greek yogurt, Alabama-style barbecue sauce, grated roasted golden beet)
3

BEEF (top sirloin, strip steak or flank steak)
Greek Beef Souvlaki: Beef skewer + spiced eggplant cream (roasted eggplant/onions, feta, Greek yogurt, Calabrian chile flakes)
Latin Beef Souvlaki: Beef skewer + chimichurri green goddess dip
Elote Beef Souvlaki: Beef skewer + elote dip (Greek yogurt ranch, charred corn purée, Cotija cheese, chipotle powder, lime, cilantro)
FEATURED RECIPE
GET THE RECIPE FOR Spicy Mediterranean Pork Skewers with Tzatziki