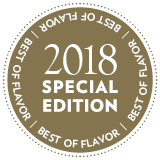 Pinning down new dessert trends can be elusive. Oftentimes, when diners get to the end of their meal, they don't really want to be thrilled or challenged with exotic flavors. They want something sweet, something familiar. But, of course, they still want to be surprised and delighted. In our recent special issue, Best of Flavor, where we crowd-sourced 125 entries from our readers, a number of desserts stood out that hit, ahem, that sweet spot. Here are three desserts that offer a unique experience while delivering comforting familiarity that seals the deal.
Ouisa is a Greek-inspired shareable plates concept in New York. Enrico Livanos, manager, wanted to introduce diners here to lesser known Greek flavors, but didn't want to make them unapproachable. The answer? Doughnuts! The Donut Pikilia sampler offers three doughnuts: Halva Mousse with hazelnut chocolate, Mastiha Yogurt Mousse with pistachio glaze and Spiced Apple. "What makes this a success is taking an American favorite and showing our customers a unique way in which it can be enjoyed," he says. "Taking flavors from Greece and packing them in a doughnut is fun for us—and fun for the customer. People nowadays want to explore new cuisines and new flavors, and when they see an ingredient they don't recognize, they become intrigued. The combination of the American doughnut with our favorites from Greece works for everyone."
Leveraging the popularity of the flourless chocolate cake while twisting it into a signature dessert, the team at Reserve Wine & Food came up with the Chocolate Mondae. Executive Chef Luke Verhulst's version has layers of details that come together as a "landscape" of components. "There is a flexible chocolate ganache that we thought was reminiscent of a root, and a cocoa-nib crunch that acts as soil. A frozen milk-chocolate malt foam fills out the plate, not unlike fallen snow on fresh-turned dirt. Tart Michigan cherries are scattered throughout, like the last vestiges of the growing season," he says. "The dessert is finished with the centerpiece of the plate: the harvest—an Averna amaro semifreddo with ribbons of tart cherry running through it."
Another pathway to familiarity is taking a well-loved ingredient or flavor and showcasing it in unexpected ways. Georgia native and award-winning cookbook author Virginia Wells did just that with peanuts in her Bittersweet Chocolate Bread Pudding. Created at a National Peanut Board, the rich and intense Bittersweet Chocolate Bread Pudding uses baguette as its bread component. Savory and sweet, the bread pudding is served warm with a dollop of whipped cream. The accompanying chilled Peanut Butter Mousse, on the other hand, is sweet and tangy, thanks to the cream cheese and peanut butter base. As a signature counterpoint, the Scotch Bonnet Peanut Brittle is an addictive combination of salty-sweet-spicy. "This rich, decadent dessert is three different textures and temperatures. In addition, it touches on all of the five basic tastes: sour, salty, bitter, sweet and umami," says Willis.