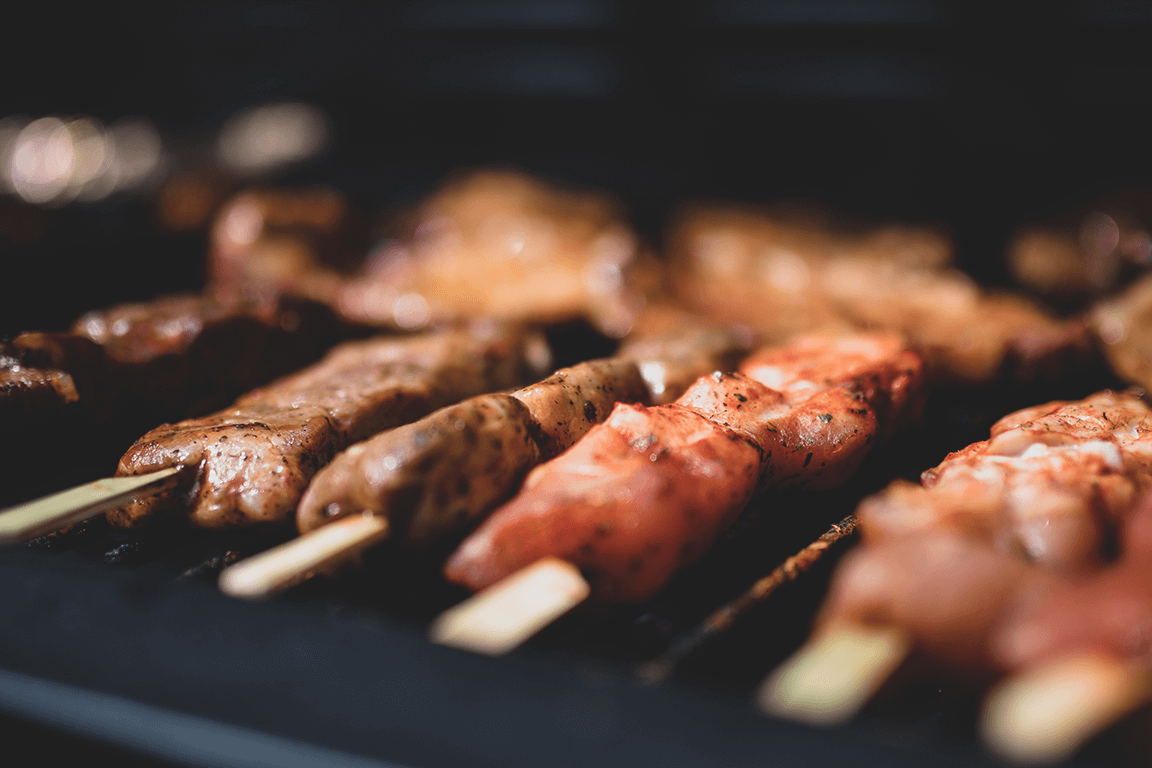 One of the ways Merriam-Webster defines "exotic" is: strikingly, excitingly or mysteriously different or unusual. In foodservice, savvy chefs understand that applying exotic or adventurous flavor touches requires a careful balancing act. But in today's landscape, the effort is worth it—when the right flavor combination on a dish or beverage lands, diners respond. The broad category of meat on sticks is trending today for many reasons, including the fact that they're fun, familiar carriers of adventurous flavors. For guests, trying new ingredients and flavors is more fun when served in a convivial format, serving up low-risk bites of intriguing new flavor experiences.
Here we look at different ways to introduce adventure, provide a low-risk entry into trialing, connecting guests to experiencing meat skewers in a new light.
PAIRING MAINSTREAM WITH EXOTIC
Pairing cuts of pork, beef or chicken with an exotic meat on the same skewer provides an effective way to satisfy guests' comfort level while pushing them into something new and exciting.
Pork tenderloin cubes + wild boar sausage slices
Beef tenderloin cubes + buffalo tenderloin cubes
Chicken thigh strips + venison loin strips
Pork belly slices + duck sausage slices
GROUND DUET BLENDS
Blending ground pork, beef or chicken with an exotic ground meat, which is then formed into a long oval patty wrapped around a skewer and grilled merges familiar flavors with new.
Ground pork shoulder and wild boar (chorizo)
Ground beef short rib and elk
Ground chicken breast and alligator tail
EXOTIC DIPPER FINISHES
Accentuate pork, beef or chicken with a noteworthy finish, introducing patrons to unexpected yet poignant flavor combinations that will resonate with their tastebuds long after their dining experience. Serve any of these finishes with the above pork, beef and chicken skewers:
"Prairie" aïoli (roasted bison marrow)
Charred minced eggplant, minced walnut, pomegranate molasses dip
S'chug with chopped medjool dates, minced pickled red onions
Chickpea hummus with strawberry, harissa
Labneh with fresh mint, tapenade, Aleppo chile flakes
Smoked carrot purée with dukkah, sumac
Toasted sunflower seed-purple basil pesto
Spicy Indian masala curry ketchup
Golden raisin amba (pickled green mango sauce)
Togarashi, cherry ponzu sauce
Fig syrup, balsamic brown butter
Minted grain mustard demi sauce