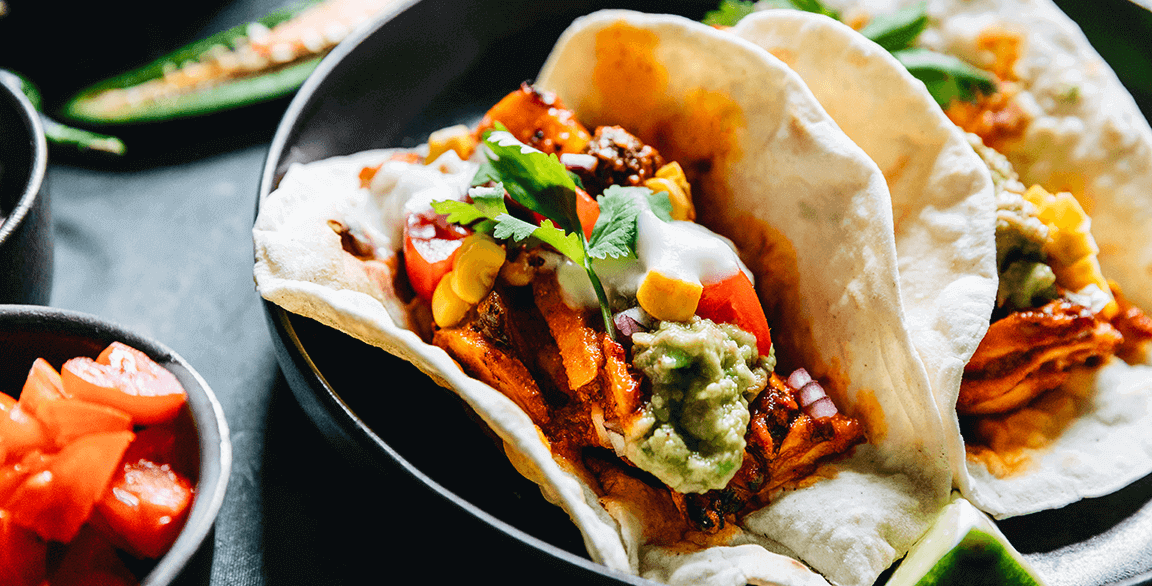 Apply varying cooking techniques to banana at different stages of ripeness and you'll impart vastly different flavor experiences, creating savory dishes that are alluring and intriguing. Here, we explore the culinary interplay in four stages of ripeness and how they offer counterpoint to proteins in modern menu development.
1

GREENISH STAGE
Underripe firm, starchy bananas are ideal for naturally flavoring slow-cooked stews, curries and soups where they can slowly breakdown; these are perfect for when chefs need to impart bitter tartness and a unique texture.
Culinary: Grate, boil, fry, stew
Hot Pepper Guisada: Beef short rib and green banana guisada + white rice + charred cherry pepper chutney
Jamaican Porridge: Porridge (grated green banana, potato milk, coarse cornmeal) + crispy chicken sausage crumbles + fried egg + jerk dry spice sprinkle
Coconut Brisket Noodles: Chopped smoked brisket + tomato-lemongrass-coconut milk sauce + fried green banana + rice noodles
2

GREENISH-YELLOW STAGE
Barely ripe firm bananas hold their shape, adding mild sweetness, which works well in chutneys, salsas, sautés and spiced smashes; when chefs need to include understated banana flavor to enhance savory flavors.
Culinary Treatment: fry, roast, boil, pickle
Mojo Pork Bowl: Chopped citrus mojo grilled pork loin + black beans + basmati rice + arugula + roasted banana-Serrano chutney + pickled red onion
Cuban Club Sandwich: Shaved slow-roasted mustard-rubbed pork loin + sliced deli ham + Gruyère cheese + butter lettuce + 'nduja-fried banana smash + pickle slices + toasted potato bread
Bananalicious Belly Bites: Gochujang-honey glazed pork belly + ginger-pickled banana slices + crushed peanuts
3

YELLOW STAGE
Ripe tender bananas lend aromatic sweetness and indulgent smoothness to dressings, dips and sauces; use when you want to play up banana's popular appeal and impart more pronounced banana flavor.
Culinary Treatment: roast, caramelize, purée
Waldorf Wonder Salad: Crisped prosciutto + mesclun + celeriac + green apple + red grapes + candied walnuts + banana-barbecue dressing
Chicky Fritters: Chickpea-shredded smoked chicken thigh fritters + caramelized banana-mango Madras curry dip
Mole Pork Roll: Carnitas tossed in roasted banana red mole + shaved añejo cheese + Telera roll
4

SLIGHT BROWNING STAGE
Very ripe bananas add luscious, creamy sweetness ideal for glazes, sauces and savory mousse; use when chefs need to pair full sweetness to complement bold spices, herbals or vegetables.
Culinary Treatment: whip, glaze, cream, caramelize
Banana-Beef Arepa: Shredded beef + black beans + Cotija cheese crumbles + banana-green bell pepper guasacaca (without avocado)
Premium Pumpkin Soup: Savory pumpkin cream soup + tamarind-bananas Foster crema swirl + shredded beef machaca
Better Biscuit: Buttermilk biscuit + carved ham + banana-mascarpone-almond butter mousse
FEATURED RECIPE
Roasted Pork Belly with Cornmeal Porridge
GET THE RECIPE FOR Roasted Pork Belly with Cornmeal Porridge