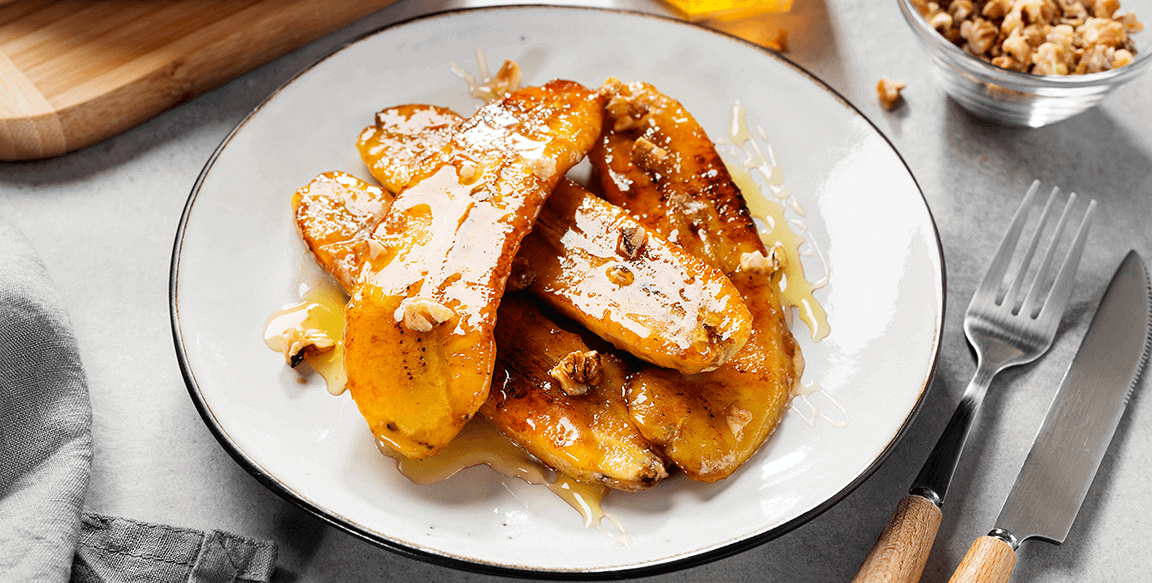 The uptick in banana pudding adaptations has brought fresh banana to the dessert forefront. This has awakened consumers to search for the creamy lusciousness of banana in other crave-worthy desserts. Look no further than the Banana Cheese Pie at Bern's Steakhouse in Tampa, which features a banana-cream cheese mousse in an almond praline crust with fresh bananas and whipped cream. Or look to the Banana Fosters Affogato at Restaurant Revolution in New Orleans, featuring brown sugar biscotti, roasted banana, dark rum and espresso.
Now reimagine these with a global spin that further elevates comfort with a lively contrast of alluring textures and vibrant tastes. Caribbean, Asian and Latin flavors all lend deep character to banana-inspired desserts. Operators can merge these influences with traditional dessert forms to deliver next-level excitement.
Here, we outline inspiration via "Try This" ideas and menu sightings to spark your operation's dessert menu development and further patron affinity for banana.
CARIBBEAN INSPIRED

TRY THIS:
Hummingbird Banana Shortcake: Miniature hummingbird cake round (fresh banana-crushed golden pineapple-toasted pecan) + whipped cream cheese meringue "frosting" dollop + caramelized banana slices
Guava Bananas Foster Trifle (in a cup): Dark rum-soaked yellow corn cake cubes + guava jelly + banana custard + bananas Foster sauce + whipped cream
ON THE MENU:
Passion Fruit Semifreddo: Banana-rum namelaka, toasted meringue, macadamia praline — Mister A's, San Diego
ASIAN INSPIRED
TRY THIS:
Sticky Banana Fritters: Lychee-banana sticky rice fritters + powdered sugar + toasted sesame-walnut syrup
Miso-Banana Blondie Bar Bites: Classic blondie base with chopped roasted banana + white miso caramel + mini white chocolate chips
ON THE MENU:
Buko Pandan: Coconut- and pandan-infused mousse with layers of softened wafers and sliced bananas inside — Baonanas, Jersey City, N.J.
LATIN INSPIRED
TRY THIS:
Latin Halo-Halo: Banana ice cream + nopales-lime granita + evaporated milk + flan + roasted banana slices + mango-chamoy + toasted shaved coconut + black tapioca pearls in hibiscus syrup
Screaming Banana Cream Pie-wich: Spiced banana cream custard + dulce de leche ice cream + soft dark chocolate cookies
ON THE MENU: