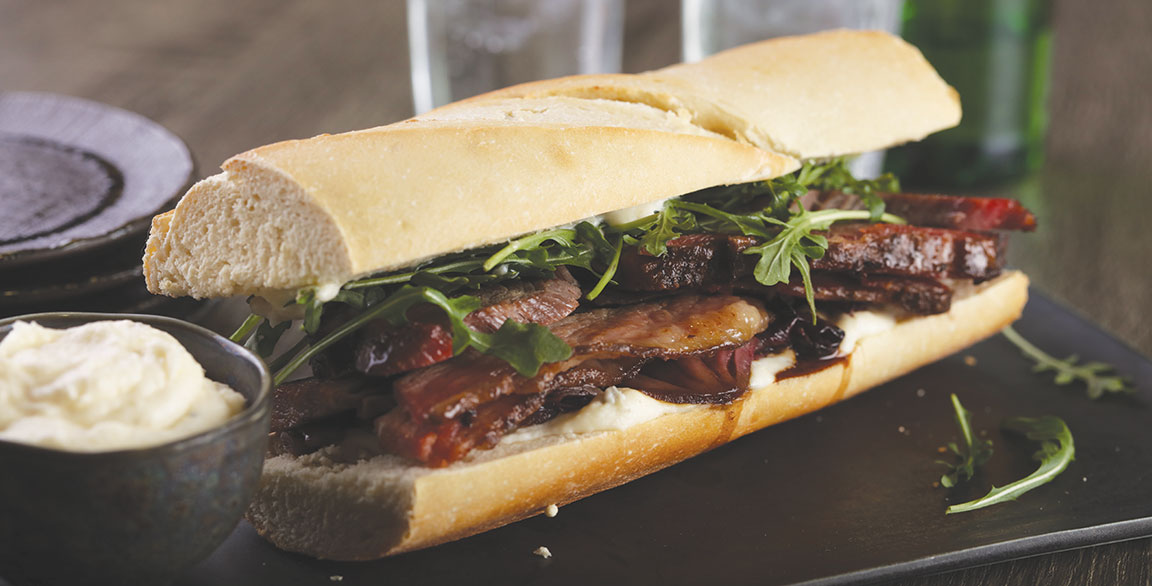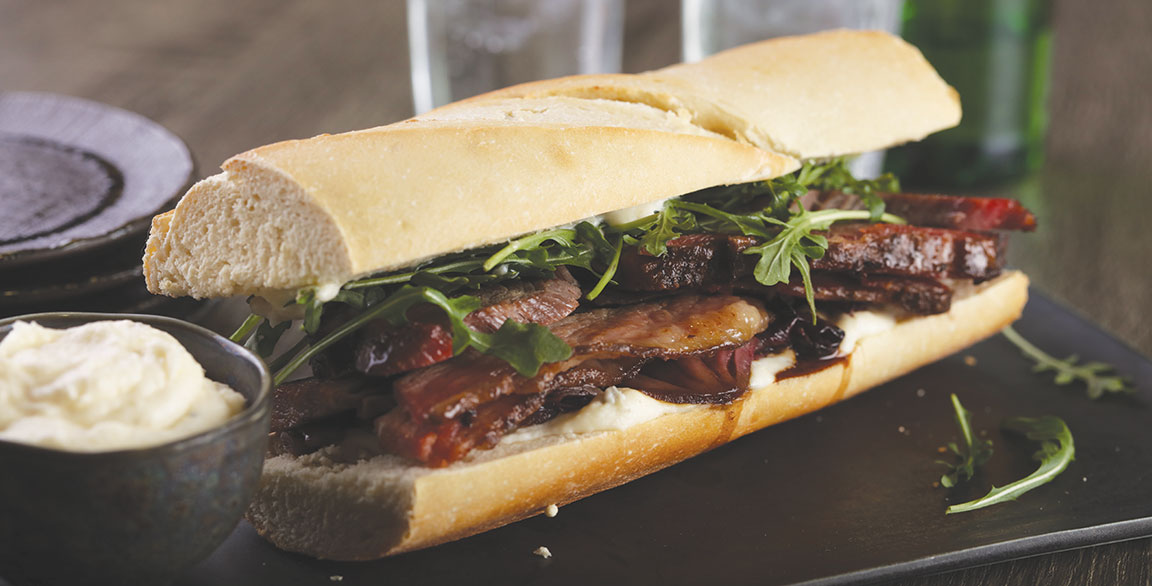 By Flavor & The Menu
July 8, 2020
Smoke's allure is powerful. Its flavor, be it subtle or assertive, brings depth and narrative to a flavor build. And just like comfort food, smoke taps into memory and creates a visceral reaction. Today, chefs are leveraging smoke in modern applications across the menu, introducing its nuance in intriguing ways.
Flavor complexity is finding favor with today's diners, proven by other yin-yang relationships like hot honey, where sweet and heat find a happy balance, or savory-funky-heat, as demonstrated in popular sauces like Sriracha and gochujang.
Now smoke is moving deeper into menu development, tempered with round notes of fruitiness, sharp notes of acidity or back notes of bitterness, lending dimension to dishes—and most likely playing to a broader audience.
Of course, barbecue is the king of smoke, particularly in the world of protein. But that deeply satisfying, craveable flavor of smoked meats is inspiring chefs to feature them in surprising applications.
Sam Barron, executive chef of The Fat Shallot, a sandwich-focused food truck in Chicago, demonstrates that idea with his Smoked Brisket and Charred Radicchio Baguette with Arugula and Mascarpone.
He deftly moves brisket, that barbecue star, into a Mediterranean build, layering smoke against rich and creamy elements against sharp, crisp ones.
"I combined mascarpone with prepared fresh horseradish to give it both astringency and boldness," he says. "I seared the smoked whole beef brisket, rendering the fat and getting all of those smoky flavors to come out."
New Flavor Horizons
The global mash-up is a category that holds strong on American menus, with chefs pulling flavorful, interesting ingredients from pantries far and wide. Taking this country's storied tradition around smoking meats and melding that with the global pantry results in craveable, unexpected, appealing dishes. With this approach, chefs are bringing the value of smoke to more parts of the menu.
In his Al Pastor Street Tacos, Eddie Wilson, director of culinary innovation, Golden Corral, Raleigh, N.C., combines the American barbecue classic of pulled pork with a classic Mexican taco build. He features Smithfield Culinary's Natural Smoked Pulled Pork, relying on its tender, smoky profile, building a traditional pastor sauce with blistered pasilla, adobo and guajillo chiles, cumin, garlic, Mexican oregano, Roma tomatoes, pineapple juice and cider vinegar. The smoke in the pulled pork, along with the smokiness and heat of the chiles, gives the tacos a satisfying, lingering flavor. Wilson finishes his Al Pastor Street Tacos with a quick salsa of grilled onion and pineapple, queso fresco and cilantro.
Nick Karoly, most recently executive chef of BarBacon in New York, looks to Southeast Asia's pantry for his global mash-up that stars one of America's favorites—chicken wings. "The smoked wings are one of my favorite products," he says. His sauce sees a fragrant, spicy combination of sesame oil, sambal, peanuts, garlic and ginger. He pairs the wings with a bright papaya salad. "With smoked meats having such a powerful flavor, fresh ingredients like fruit and lime play into that needed refreshing element," says Karoly.
Smoke Across the menu
When chefs approach smoke as a flavor builder and see its potential outside of the world of barbecue, it opens up a world of possibilities. Smoked sausage replaces shrimp in a heartier version of shrimp and grits. Smoked pulled chicken elevates a midday entrée salad. Smoked brisket tucked into a biscuit takes the breakfast sandwich to a new level.
In his Smoked Pork Belly Chilaquiles, Karoly leverages the comforting, rich flavor of fresh pork belly, then smokes it until tender. He features the smoked belly in a signature take on chilaquiles, that craveable Mexican all-day breakfast dish that is endlessly customizable. His version sees tortilla chips braised in salsa verde, topped with red onion, sour cream, smoked pork belly, avocado and a fried egg.
The Fat Shallot's Sam Barron looks to Spain for inspiration, braising smoked pulled pork with a Spanish romesco sauce and presenting it in a handheld. He tops the pork with charred scallions, a feature often seen on Spanish menus. "It makes it more memorable than just a regular pulled pork sandwich," he says.
Big Flavors, Less Time
Travis Johnson's Barbacoa Chili boasts deep, satisfying flavor, including a subtle smokiness from the barbacoa. It also stands out with flavorful garnishes, including roasted corn, pickled poblano pepper and crumbled Cotija. When developing the recipe, Johnson, the executive chef of University of Notre Dame with Levy Restaurants, knew he wanted to feature flavor-rich, tender, beefy barbacoa as the protein.
Given the high-volume demands of campus dining, sourcing a product that could be replicated at volume was tantamount to success. "Barbacoa needs time to get it just right," he says. "I needed to solve that issue of time and labor while still using a quality product."
Johnson chose Smithfield Culinary's Fully Cooked Beef Barbacoa. "The flavor was subtle and the meat tender. It forked off really nicely, without shredding in the chili," he says. Four kinds of beans, along with poblano, Serrano, fire-roasted garlic tomatoes and spices rounded out this crowd pleaser.
Modern Smoke Finishes
Unexpected garnishes on grilled pork, chicken or beef go a long way in delivering a punch of flavor and a memorable experience. Here are a few of our favorites, aimed at introducing a nuanced smoke flavor on center-of-the-plate proteins.
SMOKED CHERRY BUTTER atop
grilled pork tenderloin
SMOKED SEA SALT rubbed into
strip steak, then sous vide
SMOKED YOGURT drizzled
over chicken kebabs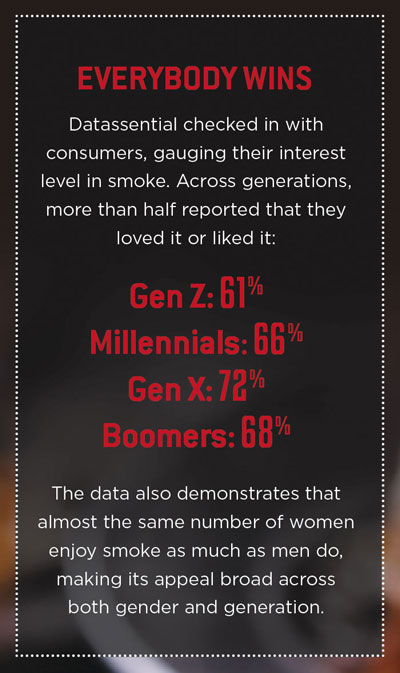 Smithfield Culinary is here for you.
Always on hand to offer advice about how best to prepare, serve and plate our products. Find on-trend applications, culinary ideas, creative recipes and relevant consumer insights to help sharpen your menu.
Go to SmithfieldCulinary.com or call your Smithfield rep at 888-327-6526.