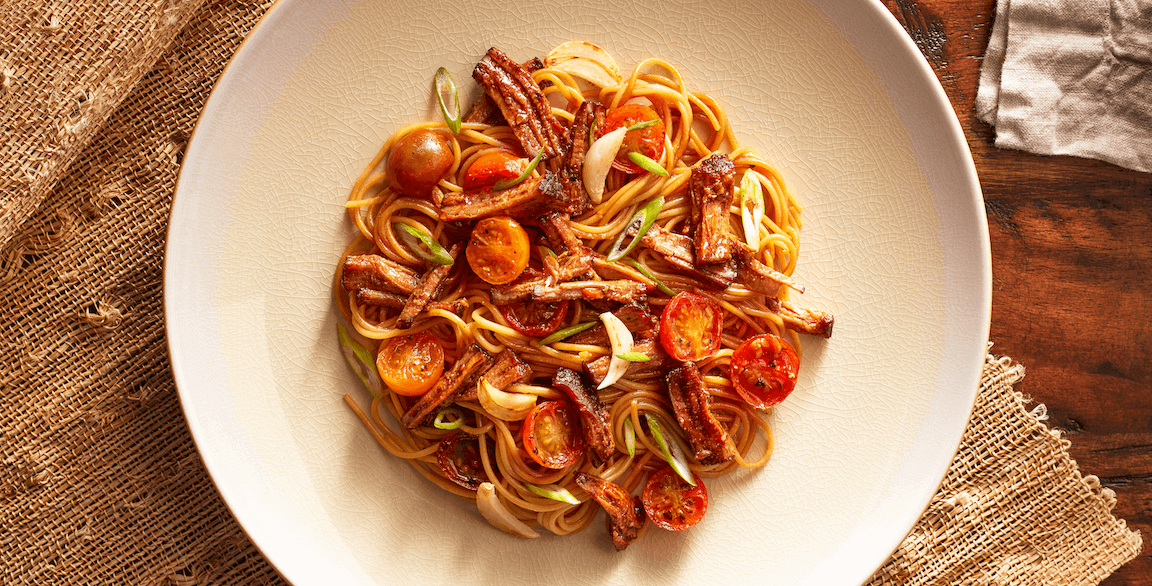 Roy Villacrusis is on a mission to help promote Filipino food in this country. He certainly has momentum behind him: The flavors and ingredients from the Philippines are trending, with restaurants like Chicago's Kasama and Houston's Soy Pinoy garnering the spotlight and shining the light on this cuisine. "I grew up on it," says Villacrusis, Executive Chef of Asiatic Group, a culinary consultancy based in Henderson, Nev., who hails from the Philippines. "I'm passionate about regional Filipino food and helping American diners fall in love with it."
He uses pasta as a carrier for the cuisine's signature combination of sour, salty and sweet flavors. "Pasta is a familiar format for Americans and an easy way to introduce them to Filipino food without alienating them. Using pasta, from long noodles to lasagne with these incredible—and varied—flavors and textures doesn't feel forced. With the right approach, it's a great combination," says Villacrusis.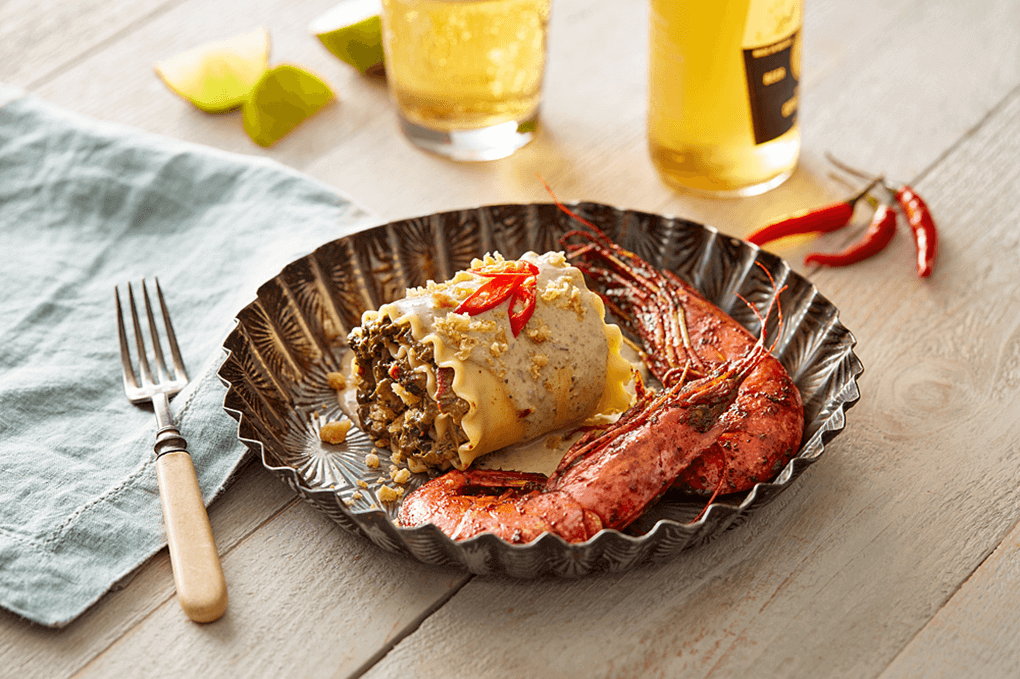 Pork Belly Laing and Wild Argentinian Shrimp
Villacrusis uses lasagne as a clever way to introduce laing, a spicy coconut-based dish from the Southern part of Luzon island in the Philippines. His Lasagne with Pork Belly Laing and Wild Argentinian Shrimp features bold and rich flavors, thanks to Thai bird chiles, fermented shrimp paste, chile powder, ginger, garlic, soy sauce and coconut milk. He sprinkles the pork belly laing with crushed pork rinds, then spoons the mixture onto Barilla Lasagne and rolls them up, arranging them in hotel pans lightly sprayed with olive oil. He evenly spreads the remaining cream sauce over the tops of the lasagne rolls and sprinkles the tops with more crumbled pork rinds. To finish, he plates shrimp that have been sautéed in butter, coconut cream, chile powder and soy sauce.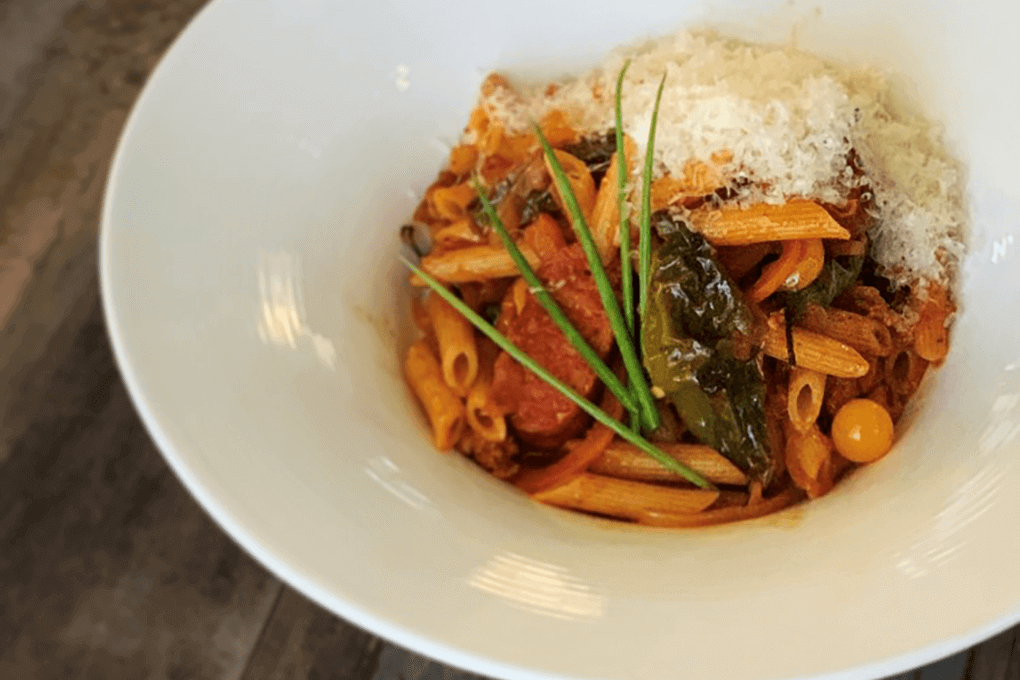 Vigan Longganisa with Shishito Peppers and Penne Pasta
Villacrusis describes this dish as "a Filipino version of sausage and peppers." He favors the shape of penne pasta to carry the flavors. "The Barilla Penne holds the sauce really well, so the guest gets every last bit," he says. The dish features the iconic Filipino sausage, the Vigan longganisa, cured and dried, with garlicky, salty notes. "It almost has the quality of salami, but not quite," he says. "It's really delicious." He combines blistered shishito peppers with scallions, onions, garlic and bell peppers. He adds butter, tomato sauce and the fried longganisa chunks to the pan, then incorporates the cooked penne, adjusts seasoning, and finishes with Parmesan cheese.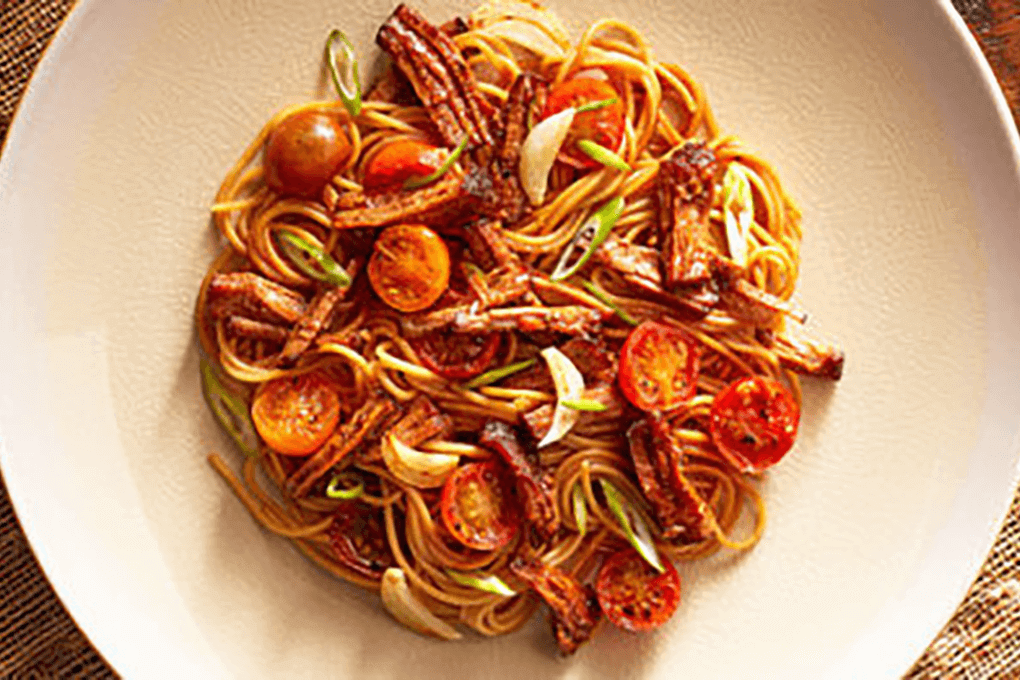 Roy's Pork Adobo with Angel Hair Pasta
"This is a quick dish, but an incredibly flavorful one," says Villacrusis. "I use Barilla Angel Hair because it carries oil well and it cooks fast, making it ideal for those dishes you want to fire and move quickly." Pork adobo is one of the heroes of Filipino cuisine, standing out with its vinegary, sweet, savory flavor. To move it from a center of the plate presentation to a pasta element, he cleverly makes "adobo flakes," shredding the meat, then crisping the bits so the diner gets forkfuls of tender yet crunchy pieces.
Why Barilla?
"The biggest reason for me is consistency. Barilla Pasta is true to the word with consistency on their cook time and on their quality," says Villacrusis. "I also love the culture of the company. I endorse companies that I enjoy working with."
For more recipe inspiration, go to https://www.barillafoodservicerecipes.com.